Mike Evans' last reception of 2019 was one of his best, or at least one of his smoothest. Near the end of the first quarter of the Tampa Bay Buccaneers' Week 14 win over the Indianapolis Colts, Evans lined up out to the offense's right, just outside the numbers. He was facing man coverage from cornerback Pierre Desir, who settled in three yards off the ball. At the snap, Evans took a quick jab to the left and then went back towards the sideline.
Desir reacted quickly, spinning to sprint with Evans without breaking stride, and didn't immediately appear to be burned. But Evans has deceptive, long-striding speed and quarterback Jameis Winston knew right away his receiver had won. He took only a moment to decide, throwing a perfect strike that he released at the Buccaneers' 33-yard line and that landed in Evans' arms at the Colts' 24. By that point Evans had two steps on Desir and the result was a 61-yard touchdown.
Unfortunately, Evans pulled a hamstring striding away from Desir's diving attempt to trip him up and limped into the end one. His season was done with three games plus three quarters in Week 14 still to play. Evans still finished the season with 1,157 receiving yards and eight touchdowns.
Chris Godwin's last play of the 2019 season wasn't a reception – he also suffered a hamstring injury running a deep route on which he was not targeted the following week in Detroit. That injury did end yet another great game for the rising-star third-year receiver, as he had already hauled in five catches for 121 yards on the day, his sixth 100-yard game of the season. Godwin still finished the season with 1,333 receiving yards and nine touchdowns.
Prior to their late-season injuries, Buccaneers Head Coach Bruce Arians had mused that he thought both Godwin and Evans could get to 1,500 receiving yards by season's end. They didn't get the chance, of course, but both Bucs receivers did finish in the NFL's top four in receiving yards per game, Godwin second at 95.2 and Evans fourth at 89.0. New Orleans' Michael Thomas (107.8) and Atlanta's Julio Jones (92.9) rounded out the top four. Unsurprisingly, those were the four receivers chosen to represent the NFC in the upcoming Pro Bowl.
The consecutive hamstring injuries deprived Evans and Godwin of their 1,500/1,500 hunt, but they still finished as one of the most productive receiving tandems in NFL history based on yards per game. They are just the third pair of teammates in NFL history to each average at least 89 receiving yards per season (qualifying players only). Yes, 89 is an arbitrary cutoff, but it's what the Bucs' second-leading receiver finished with this year so the search was for any other combinations that qualified with that same cutoff.
Teammates with 89+ Receiving Yards Per Game Each, NFL History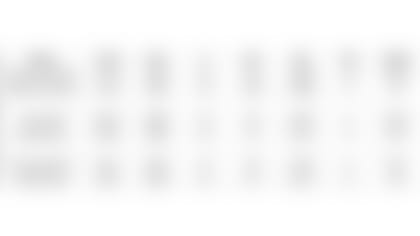 Godwin's 1,333 receiving yards ranked third in the NFL even after he missed the last two games and are the fourth-most in a single season in team history. Godwin and Evans now combine to own three of the top five receiving seasons in Buccaneer annals.
Most Receiving Yards, Single Season, Buccaneers History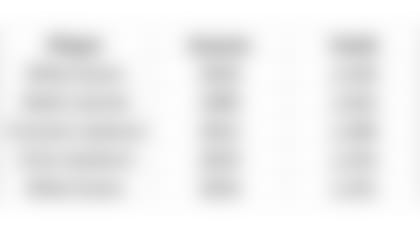 Godwin's 86 receptions also tied for the third-most in team history. Again, he and Evans own three of the top five seasons.
Most Receptions, Single Season, Buccaneers History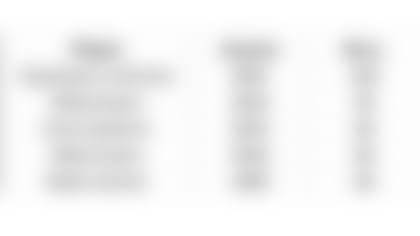 Godwin's single-game receiving yardage high in 2019 was 184 against Atlanta in Week 12, a game in which he scored a pair of touchdowns to help the Bucs to a 35-22 victory. Godwin also eclipsed 150 receiving yards against the Los Angeles Rams in Week Four (172) and the Carolina Panthers in Week Six (151). Evans' single-game receiving yardage high in 2019 was 198 against Tennessee in Week Eight, a game in which he also scored two touchdowns. Evans also eclipsed 150 receiving yards against the New York Giants in Week Three (190) and the Seattle Seahawks in Week Nine (180).
Together, Evans and Godwin are the first pair of teammates in the NFL's 100-year history to each have three games of 150-plus receiving yards in the same season.
Each of the games in which Evans surpassed 150 yards he also made it to at least 180. He is just the seventh player in league history, and just the fourth since the 1970 AFL-NFL merger, to have three games of 180-plus receiving yards in the same season.
Most Games with 180-Plus Receiving Yards, Single Season, NFL History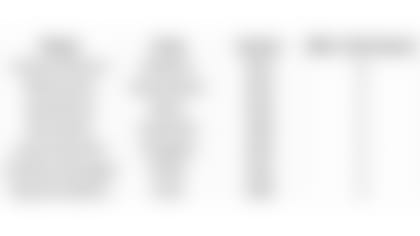 Evans' Week 14 injury kept him from chasing his own single-season team record for receiving yards (see above) but he still made it comfortable past the 1,000-yard receiving mark, and that's noteworthy in terms of his career as a whole. By hitting quadruple digits once again, Evans joined Hall-of-Famer Randy Moss as the only two players in league history to open their careers with six straight 1,000-yard seasons.
Most 1,000-Yard Receiving Seasons, Player's First Six Years in the NFL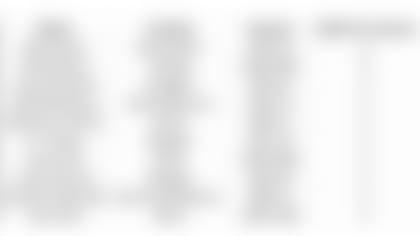 Overall, Evans concluded his sixth NFL season with 7,260 receiving yards, and he is already the Buccaneers' all-time leader in that category, receptions (462), receiving touchdowns (48) and 100-yard receiving games (24). His yardage total is the seventh-highest any NFL player has ever recorded through his first six seasons.
Most Receiving Yards, NFL, Player's First Six Seasons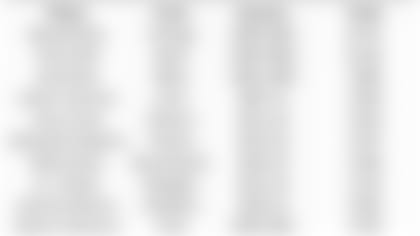 Godwin averaged a career-high 15.5 yards per catch and was one of three Buccaneers to rank among the top 13 in the NFL in that category in 2019. Evans ranked sixth at 17.3 and Breshad Perriman was tied for fourth at 17.9. Godwin got his average up by recording the most receptions of 20 or more yards in the NFL.
Most Receptions of 20-Plus Yards, NFL, 2019
1. Chris Godwin, Buccaneers: 25
2. Kenny Golladay, Lions: 22
3t. Julio Jones, Falcons: 21
3t. Cooper Kupp, Rams: 21
3t. DeVante Parker, Dolphins: 21
Godwin repeatedly showed off his ability to add yards after the point of catch in 2019, such as on his career-long 71-yard touchdown at Atlanta in Week 12, on which he caught the ball between two Atlanta defenders, bounced off one would-be tackler and ran the final 43 yards to the end zone. Through plays like that, Godwin amassed 577 yards after the catch (YAC) in 2019, second-most among all NFL wide receivers.
Most Total YAC, Wide Receivers, NFL, 2019
1. Michael Thomas, Saints: 587
2. Chris Godwin, Buccaneers: 577
3. Robert Woods, Rams: 576
4. Cooper Kupp, Rams: 538
5. Deebo Samuel, 49ers: 473
The Saints' Thomas set an NFL record with 149 receptions during his sublime 2019 campaign, and his league-leading YAC total is the product of sheer volume. Thomas averaged 3.9 YAC per reception while Godwin averaged 6.7. Godwin ranked in the top five in that category, too.
Most YAC Per Reception, Wide Receivers, NFL, 2019
1. A.J. Brown, Titans: 8.9
2. Deebo Samuel, 49ers: 8.3
3. Chris Godwin, Buccaneers: 6.7
4. Robert Woods, Rams: 6.4
5. Alex Erickson, Bengals: 6.3