STORY HIGHLIGHTS
Evan Dietrich-Smith signed with the Packers after the 2009 draft, joining a deep and talented Green Bay O-Line
The versatility to play all three interior-line positions helped Dietrich-Smith stay in the picture until his chance to start arrived
Buc rookies like fifth-round draftee Kadeem Edwards and undrafted FA Josh Allen can learn from Dietrich-Smith's experience

When Evan Dietrich-Smith came to Green Bay as an undrafted free agent in the spring of 2009, he joined an offensive line group that was returning all five starters, all of whom had been drafted by the team. Waiting on deck was a 2008 draftee, Josh Sitton, who would move into the starting lineup in '09 when guard Jason Spitz landed on injured reserve. That same spring, the Packers used a fourth-round pick on guard T.J. Lang and a fifth-round selection on tackle Jamon Meredith. Also waiting in the wings were recent Packer draftees Allen Barbre and Tony Moll.
In retrospect, that looks like a deck that was stacked against Dietrich-Smith's chances of making the 53-man roster. One advantage that an undrafted prospect has over, say, a seventh-round pick is that he has more freedom to choose where he starts his NFL career, assuming at least two teams are interested. Born and raised in California and just finished with a college career that took him to Pocatello, Idaho, Dietrich-Smith surely didn't choose Green Bay for its proximity to home.
Five years later, it appears Dietrich-Smith made the perfect choice that spring, and maybe precisely because of the established veterans in front of him on the depth chart.
"At the end of the day, if you don't have somebody in front of you teaching you how to be a professional or how this game's played or what you need to be seeing as a player, it's really hard," said Dietrich-Smith, who is now a Tampa Bay Buccaneer after signing a four-year deal as an unrestricted free agent in March. "It's hard to develop. A coach can only take you so far. A coach isn't out there on the field holding your hand. As a player, if you have a guy that's got the experience in front of you, giving you the tips, showing you the ropes, letting you know how it is as a player out there, you're going to benefit from that. I think Mike will definitely have that advantage under his belt."
That final sentence reveals that Dietrich-Smith was specifically talking about the situation that second-year quarterback Mike Glennon finds himself in after the arrival of veteran quarterback Josh McCown. But the idea holds water at any position, and it's something that was obviously a benefit to Dietrich-Smith in his formative NFL days. Those five returning starters included two tackles who had been Packers since the 2000 draft – Chad Clifton and Mark Tauscher – as well as highly-regarded center Scott Wells. Clifton, Wells and Sitton had all gone to Pro Bowls, or would soon. When Wells moved on to the Rams in 2012, Dietrich-Smith also got a chance to work with Jeff Saturday, the longtime Colt with six Pro Bowls under his belt.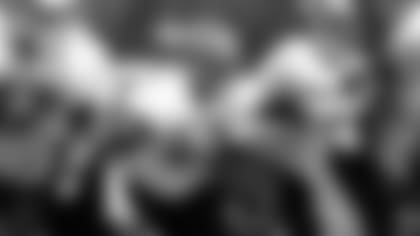 C Evan Dietrich-Smith (62) joined Green Bay as an undrafted free agent in 2009 but was able to turn that opportunity into a successful NFL career
"I was able to sit there and learn from Jeff Saturday," said Dietrich-Smith, who had been a spot starter at the two guard spots in 2011 and would add center to his workload in 2012. "You pick and choose from the game, but the one thing you see is how they approach it. Mentally, you have to be sharp because the smarter you are as a player, the faster you can play. If you understand what they're trying to do, you can play a lot faster than them and that's already half the battle."
NFL rosters can be quite fluid in the weeks between the draft and the start of training camp, but the Packers' 2009 media guide lists 18 undrafted free agents that season. Only two of those 18 ever appeared in more than five games for Green Bay – Dietrich-Smith and wide receiver Brett Swain. Those 18 players combined to make 26 starts as Packers, and 25 of those belong to Dietrich-Smith. None of the other 17 players on the list have seen action in even half as many regular-season games as Dietrich-Smith's 61.
That underscores, of course, the difficulty of cracking an NFL roster for undrafted players or even prospects taken during the third day of the draft. It's even harder to stick around for a while; seven of those 18 UDFAs of 2009 did make a regular-season appearance for the Packers, but almost all of them were gone by 2011. Still, there are dozens of UDFA success stories around the NFL every year, such as Buccaneers tight end Tim Wright in 2013 or cornerback Leonard Johnson in 2012.
Fortunately for players like Matt Patchan, Josh Allen and Andrew Miller – all offensive linemen signed by the Buccaneers after last weekend's draft – they have Dietrich-Smith around to help them chase their NFL dreams. That even holds true for the Buccaneers two fifth-round linemen, guard Kadeem Edwards and tackle Kevin Pamphile. The last O-linemen to be drafted in the fourth round or later by Tampa Bay and ever make a start for the team was Dan Buenning in 2005, but Edwards and Pamphile have a great opportunity to break that drought, especially if they listen to their new teammate.
"I talk to every young player," said Dietrich-Smith. "It doesn't matter if you're drafted or not. Let's put it this way: Anything past maybe the third round, you're up for grabs. There's nothing that says that a fourth-rounder can't be cut from the team. I always tell these players, it doesn't matter how you got there, what path you took – if you don't take advantage of your opportunities, you're not going to get too far in this league. Most players, if they don't kind of get it after year two, it's going to be hard for them to get it.
"I tell these guys you've got to grind the stone, get in the playbook and watch the veteran guys. You have to see how they do it. You have to see what it takes to be a pro, to be a 10-year guy. Because if you don't know how to do that, you don't see it, you don't get it, you're not going to be here for 10 years."
Dietrich-Smith made starts at all three interior-line positions during his Green Bay days, and before he cracked the starting five he always made sure he was ready to step in at any of those spots. He says the Buccaneers' young linemen will increase their chances to stick around if they understand the importance of training for versatility.
"You only get seven guys [active on the offensive line] on game day, so if you're not the starter you better know how to play more than one spot or else you're not going to be very valuable to the team," said Dietrich-Smith. "I learned that as a young player. I basically played that role until the last year or two. It's one of those things – if you're a guard you play three spots. It's not, 'I'm just a center,' or, 'I'm just a guard.' It's, 'I play more than one spot.' Like I said, if you're not the first-team guy, you'd better know how to play more than one role."
Tampa Bay's offensive line will feature at least two players who never heard their names called on draft weekend, as former college basketball player Demar Dotson is the returning right tackle. Dotson played only six games of college football and came to the Buccaneers as raw as a prospect can be. But he was able to gradually turn his obvious skills into NFL-caliber play and last year was one of the most underrated tackles in the league. The line could also feature two fifth-round picks if Carl Nicks can return from his foot ailments to reclaim left guard and Meredith can win the right guard spot. That's not the same sort of group makeup that Dietrich-Smith encountered when he got to Green Bay in 2009, but it is one with plenty of practical experience to share with this year's newcomers. And that's good news for Edwards, Patchan and the rest as they try to emulate Dietrich-Smith's NFL success.