STORY HIGHLIGHTS
Bengals QB Andy Dalton knows that every game is critically important with the rest of the AFC North nipping at Cincy's heels
Dalton has had two very strong games after the rough outing in Cleveland three weeks ago
The returns of A.J. Green and Giovani Bernard have given Dalton a full complement of targets to distribute the ball among

The Tampa Bay Buccaneers are 2-9 and, incredibly' still very much alive in their divisional race. Of course, every game over the last five weeks will be critical, beginning with a tough test on Sunday against the leaders of the AFC North.
That would be the 7-3-1 Cincinnati Bengals and – yes, incredibly – the Bengals are even closer to last place than the Bucs are to first. The Baltimore Ravens, Cleveland Browns and Pittsburgh Steelers, all 7-4, are nipping at their heels, and the wrong combination of results on Sunday could turn the rabbit into the chaser. In fact, with all four of those AFC North teams scheduled to play at 1:00 p.m. on Sunday, the division could turn itself upside down in a mere three hours.
"We know every week is important," said Bengals quarterback Andy Dalton. "So you don't want to have any slip-ups, because if you do, you can go from first to last really easily. We know every week is so important so it just brings that extra focus to the game."
The Ravens and Steelers play at home this week but against opponents that are either above .500 (San Diego in Baltimore) or in first place (New Orleans in Pittsburgh). The Browns must brave the elements and the 6-5 Bills in Buffalo. On paper, the Bengals might have the weakest opponent in the two-win Buccaneers. However, Cincinnati is in the final leg of a three-game road swing, which is tough duty, and they see a team in Tampa that has been far more competitive over the past five weeks, especially on defense.
"They've been playing well," said Dalton, who is coming off two very strong outings in wins at New Orleans and Houston. "Some of those things, they're really sound in what they do. Whether it be the drops that they're taking – they know what they're doing, they know how to play certain routes. You've got to be sharp."
Over the last two weeks, Dalton has completed 70.2% of his passes, thrown for 453 yards and recorded four touchdowns against just one interception, production that adds up to a 109.8 passer rating. That comes after the worst game in the fourth-year passer's young career in a home loss to Cleveland that briefly knocked the Bengals into third place. After that performance, and with the rest of the division so competitive, there were some external doubts about the Bengals' playoff-race viability. Two weeks later, they're back in first and looking once again like a serious contender.
"We've been playing better, but we still have a lot out there that we can do better," said Dalton. "We feel like we've just got to keep improving and keep getting better each week."
The Bengals started the season hot, winning three straight including an important road win at Baltimore on opening weekend. They then fell into an 0-2-1 stretch and subsequently saw another big win over the Ravens balanced by the troubling loss to the Browns. That they appear to have righted the ship for the stretch run may be in part due to the returns of two of Dalton's key weapons, wide receiver A.J. Green and running back Giovani Bernard.
Green missed three games in October and Bernard was out for three weeks in November, and in both cases their absences had silver linings. With Bernard out, the Bengals discovered that they had another very good weapon in the backfield in rookie Jeremy Hill, who balances Bernard's quickness and speed with size and power. While Green was down, third-year player Mohamed Sanu emerged as a big play threat in his own right. So now, with everyone healthy again, Dalton has a stronger pair of starting wideouts and one of the best backfield combos in the league.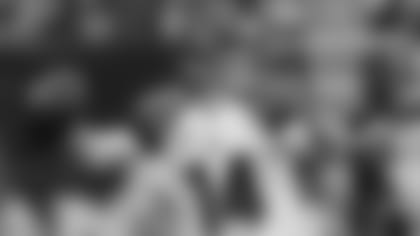 In wins at New Orleans and Houston, Cincinnati QB Andy Dalton completed over 70% of his passes and threw four TD passes vs. one interception
"When A.J. went down, Mo really picked up and kind of filled that role," said Dalton. "That was big for us to have a guy do that. It's nice having both those guys. I mean, if all the focus is going to be on A.J., then Mo is able to get some single coverage and [we're] going to get him open."
"[Hill] has been playing well. He's got a lot of talent. When Gio went down, it gave him a chance to be in there more and he really has been playing well. So now, getting Gio back, we've got a really good one-two punch with those guys."
Which is not to say that Green, a three-time Pro Bowler in three NFL seasons, has moved down the pecking order on offense. In the last two games, Green has hauled in 18 passes for 248 yards and a touchdown, and he's been targeted a whopping 24 times. Green and Dalton came in together, as the fourth and 35th picks, respectively, in the 2011 draft, and it's obvious that the young quarterback knows where his best chance for success lies.
"We've played together for a while now," said Dalton of Green. "[I've] just got a good understanding of where he's going to be and the way he's doing things, and just giving him a chance to go make plays. He's got such a wide catch radius that you can kind of put it anywhere around him and he's going to go make the play. It's just understanding that. We're trying to be good at what we do and we're trying to do everything how we're coached. It's why we're making plays."
If there's any negative news surrounding the Bengals' offense, it's that starting right tackle Andre Smith just landed on injured reserve this week with a triceps tear. Dalton has enjoyed outstanding protection this year, taking just 13 sacks in 11 games, but he could be a bit more vulnerable with former Packer Marshall Newhouse stepping in on the edge of the line. Newhouse will be dealing with the rapidly-emerging Jacquies Smith (four sacks in the last four games) and the Bengals line will be trying to slow down a Bucs front that has nine sacks over the past two weeks.
"You can't wait too long for things because they play their guys to the quarterback really well," said Dalton. "You've just got to be smart with where you're going with the ball."
Neither the Bengals nor the Buccaneers can wait too long to go on a winning streak, lest their division title hopes fade in a flash. Cincinnati is looking forward to getting back in front of the home crowd after a long stretch on the road, but first there is one very critical challenge to overcome in Tampa, and the Bengals know it.