STORY HIGHLIGHTS
The Falcons enduring a losing season for the first time in Matt Ryan's career in 2013, but Ryan still performed well
Head Coach Mike Smith learned even more about Ryan's resiliency under difficult circumstances
Through two weeks, Atlanta's passing attack holds the top spot in the NFL rankings

Statistically, 2013 was not the worst season of Matt Ryan's career. However, while only Ryan can say for sure, it was likely the least satisfying year he has spent in the NFL.
The Atlanta Falcons drafted Ryan with the third overall pick in 2008 and he became a key part of one of the most dramatic franchise turnarounds the NFL has seen in some time. It was new General Manager Thomas Dimitroff and new Head Coach Mike Smith who tabbed Ryan to move the Falcons on from the Michael Vick era, and those three achieved immediate good results.
Atlanta had gone 4-12 in 2007 under the exceedingly brief leadership of Bobby Petrino, and had enjoyed only three winning seasons in the previous 12 years. Ryan stepped right in as the starter and helped the team win 11 games and make the playoffs. The next four seasons would all be winning campaigns, too, and four of them resulted in playoff berths, including a trip to the conference championship game in 2012.
Dimitroff, Smith and Ryan finally experienced a losing season last year, in large part because a seemingly endless rash of injuries sorely tested the team's depth. A fashionable preseason pick to go deep into the NFC playoffs again, Atlanta finished 4-12 and tied at the bottom of the division standings with the Buccaneers. Ryan's numbers dipped to…4,515 yards, 26 touchdowns and an 89.6 passer rating?
Most teams in the league would happily take those numbers from their starting quarterback, and Ryan did it without Julio Jones for most of the year, with Roddy White hobbled early, with a patchwork offensive line and with little support from a running game that finished next-to-last in the league in yards per game. Ryan was sacked 44 times – by far the highest number of his career – and while he did throw a career-high 17 interceptions, it was a valiant effort overall under difficult circumstances. It was likely not very satisfying, again, because the wins were much harder to come by than in any of his previous five seasons.
The Falcons' leadership obviously didn't need any more convincing that Ryan was their cornerstone player, and yet they learned even more about his value to the team.
"[We learned] that he's a very resilient player," said Smith. "I think that Matt showed his leadership skills in some very difficult situations. Sometimes you're dealt hands that you have no control over and you've got to go out there and continue to play and continue to lead, and I thought he showed his resiliency to bounce back, and I think he had an outstanding offseason this offseason in terms of identifying what he wanted to work on and he's gotten bigger and better."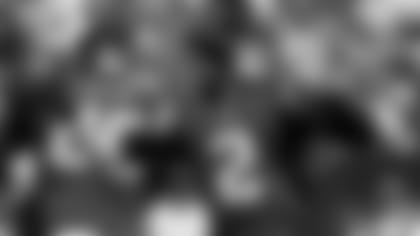 Falcons QB Matt Ryan has thrown for 679 yards and four touchdowns through just two games in 2014
The Falcons are 1-1 so far this season, having opened with a big division win over New Orleans and then taken a road loss against a very tough opponent in Cincinnati. Ryan has had a hot hand, throwing for 679 yards and four touchdowns already as Atlanta leads the NFL in passing offense. He may need to continue piling up the numbers, as the Falcon defense currently ranks last in the NFL in yards allowed and 27th in points allowed.
The Falcons will also need plenty of that resiliency that Ryan displayed last fall, as they are already trying to bounce back from what they consider a dissatisfying performance in Cincinnati.
"We didn't execute at the level that we feel like we're capable of doing," said Ryan. "When you go on the road and you play against a good football team, you're going to have an opportunity to make five or six plays throughout the game; if you don't make them, it's not going to bode well for you. We didn't play the way that we're capable of, and when you do that against good football teams, it's going to be tough sledding."
The Falcons' chances of rebounding swiftly from last week's loss are aided greatly by the fact that they're coming back home to the Georgia Dome. Atlanta has been tough to beat on their home turf in recent seasons, and Ryan seems to save his best work for the home crowd. During his NFL career, he has put up significantly better numbers in almost every category at home than on the road, as reflected in the differences in his passer rating in those two conditions (97.7 vs. 84.7). Ryan is 37-10 as a starter in home games, and five of those 10 losses came last year.
"I don't think there's any secret," said Ryan of the Falcons' success at home. "We've got great fans that make it a great environment to play in, and we've played well at home for whatever reason. We've had good teams, good players in the past and we've been able to execute our game plans at home. And I think it just comes down to being that simple. [Smith] talks about it all the time: we want to defend the Dome and play winning football at home. We've been able to do that. But I think it's the great fan base and just executing our game plans."
Added Smith: "We know that in this league, the formula for playing in the second season is that definitely the first step is taking care of business at home because it is a very different atmosphere when you go on the road."
Lovie Smith has preached the same formula to his team, but two home losses to start the season have put the Buccaneers in an early hole. Stealing a division win on the road would help make up for that start, but it's obviously a difficult challenge, given Ryan's record in the Georgia Dome. However, the Bucs have had some good games against Ryan in the past, such as last year's win in Tampa, and the Falcon quarterback has respect for the Bucs' defense.
"Obviously schematically, they're different than they have been in the past with Lovie Smith coming in," he said. "We know his scheme a little bit from Chicago. I think the one thing you find when you go against a Lovie Smith-coached team is that they're very disciplined and very sound in what they do. That's one of the things that I think jumps off the screen when you watch the film. They play their scheme and they play it well and they know where they're supposed to be and they get to those spots. Personnel-wise, again, I think it's a talented defense."