STORY HIGHLIGHTS
Danny Gorrer should see plenty of time at LCB with Alterraun Verner and Mike Jenkins out
Da'Quan Bowers' newly-defined role as an inside-outside swingman will get its first test Friday
TE Austin Seferian-Jenkins has impressed on the practice field but now needs to take it under the lights

If you plan to watch the Tampa Bay Buccaneers' first game of 2014 on Friday night, have a roster handy. There are currently 90 players on the team, and even with a small handful held back by minor injuries there are likely to be upwards of 80 men shuttling in and out of the game for Tampa Bay when they take on the Jacksonville Jaguars in the preseason opener for both teams.
Actually, there's a group of about 25 players or so who will shuttle out of Friday's game in Jacksonville fairly quickly and then put on baseball caps for the rest of the night. Assuming that new Head Coach Lovie Smith handles his preseason playing-time strategy in roughly the same way as most NFL coaches do, you should expected only brief cameos from Josh McCown, Gerald McCoy and most of the starters.
If you've been following the Buccaneers' training camp closely to see who might be sleepers to make the 53-man list for the regular or are leaders in certain position battles, then Friday night's emphasis on the lower two-thirds of the 90-man roster should appeal to you. More than any other preseason game until the finale, this one belongs to those fighting for an NFL foothold.
So if you have that 90-man roster for Friday night already at hand, then grab a highlighter, too. You might not be able to follow what every young player on the field is doing in the preseason opener, but you can keep an eye out for some specific competitors. I'm here to suggest five players to which you should pay specific attention while the Bucs are on the field at Jacksonville's EverBank Field, and even giving you their jersey numbers so you can prepare in advance.
The fifth-year defender appears to be in line for a lot of playing time in Jacksonville, and that's a good thing because Tampa Bay's new coaching staff needs to see first-hand what they have in this holdover from the last two Buc teams.
On the recently-released depth chart (which is admittedly a work in progress), the Bucs have three cornerbacks listed as starters, including one for the nickel back position: Alterraun Verner, Mike Jenkins and Leonard Johnson. Second-year player Johnthan Banks also seems like a sure thing for the 53-man roster and has been taking the lion's share of the starting RCB spots in training camp.
Verner and Jenkins won't play in Friday's game due to minor leg injuries. That leaves the team having to dip into its cornerback depth to choose a starter on the left side, and it could be Gorrer. When Verner, Jenkins and Rashaan Melvin were all sidelined, it was Gorrer who most often stepped up to the first team on the practice field. It's entirely possible that Gorrer will start on Friday and – unlike most of the regular starters – continue to play deeper into the game.
The Buccaneers currently have 11 cornerbacks on the roster and will likely keep between five and seven. There is some flexibility there depending upon how strong the linebackers look from the sixth to ninth candidates, and how strong the safeties look from five to eight. And that will depend largely upon which players are best on special teams. Still, teams generally try to stockpile as much genuine cornerback talent as they can, so Gorrer will almost surely lock up a spot if he has a good showing during the preseason. Friday night's game might be his best chance, given the high percentage of playing time he's likely to see.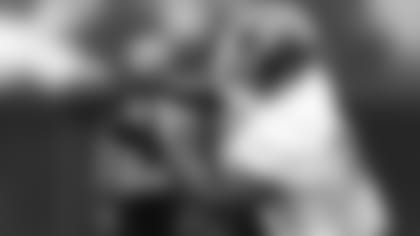 Rookie RB Charles Sims will get his first chance to show off his advanced receiving skills in Friday night's game
Really, you should keep an eye on the tailback position as a whole, and that's obviously not too difficult to do. Doug Martin's time in the game is likely to be brief, but after he departs the competition for the spots behind him will begin in earnest. The Bucs have to decide how many of their five tailbacks to keep and what the pecking order is between Sims, Mike James, Bobby Rainey and Jeff Demps.
"We want to be in position where we have five or six running backs and we get a chance to choose," said Head Coach Lovie Smith. "As far as exactly how many, there are some spots. We know for sure you need three running backs on your roster. But from there, there's some flexible numbers. If it's a good football player and we think he's one of our best 53, we'll keep him on and find something for him to do. The more the better. Again, that's practicing out there when we're not taking guys to the ground. Can't wait to see what they can do live."
It's true that Sims, a third-round rookie out of West Virginia, would seem to be the surest bet of those four to make the roster. Even if he doesn't knock the coaches' socks off during the preseason, the team is unlikely to give up after one preseason on a third-round pick for which they clearly have high hopes. So Sims may not be running for his job to the extent that the other three are, but he is still the back about which we know the least on the NFL level.
Sims has looked sharp on the practice field in training camp, but as Smith notes above he's almost never had a defender actually trying to tackle him. A live game will tell us a lot more, from how powerful he runs between the tackles to how competent he is as a pass-protector to whether or not his hands are as good as the scouting reports suggest.
"I think you can tell, especially at skill positions, does a guy have it?" said Smith. "Charles Sims, I would say, has it. Again, he hasn't played a game and right now we're not live an awful lot. But you can see enough in him to like his future with us. He's picked things up fairly well quickly."
3. DE Da'Quan Bowers (#91)
When the Buccaneers put out their first depth chart of the season on Tuesday, as required by the league before the first game, everyone quickly agreed that it wasn't to be taken too seriously. Smith said as much himself later that day.
Among the few notes of real value, however, was the fact that fourth-year defensive lineman Da'Quan Bowers was listed at defensive tackle, right behind Gerald McCoy, rather than defensive end. Bowers had been seen taking spans on the interior line during the first half of training camp, but this seemed to confirm that his best value to the team was as a player who could give you snaps both inside and outside on game day.
There should be plenty of opportunities for Bowers to do both on Friday night, given the liberal rotation we are sure to see. Bowers got a day off early in the week as a result of "general soreness" but he was back on the practice field quickly and he's eager to get his first action in Smith's defense.
"We're competitors and I'm looking forward to it," said Bowers. "It's a little bit different [playing inside], but it's a lot of the same technique so it's not too bad. I don't mind it. Anything I can do to help this team I'm going to do it, whether it's playing inside or outside. Whatever's going to help the Bucs win, I'm ready to do it."
This might be a make-or-break season for Bowers, who dealt with injuries early in his career and is still looking to fully establish himself as a productive NFL lineman. This swingman role could be the key for him; if so, the test of that theory begins on Friday night. Bowers himself is certainly optimistic.
"If I can point one thing out, I'd say I'm happy," he said. "I'm happy for the situation that I'm in, I'm happy with the coaching staff. I feel like I'm getting great coaching, utilizing my skills, making me be the best player I can be."
4. G Patrick Omameh (#66)
As with the running backs, we really could elect to focus on any one of four players at this position: Omameh, Jamon Meredith, Oniel Cousins or Kadeem Edwards. Through the first two weeks of training camp, those appear to be the leading candidates to win the wide-open jobs at left and right guard.
Omameh and Edwards are the more intriguing half of that quartet, however, because the veterans Meredith and Cousins already have a relatively lengthy NFL track record. Meredith has started 20 games at right and left guard for the Bucs over the past two seasons while Cousins, a 2014 free agency acquisition, played in 16 games with four starts last year for the Cleveland Browns (and his position coach in both Cleveland and Tampa, George Warhop).
Omameh had a good collegiate career at Michigan before joining the San Francisco 49ers as an undrafted free agent last year. The 49ers put Omameh on their practice squad to develop him for the future, which gave the Buccaneers a chance to snatch him away when their own line was hit by injuries last season. Omameh didn't see any actual game time after moving to Tampa, but he impressed Smith and the Bucs' new coaching staff during the team's offseason training program.
If that first-edition depth chart is an accurate indicator of who will be in the starting lineup on Friday night (barring injuries), then Cousins and Meredith will get the first snaps. It's possible that those two will stay in longer than the majority of the starters, given that the team obviously needs as much game-tape evidence as possible to make the crucial decisions at guard, but the players that follow them into the game will probably get even more action.
Thus, it should be an eventful night for Omameh, who could go from sleeper to favorite at right guard with a few outstanding preseason showings.
5. TE Austin Seferian-Jenkins (#87)
The second-round pick out of Washington is listed fourth at tight end on the Bucs' first depth chart, but that has a lot more to do with Lovie Smith making his rookies earn their spots than any shortcomings in Seferian-Jenkins' work on the practice field. Concerns about his being behind in training camp due to a mostly dormant offseason have evaporated quickly as he has caught everything in sight, looked strong on the edge as a blocker and easily absorbed the playbook.
The Buccaneers suddenly seem loaded at the tight end position with free agent pickup Brandon Myers (116 receptions the last two years), Tim Wright (54 catches as a rookie after converting from wide receiver) and the rookie frequently abbreviated as ASJ. Smith has said that the Bucs can definitely get all three tight ends involved in the attack in a single game, but we don't know enough about Jeff Tedford's offense yet to know just how that will be accomplished.
We also don't yet know which tight end is going to end up with the most playing time – that is, which of the three is going to be on the field for the most single-TE sets, as well as two and three-TE sets. Given the more complete nature of their games, it is likely to either be Myers or Seferian-Jenkins, and Myers' NFL experience would seem to make him the favorite, at least early in the season.
That could change, however, if ASJ proves too good to keep off the field in these preseason tune-ups. It's clear that the Buccaneers already like what they see.
"[He's] a big guy who can run, has excellent hands and has done a really nice job at the line of scrimmage blocking as well," said Tedford. "Even though he wasn't here for most of our spring work [Tight Ends Coach Jon Embree] has done a great job with him of getting him to understand what we're doing. He's a really bright guy who has caught on really fast and he creates some matchup problems and he brings a lot to the table for us."