STORY HIGHLIGHTS
Second-year CB Rashaan Melvin could deliver on the promise he showed as a rookie a year ago
The defense usually dominates in training camp in Tampa, but this year could be different
Carl Nicks is planning to return to dominant form, sort of like the second Death Star

The Fourth of July weekend (or just a weekend for those NFL fans outside the States) is over.  I hope you enjoyed the time off, stayed safe and grilled your meat to perfection.
As for Tampa Bay Buccaneer players and coaches who were flipping burgers over the weekend, they had to know that, very soon, it would be them feeling the heat, literally and figuratively.  The National Football League is in the midst of its annual pre-training camp lull, but that lull won't last much longer.  For the Buccaneers, the Fourth was the last national holiday before the new football season would take over their lives, 24 hours a day.
The Buccaneers will hold their opening training camp practice on Friday, July 25.  (Click here for a full schedule of practices open to the public at One Buccaneer Place and Raymond James Stadium.)  As any kid on summer vacation knows, those days will fly be remarkably quickly.  As any NFL player knows, those days once camp begins will be a hot and sweaty grind.
That will also be a very important stretch of time.  Like every team in the league, the Buccaneers will use training camp and the preseason to suss out the 53-man roster, align the depth chart and make sure everyone has the playbook downloaded into their cerebral cortices.  It will be a formative period, and in some cases, a surprising one.
(A quick timeout so that I can issue a blanket "barring injuries" caveat.  We all know that sprains and fractures happen, and that they can quickly invalidate any of the points made below.  With that caveat noted up front, we can acknowledge that truth without jinxing any person specifically.  Right?  That's what I'm going with.)<
No, Gerald McCoy and Lavonte David aren't going to lose their starting jobs, no matter how serious Lovie Smith's coaching staff is about open competition.  Yes, Mike Glennon could win his starting job back from free agent signee Josh McCown before Week One, but the far more likely scenario is that both quarterbacks will look just fine in the preseason and McCown will start as expected.  The running back competition looks particularly interesting, but Doug Martin is the clear Number One.  Connor Barth and Michael Koenen should hold off the young suitors to their job fairly easily.
There are relatively sure things heading into training camp and there are some rather obvious open competitions, such as the slot receiver job.  In the middle, there is room for revelation.  That's our topic today.  Below, you'll find five items that sneak up on but don't quite cross the border into "prediction."
These aren't things I am certain will happen during the six weeks that commence on July 25, but they are six things that if they transpired wouldn't totally surprise me, even if I am calling these "potential training camp surprises."  And, as one final point, I am really basing these ideas on both training camp and the time that follows until the start of the regular season.  It's just that "Five Potential Training Camp and Preseason Games and Week of Final Roster Cuts Surprises" seemed a bit unwieldy as a title.
5. Rashaan Melvin wins a prominent job in the secondary.
If you're reading about the Buccaneers' training camp, it probably means you care about the Buccaneers' training camp, and if that's the case you were probably tuned into what was going on at One Buc Place about a year ago.  One of the surprising developments of that period was the strong play of Rashaan Melvin, a cornerback from Northern Illinois who had been signed as an undrafted free agent.
Now, we're all sophisticated enough as NFL fans to understand that there are plenty of good players who slip through seven rounds of the draft, and that many of the prospects who sign with various teams in the hours after the last round are just as promising as the sixth and seventh-round selections.  Still, the Bucs' draft week in 2013 included not only the blockbuster trade for Darrelle Revis and the second-round selection of Johnthan Banks but also the apparent coup of hauling in Arizona State's Deveron Carr as a free agent right after the draft.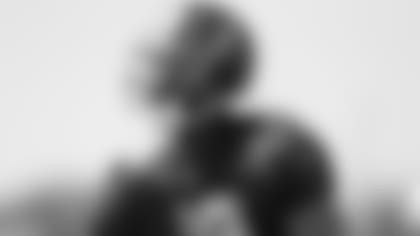 CB Rashaan Melvin is hoping to build on a strong rookie training camp performance
Carr did indeed prove to be a good pick-up for the Bucs, and he's back this summer to earn his spot again.  It was Melvin, however, who drew raves for his performance in the offseason program and training camp before hamstring troubles essentially wiped out his rookie season.  Like Carr, he's back in Year Two to try to prove that the early promise he showed was real.
I'm thinking Melvin makes it this time, and could even be a significant player in the Bucs' cornerback rotation.  The 6-2 Melvin has the size that defensive coordinators covet at the position, and he has once again looked promising this offseason.  Banks, Alterraun Verner and Mike Jenkins have the inside track to take the top three spots on the cornerback depth chart, but after that it's wide open.  Melvin is more likely to work on the outside than in the slot, so he may not be in competition for the nickel back job, but even so he could slot in as the fourth or fifth corner, and over the course of a 16-game season that player is going to get some important work.  It wouldn't surprise me if the Buccaneers kept six cornerbacks (especially if two or three of them have special teams talent) and Melvin is one of the most intriguing players in that mix.
4. David Gettis cracks the 53-man roster.
If you were to arrange the depth chart based on roster seniority, Gettis would be on the very last line.  There are 13 wide receivers on the roster the Bucs are currently set to bring into training camp, and Gettis was the last one added to that list.  He came to Tampa during the second week of June to take part in the team's offseason-capping mini-camp on a tryout basis.  Afterwards, the Bucs signed him up.
One suspects that Gettis is using this off time before training camp to mainline the team's offensive playbook, because if he can start camp on an equal footing he should have a very real chance to stick around.  There's no real reason to get overly excited about the 26-year-old wideout, but at the same time there's no real reason to dismiss his chances.  After presumptive starters Vincent Jackson and Mike Evans, the Bucs' receiving corps is wide open.  Like, Grand Canyon-wide open.  The Bucs will likely keep five receivers, maybe six, and if you think you can name those five (or six) with near certainty, you're a better fan than me.
I personally think that Robert Herron is the strongest remaining bet after Jackson and Evans, and I know that Chris Owusu and Louis Murphy have had strong offseasons.  In fact, that could be your five right there, but then you're saying no to Lavelle Hawkins, Eric Page, Skye Dawson, Russell Shepard and others.  With all of that, where does Gettis fit in?
Well…I don't know.  But he's big (6-3, 220) and apparently healthy after years of struggling with injuries, and he had a really nice rookie season with Carolina in 2010.  I know that there are stories like that in every training camp, and they don't guarantee anything, but I can't help thinking that if nobody really blows the doors off this thing, Gettis will have a chance to sneak in.  Remember, we're talking "surprises" here, not likelihoods.
3. The offense starts faster than the defense.
If you're a Bucs fan living (or previously living) in the Bay area, there's a good chance you've made it out to a training camp practice, whether it be at UT or Disney or One Buc.  If so, I would hazard a guess that you walked away more impressed with the defense than the offense.
My first Buccaneer training camp was 1992.  The team wasn't particularly great on either side of the ball then, or for the next few years, and I honestly don't remember which side looked better in camp.  I do know that when the team would hold joint practices with the Dolphins, our offense would have a tough time getting anything done against Miami's secondary.  Then, starting with Tony Dungy's arrival in 1996, there was a bit of an unfair situation for the Bucs' offense as a legendary defense started to take shape.
Camp after camp, I've seen the defense look stronger than the offense, especially in the early going.  This wasn't necessarily disheartening; we were often looking at a very good defense, and it makes sense that the offense might need some time to get in a groove.  And, in many cases, the offense would be working on basics rather than game-planning specific plays that would work against their own defense.  Not much point in that, right?
There's a good chance the defense will look better out of the gate this summer, as well.  That crew does feature two Associated Press All-Pros in Gerald McCoy and Lavonte David, after all, and the new head coach is a defensive guy.  So wouldn't it be, uh, surprising if the Bucs' offense broke out like gangbusters on the first week of camp?  Yeah, surprising and fun.  The reason I bring this up is that we don't really have a strong grasp on what that offense will look like.  In addition, we have a ton of new additions on that side of the ball.  What if Jeff Tedford's crew blitzes the Buccaneers' defense with an attack that is strong out of the gates?  I think we would all enjoy that, even if we're proud of Tampa Bay's defensive history.  And it would certainly be surprising.
2. Two rookies win the kick return jobs.
I suppose it's a stretch to call the winner of the kick-return job(s) surprising, since it's such an ill-defined battle.  What's chalk on this: Incumbent Eric Page holding on to both duties?
Eric Page did a nice job as the Bucs' return man last year and should definitely be considered one of the favorites to handle those duties again in 2014.  However, there's a whole new coaching staff in town, Page has had the job for just one year and there's no guarantee that he'll offer enough as a receiver to make his roster spot more permanent.
I would say that Page is going to be facing some pretty stiff competition (which will only make it better if he holds on to one or both return jobs).  Some of that will come from fresh faces like Charles Sims and Robert Herron.  Sims seems to be in the mix for the kickoff return job, while Herron is a candidate on punts.  There's a very good chance that both players make the team regardless of their roles in the return game, so Lovie Smith and company can afford to roll the dice on Sims and Herron to see what they can do on special teams.
I can't imagine predicting right now that either Sims or Herron will be quality NFL return men.  I do think, however, that they could show enough in training camp and preseason to get a shot at those jobs.  That would be surprising, but not unforeseeable.
1. Carl Nicks quickly returns to form.
"Shyness is nice, and
Shyness can stop you
From doing all the things in life
You'd like to."
Let's take those lyrics and replace shyness with skepticism (and make a few other sneaky edits):
"Skepticism is nice, and
Skepticism will stop you
From enjoying all the things in a Bucs Life
You'd like to."
Like shyness, skepticism is pretty much ingrained in some of us, and either one can be hard to overcome.  As someone more prone to being a skeptic than a shy person, I can see the difference.  Shyness is an issue with ourselves, skepticism is an issue with the world at large.  Also, the former can be painful, while the latter can actually be enjoyable.
That said, I'm not going to let skepticism stop me from enjoying this upcoming training camp.  It's clear from Twitter reactions that expressing any optimism in Carl Nicks' future is akin to claiming you've seen an unidentified flying object.  Well, when it comes to Nicks, I choose to believe.  In fact, in the hopes that Nicks has many strong NFL years ahead of him and, in the sci-fi spirit of UFOs, I've thought of a nickname for him: The Death Star.
Nicks is blot-out-the-sun big like the Death Star.  Seriously, he's a big man.  And even though the first Death Star met its match in Luke Skywalker, a second one of even greater destructive capabilities was then commissioned. That's' my thought here: Death Star II is ready to be re-deployed.
The problem with this analogy is that, in person, Carl Nicks comes off way too nice to be a villain in the NFL universe.  No worries, man!  Lions wide receiver Calvin Johnson is known as "Megatron," which is both appropriate and awesome, despite the fact that Megatron is a villain in the Transformers universe.  So it would be with a Death Star in the middle of the Buccaneers' offensive line, if that were to come to pass in 2014.  Who cares if he's on the side of good or evil if he can blast a defensive tackle five yards off the ball?
And that's my Number One potential training camp surprise of 2014: Carl Nicks quickly re-establishing himself as a (death) star performer.  Number Two surprise: The "Death Star" nickname catching on.  Remember, these are not "likelihoods or" even under-the-radar predictions.  These are potential surprises that, if they come to pass, would be awfully good news for the Buccaneers.