STORY HIGHLIGHTS
Derrick Brooks was the obvious Ring of Honor choice this year but the 2015 decision isn't as clear
Hall of Fame voting could affect the final decision, particularly if John Lynch gets a gold jacket
The window could be open in 2015 for six-time Pro Bowl FB Mike Alstott

The Tampa Bay Buccaneers held a press conference three weeks ago to announce the newest member of the team's Ring of Honor at Raymond James Stadium. At precisely 1:00 p.m. on May 6, this figure walked into the standing-room-only auditorium at One Buccaneer Place, revealing his identity to the utter shock of absolutely no one.
Buccaneers Co-Chairman Bryan Glazer had the honor of formally introducing Derrick Brooks as the next Ring inductee, and did so in heartfelt fashion, but the choice had been a foregone conclusion for months. When Warren Sapp went straight from Canton into the Ring in 2013, it was clear that his old running mate would follow the same path as soon as the Pro Football Hall of Fame called his name.
It's impossible to argue with the selection of Derrick Brooks in 2014, and his induction in September will truly be a cause for celebration. However, if you like a little more mystery in your Ring of Honor process, you might enjoy 2015 a little bit more. The field of possibilities may not exactly be wide open, but neither is the choice glaringly obvious. There's room for debate and speculation…and we might as well start now.
One note: There is no written list of rules for the selection procedure, which ultimately lies in the hands of team ownership. There has been one person inducted into the Hall every season since Lee Roy Selmon became the inaugural member in 2009. That does not rule out the possibility, however, that the team could choose to induct two people in the same year, or none at all. There also is no set number of years a person has to be removed from his playing, coaching or administrating days with the team, if at all. By advancing from Selmon to John McKay to Jimmie Giles to Paul Gruber to Sapp to Brooks, the team has chosen its Ring members in rough chronological fashion, in terms of team history, but they've skipped some strong candidates along the way. If the Ring is to continue welcoming new members, the process will almost have to double back on the franchise's timeline at some point.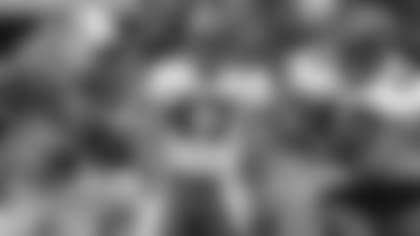 James Wilder, John Lynch and Mike Alstott all rank among the most accomplished players in Buccaneer history
So below you'll find my guesses for five Ring candidates that will be considered in 2015, in advancing order of likelihood. Please keep in mind that these are my opinions and do not necessarily reflect that of ownership, and that they do not include any inside information provided by team management.
In case you've skipped ahead to the list, I'm going to start by addressing the elephant in the room: Ronde Barber is not among my five choices. Before you question my sanity or call me an idiot (probably too late), let me explain.
Of course, Ronde Barber is deserving of induction into the Ring of Honor. It's hard for me to imagine a scenario in which Barber does not end up with his name and number on the stadium façade, as he is clearly one of the best three or four players in team history. However, I'm not making a list of the most deserving candidates. I'm making a list of what I think are the five candidates most likely to be considered in 2015. It is my theory that the team will wait on Barber, who only recently had his retirement party, until he is eligible for Hall of Fame consideration. Barber's case for the Hall is so strong that it's reasonable to think he could get in as a first-ballot selection in 2018, and that would make for the perfect year to put him into the Ring of Honor. If I'm right, Barber's greatness puts him on a Ring of Honor timeline that requires a few more years of waiting. Knowing Ronde, I doubt this will really tear him up inside.
Alright, on to the top five:
5. RB James Wilder, 1981-89
I don't sense any mounting campaign or groundswell of support for Wilder's Ring candidacy; I'm simply basing this on his career accomplishments and his place in the team's record books.
Here's the point in a nutshell: James Wilder is the leading rusher and the leading pass-catcher in the Buccaneers' four-decade history. In neither case is it particularly close, as Wilder has almost 1,000 more rushing yards and more than 100 more receptions than the next players on those respective lists. He's also second in team history in touchdowns scored and sixth in receiving yards. Heck, if you took the minimum restrictions off, Wilder would even have the best passer rating in Buccaneer annals, having completed the only pass of his career for 16 yards, a touchdown and a perfect rating of 158.3.
As was noted during his induction into the Ring, Jimmie Giles was really the Buccaneers' first breakout offensive star. His size and speed combination allowed him to make many more plays downfield than the typical tight end, as evidenced by his average of 15.4 yards per catch as a Buccaneer. However, Giles was not the first Buc to challenge the NFL's offensive record books. That would be Wilder.
In 1984 and 1985, Wilder had two of the busiest seasons an NFL back has ever experienced. In 1984, he set a Buccaneer record that still stands by rushing for 1,544 yards while also leading the team with 85 catches. That latter total was the Bucs' single-season mark for another five years before Mark Carrier surpassed it by one in 1989. The next year, Wilder ran for 1,300 yards – the second-highest total in team history until Doug Martin got 1,454 in 2012 – and 53 more passes.
Those 1,544 yards Wilder gained in '84 came on 407 carries, which is not only a single-season record for the Buccaneers still but was also a new standard in the entire NFL. Atlanta's Jamal Anderson didn't break that record until 14 years later, in 1998. Kansas City's Larry Johnson eventually topped them both in 2006, but Wilder's 407 totes remain the third-highest total ever.
The counterargument to all that statistical thrusting would be that Wilder put up nearly 50% of his record rushing totals in just two seasons and that his peak performance didn't last as long as such Ring members as Selmon and Brooks. That's valid, and I think that's why Wilder is more likely in for a longer wait. Still, the Ring of Honor has the team's all-time leaders in sacks and tackles and will one day have the leaders in interceptions and games played. It wouldn't seem complete, necessarily, without the one man who has set the standards in both the rushing and receiving categories.
4. Head Coach Tony Dungy, 1996-2001
One of the most popular debates among Buc fans – the question that will never die – is which head coach is most responsible for bringing the franchise to the top of the NFL heap in 2002. Did Jon Gruden take over a team that Dungy couldn't quite get over the top and push all the right buttons to win the Super Bowl? Or did Gruden inherit a championship ready team (or defense, at least) from Dungy and simply ride it to the title.
There is room, of course, for an answer that gives both men plenty of credit, and that's the approach I'm taking here. I am of the opinion that both men are worthy candidates for the Ring of Honor. I'm choosing Dungy over Gruden here for two reasons, the first of which is simple chronology. The second is the fact that Dungy got fairly close to Hall of Fame selection last year and could get over the top next winter. If that were to happen, then he would suddenly seem like an obvious candidate to join the Bucs' other three Hall of Famers in the ring. Gruden is also eligible for the Hall of Fame again next year but this past season he did not make the cut from the original 126 nominees down to the list of 25 semifinalists.
Dungy eventually got his Super Bowl ring, too, but with Indianapolis five years after being let go by the Buccaneers. Still, even without a title in Tampa he was still a critical figure in franchise annals. Adrift for a decade and a half in a sea of losing, the Buccaneers got a total makeover after being purchased by Malcolm Glazer in 1995. The first major move by new ownership was to hire Dungy in 1996, and by 1997 the team was back in the playoffs. Dungy led the Bucs to the postseason four times in a five-year span, including the NFC Championship Game in 1999, and he oversaw the development of one of the best defenses in league history. His overall mark of 54-42 gives him the best winning percentage of any head coach in franchise history, and by a pretty wide margin.
I don't think Dungy is the best bet to be chosen for the Ring of Honor this year unless he is elected to the Pro Football Hall of Fame next February. If that were to happen, it would make too much sense to continue the pattern established by Sapp and Brooks. Of course, Dungy would also surely be honored by the Colts in some fashion, and it's possible that could take precedence over anything Buccaneer-related in 2015.
Otherwise, I'm not sure there would be a big rush to get Dungy and Gruden into the Ring, soon. If you were to put those two in next that would make three of the eight members coaches, which seems like an awfully high percentage.
3. Defensive Coordinator Monte Kiffin, 1996-2008
The thing that makes Kiffin interesting is that he exactly spans the administrations of both Dungy and Gruden. Furthermore, he rightly gets a good deal of credit for building that incredible defense that came to power under Dungy's watch. Kiffin remains on the Dallas Cowboys' staff this season, and it isn't likely that the Bucs would induct any coach who was currently working for another club (not to mention the logistical difficulties in scheduling a ceremony). If Kiffin chose to move on from his long and successful coaching career at the end of this season, however, he could immediately become a very intriguing candidate.
There is no doubt that Kiffin was valued very highly during his entire 13 years with the team. He flirted with some head coaching opportunities but was comfortable in his particular niche and was able to stay in it because the team's owners made it worth his while. Kiffin repaid that commitment by keeping the Bucs' defense among the league's best almost his entire time with the franchise.
In 1995, Tampa Bay's defense finished 27th in the NFL, giving up 357 yards per game. Kiffin and company shaved 56 yards per game off that total in 2006 as the defense climbed all the way to 11th on a team that finished 6-10. The next year, it rose to third in the NFL and it would only fall into double digits one time (17th in 2006) for the rest of Kiffin's tenure. Nine straight top-10 finishes from 1997 to 2005 included the number-one rankings in 2002 and 2005. The Bucs also finished second in defense under Kiffin in 1998 and 2007 and third in 1997 and 1999.
Kiffin's influence extended beyond the Buccaneers. He employed a base defense that was not revolutionary – the Cover Two – but he helped the Bucs play it so well that it soon became known as the Tampa Two. These days, those two phrases are used almost interchangeably.
This idea may be a bit out-of-the-box, as you don't see too many assistant coaches receive honors of this magnitude. On the other hand, once you get around the small handful of player names that are obvious choices, it becomes a bit hard to separate one from the pack. One of these years, instead of choosing from among that group, perhaps the team will choose to recognize one of the most influential coaches in franchise annals, even if he was never a head coach for the Bucs.
2. S John Lynch, 1993-2003
The argument here is similar to the one for Dungy: Lynch came pretty close to getting into the Hall of Fame last year, in his second year on the ballot, and it wouldn't be surprising to see him make the final jump this year. If that were to happen, the symmetry would be even better for the Buccaneers, as Sapp, Brooks and Lynch were considered The Big Three in the team's defensive rise to prominence. To see them go into the Hall of Fame and the Ring of Honor in three successive years…well, that would probably be too good to pass up. Dungy seems like a reasonably strong possibility if he's chosen for the Hall next February; Lynch seems like a near-lock if he gets the Canton call in 2015.
Furthermore, Lynch splits more towards the Buccaneers than his second team, the Denver Broncos, while Dungy is a more even cut between the Bucs and the Colts, with his championship coming in Indy. Lynch even came back to One Buccaneer Place to hold his retirement press conference after four seasons with the Broncos.
Even though he's having a little trouble getting over the hump for that Canton vote, Lynch is a slam dunk for the Buccaneers. He's a franchise icon and one of the most beloved players in team history. He went to five Pro Bowls as a Buccaneer (and four more as a Bronco) and was a four-time Associated Press All-Pro (first-team twice, second-team twice). He is without a doubt the greatest player at his position in franchise history.
Lynch isn't just a local legend, though. He's considered one of the hardest-hitting defenders of the last three or four decades. He was also well known during his playing days in Tampa for coming up with his interceptions – he finished with 23 of them as a Buccaneer – at the most opportune times, such as the one that closed out the famous 38-35 shootout with the Rams in December of 2001. It was for this reason that Kiffin named his defensive leader, "The Closer."
1. FB Mike Alstott, 1996-2007
I have Alstott listed first here, but I really feel more strongly than that. I truly think he's the odds-on favorite for the honor in 2015, as long as Lynch is not elected to the Hall of Fame. I should stress once again, however, that I do not have any inside information from team management on this issue; this is simply my own analysis.
For each of the choices above (plus Ronde Barber, as noted), there's a little bit of a caveat, or even a significant hesitation. For Alstott, however, this seems like the perfect opportunity to recognize a player that remains the all-time favorite for many Buccaneer fans. It's a possible lull between another round of Hall of Famers (Barber, Lynch and Dungy), and Alstott has been out of the game now for about the same amount of time as Sapp and Brooks. He's still local and prominent in the community and his Ring of Honor game would probably be one of the most popular tickets on the calendar in the fall of 2015. And, of course, he's quite deserving.
Most Buc fans know that Alstott is the franchise's all-time leader in touchdowns, and he's got a significant lead on the rest of the field. His 71 scores are 25 more than Wilder, who's in second place, and more to the point, a great many of them are still easy to picture in the mind's eye. Alstott was the master of the second and third-effort run, some of them around the goal line, and that made a good percentage of his touchdowns of the highlight-reel variety.
He also ranks second to Wilder in rushing yards as the only other player in team history to surpass 5,000. He's even fourth in franchise annals in receptions, with more catches than Giles, Kevin House or Joey Galloway. Alstott's six Pro Bowl selections are the most by any offensive player in Buccaneers history; nobody else, not even Giles, got to five. He was a four-time Associated Press All-Pro, with three of those of the first-team variety.
Given his status as a franchise icon and his very real statistical accomplishments, Alstott seems like another figure who is destined for the Ring of Honor, like Barber and Lynch and perhaps a few others. He may not necessarily be more deserving of the honor than those others; 2015 just happens to be the perfect window to get his name and number on the wall.
(Others receiving consideration: Hardy Nickerson, Doug Williams, Simeon Rice, Mark Carrier, Warrick Dunn, David Logan, Donnie Abraham, Shelton Quarles…and, yes, Ronde Barber, even if the timing isn't right.)