STORY HIGHLIGHTS
The Bucs were aggressive in free agency in March, filling many of the team's most obvious depth chart voids
Lovie Smith and Jason Licht can afford to focus less on any glaring needs in the draft after that free agency haul
Tampa Bay could be interested in a quarterback in the draft but Smith is happy with the team's talent at that position

It was a Thursday evening in mid-February, and Tampa Bay Buccaneers Head Coach Lovie Smith was feeling good.
He had just finished speaking to a party in the lobby at One Buccaneer Place, entertaining them with his usual easy manner, but that wasn't the source of his good mood. It was the night before Valentine's Day, but MaryAnne Smith was still up in their Chicago home, so it wasn't date night on his mind. No, Smith was feeling the pleasant relaxation – however fleeting it would prove to be – of someone who has just finished a big task. A final-exams-just-ended kind of feeling.
Specifically, Smith and General Manager Jason Licht, along with their support staffs, had finished with what was necessarily a very thorough and intense evaluation of the roster they had inherited in early January. That put them in position to make the necessary decisions before and after the start of free agency, and to switch out their video queues from 2013 Buccaneer games to draft prospect highlight reels.
In many ways, that day was the beginning of the path that has led Smith and Licht to the doorstep of the 2014 NFL Draft. The Scouting Combine came shortly after that, followed by Pro Days and prospect visits and private workouts, all of the events that would give a final shape to the Bucs' draft board. Just as significantly, it gave shape to a free agency plan that has undoubtedly affected the team's plans for next weekend.
Just a few days into the free agency period that began on March 11, it was clear that Smith and Licht had found quite a few holes to spackle over during their roster evaluation. The Bucs were the most aggressive team in the NFL on the open market, and some concurrent cuts aided by well-structured contracts allowed them to do far more work on the depth chart than might have seemed initially possible. Before it was all said and done the Bucs had found answers for some very obvious needs, such as defensive end, tight end, left tackle and cornerback.
Thanks to that willingness to crank up the RPM in free agency, the Buccaneers are now in much better position to go BPA on draft weekend.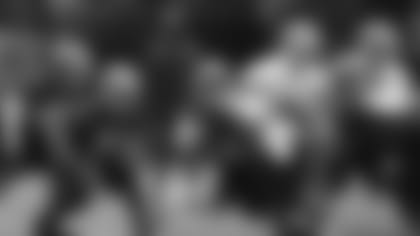 Head Coach Lovie Smith had a chance to see the Bucs' new-look roster in action during a recent mini-camp
That's "best player available," and it's always considered to be the opposite side of the draft coin to "depth chart need." In reality, virtually no draft picks are motivated purely by BPA, at least in the early rounds. There's always some element of need, or a lack thereof, involved in these decisions. Had the team picking first in the 2012 draft already had a young, established stud at quarterback, for instance, there's no way it would have stayed put and taken the clear BPA of that spring, Andrew Luck.
Consider it, instead, two addends making up the sum of a decision. The Buccaneers seriously decreased the value of the "need" addend by addressing so many glaring issues in free agency, making room for a much bigger BPA addend.
"I think, if we had to play tomorrow, we could line up a pretty competitive team at every position, but you're always trying to upgrade," said Smith. "There are some positions we would like to upgrade, but I'll be saying that every year, and that's the way you should always be thinking. Going back to the mini-camp, having a chance to see these guys, we're close."
Smith made those comments during a press conference specifically regarding the draft. When he was asked later if the Buccaneers' first-round draft pick would be a player that was expected to step immediately into a significant role, Smith realized his answer could be regarded as a clue to the team's specific plans. If he says yes, does that mean the Bucs are targeting, say, a receiver or a guard, the two most obvious remaining holes on the depth chart? If he says no, does that mean they're hoping to add a quarterback who can spend a season or two in apprenticeship? Accordingly, Smith chose not to address the question too specifically, but there is clearly a philosophical through-line for the Buccaneers connecting free agency and the draft: Win now.
"That's a tricky question, on how I answer it," said Smith. "I guess I could be saying a little bit on how I answer it. As a general rule, the seventh pick, you want them to play fairly soon. There's no rebuilding around here. We're trying to put together a roster to be able to win as quick as we possibly can. The seventh pick normally plays fairly soon."
And, of course, the most loaded question is whether or not the Buccaneers are seriously interested in any of this year's top quarterbacks. Only Smith, Licht and a few others currently know the full answer to that question but, again, the Bucs made it possible to go in several different directions at the position by first addressing it in free agency.
"Well I don't know how much of a priority it is," said Smith of drafting a quarterback at some point during the weekend's seven rounds. "You want to keep that option open of course; there are some good quarterbacks in this draft, I think that's been documented. But just looking at our roster right now – and we had a good chance to see our guys in action [during mini-camp] – Josh McCown is a good quarterback that could lead us to a lot of victories, Mike Glennon is an excellent quarterback also and Mike Kafka is good. We feel pretty good about our guys that we have right now even though there are a lot of good options at the QB position."
Thanks to their aggressive work in March, the Buccaneers can say that at almost every position now that it's May and the draft has finally arrived.