STORY HIGHLIGHTS
The Bucs added P Jacob Schum to the practice squad Friday and put LB Jeremy Grable on practice squad IR
RB Doug Martin will miss another game but the rest of Tampa Bay's injury report is encouraging
The team invited Northeast High's Leshawn Williams to practice Friday to offer support during a difficult time

With the week of practice wrapping up and the team packing up for Saturday's trip to Maryland, Friday was a relatively quiet day at One Buccaneer Place. Here are a few notes of interest:
The practice squad has been seeing weekly turnover, often in order to shore up a position on the active roster that has been hit by injuries, and those moves are generally made before the start of practice on Wednesday. This week, however, there was an additional practice squad move on Friday, as the team signed first-year punter Jacob Schum.
Buccaneer coaches and personnel evaluators knew a bit about Schum already, as he had previously signed with the team in January and spent five months in town before being released in May. He originally entered the league as an undrafted free agent with the Cleveland Browns in 2013 after playing two seasons at the University of Buffalo. After the Bucs let him go in May, Schum signed with the New York Jets and went to camp with that squad before being released on August 23.
It's the first time this season that the Buccaneers have carried a punter on the practice squad, and the move comes after the team's active punter, Michael Koenen, had two of his least effective games of the season. However, Head Coach Lovie Smith cautioned against reading too much into the signing.
"We brought a player in on the practice squad," said the coach. "He's on the practice squad now and going any further from that – we have players at other positions too on the practice squad and I wouldn't look too much into it besides that. We wanted to take a look at someone else, there's a punter that we knew something about and we're constantly rolling guys in. If you look at our practice squad, it has changed every week, there are some guys we want to take a look at and see exactly what they are, there may be some that we liked before and we want to see where they are right now, that's pretty much where we are."
The Bucs had a spot open due to some rather poor luck that befell rookie linebacker Jeremy Grable. Another player who had previously been with the team in the offseason, Grable had just returned on Wednesday as a practice squad signee. However, he quickly suffered an injury on the practice field and was moved to the practice squad version of injured reserve.
Running back Doug Martin will miss a third straight game due to an ankle injury he suffered against Minnesota. Martin was able to practice in a limited fashion this week but he was ruled out on Friday's official injury report, the first one of the week that comes with game-status designations.
Therefore, the strategic decision of how to best make use of Martin, Rainey and Charles Sims when all three backs are healthy will be delayed for at least one more week.
"He's hurt and he's making progress, but he's not there," said Smith. "I make decisions on the guys that are ready to go and have been cleared medically to play. Doug isn't there yet."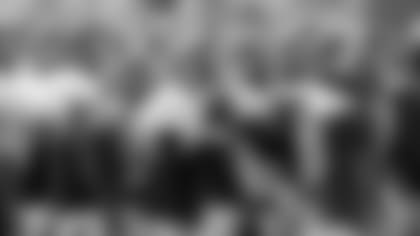 Everybody on the Bucs' roster was able to practice in some fashion during the week
Otherwise, the Bucs are significantly healthier than they have been the past two games.
The aforementioned injury report doesn't include any other "Out" designations, and only three of the remaining seven players on the list are even "Questionable." After missing two games with a foot injury, Anthony Collins will be able to return to his spot as the starting left tackle. It also appears as if defensive tackle Gerald McCoy was right to downplay his groin injury earlier in the week; like Collins, he's listed as probable. The three question marks heading into the weekend for the Buccaneers are cornerback Alterraun Verner (hamstring), defensive end Michael Johnson (hand) and tight end Luke Stocker (hip).
"Beyond [Martin], everybody else is available," said Smith. "It's always good to have decisions on game day as opposed to, 'Who's healthy?' and just dressing the guys who can play. To have everybody in some form ready to go is pretty good."
The Buccaneers had a special guest at practice on Friday: Northeast High School defensive lineman Leshawn Williams. In October, Williams suffered an injury during a game against Clearwater High and had to have his right leg amputated from just above the knee. Several Buccaneers, including Smith and McCoy, had reached out to Williams earlier in the week, and on Friday they asked him to attend practice and meet the entire team at the end of the workout.
"Players always assume that they're going to get up after every play and even if you don't get up you assume that you'll still be able to walk afterwards," said Smith. "It's just a tough situation for him and his family to deal with. We wanted to get him out today to just let him know there are others thinking about him, and for him to see other defensive lineman that presented him a jersey and let him break down our football team. We have a lot of great Buccaneer fans out [there]; he's one and we'll be praying for him and standing there with him as he goes through this journey of changing up his life and how he deals with things."
LB Mason Foster had three interceptions last season, two of which he returned for touchdowns. So far this season, like many of his teammates, he has been shut out in the turnover category.
The Buccaneers' unexpected low takeaway total – the team is tied for the 10th-lowest total in the NFL, with 12 – has been a persistent topic of conversation at One Buccaneer Place. Smith's defenses in Chicago, where he was the head coach for nine years, and St. Louis, where he was the defensive coordinator for three years, were almost always among the league leaders in that category.
Foster thinks the takeaways will come, but he isn't planning to force the issue because that can lead to costly blown assignments.
"That's what I pride myself on: making big plays," he said. "Over the past few years, [I have gotten] interceptions, fumbles – whatever. You've just got to wait to make your play. You can't try to go do somebody else's job; you've got to do your job and the plays will come to you. But I was just thinking yesterday, it's a long season – we've still got a few more games to go. [The plays] are going to come. You've just got to continue to do your job. As soon as you start looking to make those plays and doing too much, that's when you give up big plays – you can't have that. So just keep working and things are going to come."