On Sunday in a 14-5 win over the Seattle Seahawks, Jameis Winston distributed the football to nine different players. On Wednesday, he had his eyes on a few more targets…like 60,000 or so.
The Tampa Bay Buccaneers' second-year quarterback held his usual weekly meeting with the press on Wednesday afternoon, but this time he brought a football with him to the podium. The ball was a symbol of appreciation for the fans who had created such an uplifting atmosphere at Raymond James Stadium on Sunday afternoon.
"I really just wanted to give this Game Ball to the fans," said Winston to begin his press conference. "They did an amazing job and it really helped us out. So this game ball goes to all the fans for do an amazing job, and I hope that's in our future every Sunday at RayJay."
The idea for a Game Ball in honor of Buccaneer fans was hatched earlier in the week by Head Coach Dirk Koetter and General Manager Jason Licht. The Buccaneers struggled at home during the first half of the season and several early games featured a rather noticeable representation of the opposing teams' fans. Koetter exhorted local fans on several occasions to reverse this trend, while understanding that more success on the field would help that process greatly. On Sunday with a powerful Seahawks team in town, both halves of that equation came together to create a very favorable – and very loud - environment for the home team.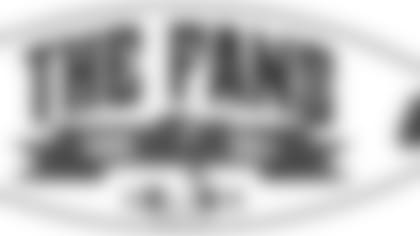 Koetter called the atmosphere fantastic and said he could feel the difference even before the game began, while the players were warming up. Then the Buccaneers' offense began the game with an impressive and lengthy touchdown drive and the excitement level in the stadium began to build noticeably. On Seattle's second play from scrimmage, defensive linemen Noah Spence and Gerald McCoy combined to sack quarterback Russell Wilson.
"I told the players in the locker room: We've got to give these people something to cheer about," said Koetter. "They're ready to help us. Then when Noah got that sack on their first drive, that place exploded. There were so, so many big plays.
"All the players in the postgame and during the week have [credited the fans], so we came up with this idea – for big wins when the crowd contributes like they did – to do a game ball for the fans. Jameis did the ball presentation. I think it's an awesome gesture and let's do it again here in a couple weeks."
The Buccaneers next play this coming Sunday in San Diego, where they will try to improve their 2016 road record to 4-1. If the team can continue to match that road success with better days at Raymond James Stadium, where it has won two in a row, a return to the playoffs could be the result. That will be a more likely outcome if Sunday's impressive game day atmosphere – the loudest Winston can remember at Raymond James Stadium – is duplicated.
"When you've got your fans involved in the game, it definitely messes with the [opponents] that are out there," said Winston. "It just gives a team an extra sort of boost. I just thank them for supporting us. It was a great experience at RayJay this past Sunday."