STORY HIGHLIGHTS
The Bucs' camp roster currently stands at 88 but will surely be pumped back to 90 in the coming weeks
A little more depth at linebacker could help the practice rotation and perhaps uncover a special teams gem
One of the two open spots could be used to add veteran insurance at guard

An NFL team roster is never really "final," though that descriptor is often used to describe the first set of 53 men created by the last round of cuts before the regular season.  Peruse the Tampa Bay Buccaneers' transactions page for 2013 and you won't find a single month (and not too many weeks, actually) in which the team failed to make a change to its roster.  The same is true so far this year, under new team management.
There are, of course, times of more stability (say, January) and times of increased activity (the start of free agency, the draft, etc.).  Currently, the NFL is in its biggest transaction lull of the calendar year, that time between the end of offseason programs and the start of training camps.  At this point, most teams know the 90 men they will be taking into camp in mid to late-July.
Or, almost 90.  There will be a handful of roster moves around the league in the next five weeks, and there are even some interesting veteran free agents still waiting for phone calls, such as tight end Jermichael Finley and guard Uche Nwaneri.  The Buccaneers will be among those teams making a couple of pre-camp moves.
That's a virtual certainty, given what has transpired in the week since the end of the Bucs' offseason program.  The Bucs have rewarded two mini-camp tryout players – wide receiver David Gettis and defensive end Ronald Talley – with roster spots, but they have also released four others: wide receiver Aaron Burks, tackle Emmett Cleary, defensive tackle Everett Dawkins and linebacker Steven Jenkins.  A quick check of the math tells me this: The Buccaneers' roster is currently at 88 players.  They are allowed to take 90 to camp.
And they will take 90 to camp.  No team lets an available roster spot sit for long, and every body is needed during the hot, grueling days of training camp.  The question isn't if the Buccaneers will fill those spots, but when and with what?  It's that last part we're going to briefly discuss here.
What might the Bucs do to get the roster back to 90?  Here are a couple ideas:
In this, we're not necessarily talking about a veteran or a recognizable name.  This just appears to be a position at which the Bucs could use a little more depth before the start of camp.  Right now, there are eight linebackers on the roster, following the release of Steven Jenkins, an undrafted free agent who didn't stick.  Since the Bucs' base defense calls for three linebackers on the field at a time, it might make sense to go to camp with nine, which would allow for an easy three-line rotation.  Also, linebackers who show some promise as size-speed combo guys can make the 53-man roster even without yet being an asset on defense because they can help on special teams.
The Bucs did work out one linebacker on a tryout contract during mini-camp, so it's possible they could make a third signing from that group.  That linebacker was T.J. Fatinikun, who has mostly played in Arena Football to this point but had a promising college career at Toledo.
2. Get veteran insurance at guard.
Carl Nicks says he expects to be practicing when camp starts, but there remains some uncertainty to his status.  And even if Nicks is in his prescribed spot at left guard, the Bucs still need to decide who will start on the other side of the center, with Davin Joseph now in St. Louis.  During mini-camp, fifth-round draft pick Kadeem Edwards took first-team snaps at left guard, with second-year man Patrick Omameh at right guard.  There's reason for optimism with both players, but they are definitely unproven.  Jamon Meredith could also start, and he is far more experienced, but the Bucs might prefer to develop him into a valuable guard-tackle swing reserve.  Free agent acquisition Oniel Cousins should be in the mix, but he's hardly a sure thing, either.
The point is, the two guard positions are unsettled, with camp just over a month away.  It's possible that Lovie Smith and company are perfectly comfortable with the options they have – and perhaps quite confident in Edwards and Omameh – but it's also possible they would like some veteran insurance at the position.  As mentioned above, Uche Nwaneri is still available, and he's a 30-year-old who has started 92 NFL games, including all but one over the last four years in Jacksonville.  Wade Smith is 33, but he's also started every game over the last four years for Houston and is still available.  Former Titan Leroy Harris is 30, has made 42 starts and might still have something to offer.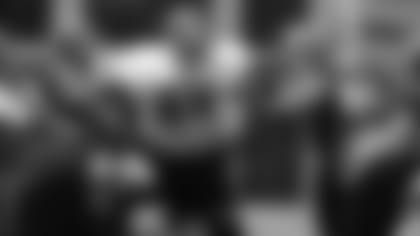 One more man in the practice rotation could help keep the Bucs' O-linemen from getting O-verwhelmed
3. Get another tight end or fullback for the camp rotation.
The Buccaneers have plenty of strong candidates for the 53-man roster at tight end after the additions of free agent Brandon Myers and second-round draft pick Austin Seferian-Jenkins.  Holdovers Tim Wright and Luke Stocker could add a lot to the offense, as well.  Overall, however, the Bucs are about to head into camp with just six tight ends, and seven is a more common number at that position.  Those guys get a lot of work, and if one or two miss practice due to minor injuries the depth at the position can be strained.
There are only two fullbacks on the roster – Lonnie Pryor and Jorvorskie Lane – and neither one has yet established himself as an NFL-caliber starter.  There are questions about just how much work a fullback will get in the Bucs' new offense under Lovie Smith and Jeff Tedford, but Smith has said that there is room for that position in his team's attack.  They're hard to find, however, which is one of the reasons why they are falling out of vogue across the NFL.  The Bucs lost their starter, Erik Lorig, to free agency and haven't done much to replace him.  It's not likely there's a strong veteran option out there on the market, but the Bucs could give another young hopeful a chance.  Whether it's a tight end or a fullback, using one of those two spots on a blocker could give the offense a few more options during camp.
4. Round out the O-Line to 15 players.
The Bucs currently have 14 offensive linemen on their 88-man roster, and they'll probably pare that down to eight for the regular season, maybe nine.  I already mentioned the idea of adding a possible starting candidate at guard, but we don't really have to get that specific.  Whether it's an interior-line guy or an edge blocker, one more on the roster would give the Bucs 15, and that would make for a perfect three-line rotation.
Of course, it's never quite as neat as that.  As soon as one of those 15 tweaks a hamstring or calf muscle, you're back to asking at least one blocker to pull double duty during practice.  Still, the Bucs had 15 O-linemen until they released Cleary; perhaps they are anticipating getting back to that number by using one of the two open spots on a tackle.