STORY HIGHLIGHTS
Mike Glennon's nifty touch pass to Vincent Jackson in New Orleans showed off his accuracy while on the move
Glennon doesn't consider his recent good work outside of the pocket to be a new development in his game
Head Coach Lovie Smith is confident in Glennon's ability to make any throw in the passing tree

On Sunday in the Mercedes-Benz Superdome, Tampa Bay Buccaneers quarterback Mike Glennon made his second start of the season, and the 15th of his young career.
Commanding the opposing team was Drew Brees, who would throw 57 passes on the day, many of them perfect arcs down the middle of the field on seam routes. The sixth of those 57 passes produced the yardage needed to put Brees over 40,000 in his New Orleans Saints career; he has 52,655 overall in his 14 years in the NFL.
Clearly, Brees wouldn't be one of the five quarterbacks in the 50,000-yard club if he wasn't among the all-time best in terms of touch, accuracy and creativity. Still, it's not likely that even Brees would argue that the prettiest pass of that entire game came out of Glennon's right hand.
On the first play of the fourth quarter, with his team facing a second-and-20 at the Saints' 44-yard line, Glennon rolled left as he was flushed out of the pocket. As he got wide of the numbers, he pulled up, squared his shoulders back towards the middle of the field and lobbed a feathery pass back towards the middle of the field, over the head of Saints safety Rafael Bush and into the waiting hands of wide receiver Vincent Jackson. Jackson, who had smartly cut off his route and shot straight upfield when he saw Glennon scramble, caught the pass without breaking stride and made it down to the Saints' 10. Two plays later, Glennon hit rookie wideout Robert Herron in the end zone for a touchdown.
"That was a big-time play," said Buccaneers Quarterbacks Coach Marcus Arroyo, when reminded of that moment on Wednesday. "That's as tough a ball as there is to throw in any environment – going left, that far, at that angle, with that touch, in that hole. That's a big time throw and we're fortunate to have a guy that can do that, with poise."
There is a widespread belief that the Buccaneers do not have a quarterback who can routinely make plays like that while on the move (especially with mobile opening-day starter Josh McCown sidelined by a thumb injury). As much credit as Glennon was given for performing admirably well in a difficult situation in his 13 starts as a rookie last year, the knock on him was a perceived lack of mobility. Even those who believe in Glennon's out-of-the-pocket abilities don't mind getting in on the joke; Arroyo likened him to Johnny Manziel on Wednesday and Head Coach Lovie Smith made a Michael Vick reference on Monday. Both had their tongues firmly in their cheeks at the time, and Glennon didn't mind the humor.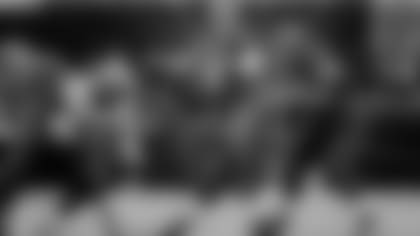 QB Mike Glennon has definitely not seen his effectiveness limited by a lack of mobility in his two starts this season
"All these comparisons to all these athletic quarterbacks," he said with a smile on Wednesday, "but I'll just stick to who I am."
Who Glennon is, apparently, is a passer with sneaky athleticism and a poise, as Arroyo mentions, that is rarely shaken. Arroyo ticks off the traits that allow Glennon to make plays like the one described above: He moves well, he keeps his eyes on what's unfolding downfield rather than his pursuers, he uses angles well. Glennon never felt the need to point this out to his doubters before, but he's not about to disagree, either.
"I get it, I get why," said Glennon of the perception that he's immobile. "But at the same time, in the NFL against some of the most elite athletes in the world there have been plenty of times where I've rolled right, rolled left and I've been able to get off a play. I'm not the fastest guy in the world but I can step up in the pocket, I can roll out and make a play down the field. As far as I'm concerned, that's all you need as a quarterback. Obviously it's a bonus when you can move around as well as some of these other guys but as long as you can move a little and create a lane to throw I think that's the most important thing."
Glennon has been sacked only twice in his two starts, and while he rightfully gives credit to his offensive line, he has also bought time on occasion to make plays, or to at least get off a safe throwaway. He recalls doing the same thing last year a few times in the Bucs' near-upset in Seattle and on a touchdown pass to Vincent Jackson against the Buffalo Bills.
"I think I've always done a pretty good job of that," disputing the notion that this is a new development in his game. "There have been many instances, so I don't think it's really much different than last year. That's probably just one of the first opportunities it's had a chance to express itself this year."
Nobody is suggesting that the Buccaneers build their offense around Glennon's mobility. He's tall and has an arm that can make every throw in the book, so it makes sense to let him fire away from the pocket. It's comforting for the Buccaneers' coaching staff, however, to get more and more evidence that Glennon can be creative on the move as well.
"He does things outside the pocket that you don't see because he's not out there very often," said Arroyo. "On tape, that's not his deal. But when he does, he displays that he can throw the ball. I think Mike's done a good job outside of the pocket."
Arroyo and the rest of the coaches on Lovie Smith's staff spent weeks assessing the players on the roster during the winter, using game tape from the previous season. They saw enough in Glennon to allow Smith to label him the team's "quarterback of the future" this spring. Obviously, they were bullish on the young passer's future; now, Glennon's current work is just part of a still-evolving scouting report that is only making the Bucs feel better about that declaration.
"For me, I've seen Mike play two games and he's made all of the throws in both of the games," said Smith. "Deep, short, comebacks, the passing tree – he's thrown it. He's had to scramble out of the pocket. A knock against Mike is that he's not supposed to be mobile. But the touch pass in the [New Orleans] game, of course, not many people can throw that. So there's not a whole lot of negative comments I can give you on Mike's play right now. He's done a super job with just about everything we've asked him to do."