STORY HIGHLIGHTS
QB Mike Glennon matched big plays with Pittsburgh's Ben Roethlisberger and now may work opposite Drew Brees
The Bucs took a few more cracks downfield in last Sunday's game, but Glennon's best play might have been a throw into the dirt
Glennon wants to improve his efficiency in the red zone, which could be critical if a shootout erupts in New Orleans


The last time the Tampa Bay Buccaneers visited the Superdome, for the 2013 season finale, then-rookie Mike Glennon was at quarterback. He had his best day of the last month of the season, statistically, throwing for 219 yards, two touchdowns and one interception. And his team lost by 25 points.
Drew Brees, you see, was on the other sideline.
Mike Glennon is under center for the Buccaneers again, coming off what may in fact be his best game as a pro. After starting the final 13 games of the 2013 campaign, Glennon ceded the job to free agent signee Josh McCown to start 2014, but McCown suffered a thumb injury in Atlanta in Week Four. Glennon stepped back in against Pittsburgh last Sunday and produced his first 300-yard passing game while directing a last-second come-from-behind victory. He matched veteran Ben Roethlisberger, big play for big play, and won it with a five-yard touchdown pass to Vincent Jackson with seven seconds left.
It was the Buccaneers' first-ever win in Pittsburgh, and a heady one for a team that was seeking a confidence boost after an 0-3 start. Now Glennon and the Bucs head to another daunting venue, the Superdome, where the Saints have won their last nine games. That includes the 42-17 decision that capped Tampa Bay's 2013 campaign, in which Brees threw for 381 yards and four touchdowns and ran for a fifth score.
Glennon remembers that game well, and it gives him a notion as to what might be required of him this weekend in New Orleans if Josh McCown remains out and he is the starter once again. Those 302 yards and two touchdowns that got the job done in Pittsburgh? Quite possibly not enough against Brees' Saints.
"What I remember is that Drew Brees was just lighting us up," said Glennon. "We couldn't really keep up with him. We hit some big plays and were kind of staying with him, but we'd score about every other possession and they were scoring on every possession. We know how good they are at home, we know how good we'll have to be in that atmosphere to leave there with a win."
This is not to suggest that Glennon lacks confidence in the ability of the Bucs' defense to limit the "shootout" nature of Sunday's game. It is simply respect for Brees, and the understanding that the Saints often put up big numbers in their home games no matter who the opponent is. Glennon will go into the game expecting the Bucs' defense to keep the Saints in check, but he'll also be focusing on maximizing every opportunity for points in case it does become another high-scoring affair.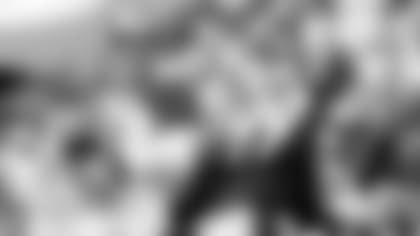 Last Sunday, young Bucs QB Mike Glennon recorded his first career 300-yard passing game, something that is practically a weekly occurrence for the Saints' Drew Brees
"The second half [in Pittsburgh] when we really came together as an offense and got a lot of yards, got some points – we probably should have come away with a little bit more than we did," he said. "We had those three red zone drives at the end and all we came away with was 10 points out of it. So we'd like to get more than that. I missed too many throws in the red zone. I could have hit more and then who knows if we would have needed that drive at the end. Who knows what would've happened. There are some throws I'd definitely like to have back there, but every quarterback has some throws he'd like to have back."
Of course, Glennon did well to get the Bucs into those red zone situations, and on at least one occasion it was because he took a shot downfield, something that had been largely missing from the Bucs' first three games of 2014. On the opening drive of the third quarter, with the Bucs looking for a game-tying touchdown, Glennon threw an arcing pass down the left sideline to WR Mike Evans, who had a Steeler cornerback on his hip. Evans used his height and long arms to pluck the ball out of the air before it could be disrupted by the defender, then made a spinning double-toe-tap before going out of bounds. That put the ball at the four and Doug Martin took it in two plays later to knot the score at 17-all.
A similar play on the opposite sideline later in the half turned bad when Glennon pulled up on his route due to a groin injury, leaving Glennon's long, high pass to be easily intercepted by Cortez Allen. That was an unfortunate result, but Glennon didn't regret the decision to take the shot. He may need to do the same on Sunday in New Orleans to keep up with Brees.
"We wanted to make it a point of emphasis that we threw the ball downfield a little bit more to give our guys a shot to make some big plays out of it," said Glennon. "And we executed. We saw what Mike Evans can do with the ball in the air. We already knew what Vince [Jackson] can do; we've seen that in the past. Louis Murphy made some big plays as well, and you can go on and on with Austin Seferian-Jenkins as well. We have a bunch of guys that help a lot when you can throw the ball down the field and get some big chunks."
That would certainly help in the event a shootout does erupt in the Superdome, because Brees and his posse can certainly score from long distances. What can often help just as much is knowing when not to take the shot.
Moments before Glennon completed the key 41-yard pass to Louis Murphy that set up the winning touchdown, he was heavily pressured on the first play of the drive, with 40 seconds left in the game. Running back Bobby Rainey was nearby, but Glennon purposely threw the ball at Rainey's feet just before he was going to take a sack. As it turned out, that decision might have saved the game.
"I think it's important because if we take a sack, chances are the game is over," said Glennon. "If I don't throw it in the dirt and Bobby catches it, that's going to be 20 seconds left, at best, from the 40-yard line. There's a point in those situations to know [to do that]. When you have no timeouts in that situation, sometimes the best play is to live to see another down, and that's exactly what we did. We saw another down and hit a big play. That's something that we talk about, us quarterbacks, in those situations what's the best thing to do."
The Bucs practiced at Tropicana Field Wednesday, though several key performers were held out of action. Click here for additional notes from Wednesday's work.