STORY HIGHLIGHTS
The Buccaneers get defensive starters Clinton McDonald and Mason Foster back as they try to keep MVP candidate Aaron Rodgers in check
On offense, Tampa Bay will continue its efforts to keep its running game going for a full 60 minutes
Third-down defense and pressure on the quarterback will be key factors for Tampa Bay's defense

Green Bay Packers QB Aaron Rodgers has done enough already this season to be on a very short list of NFL MVP candidates. The Tampa Bay Buccaneers appreciate Rodgers' body of work but don't really want to help his candidacy in Week 16.
Tampa Bay's defense, which has been among the NFL's top 11 in both yards and points allowed since coming back from its Week Seven bye, does want the challenge of facing the Packers' prolific passer, however.
"He makes great decisions, has a strong arm, is mobile in the pocket," said Bucs Head Coach Lovie Smith, ticking off some of Rodgers' many strengths. "Any way you want to judge a quarterback and give him a grade on he's going to get top honors with it. As a defensive player, you want to play against the best and that's what we're getting this week."
The Bucs would have preferred to take on Rodgers with their own All-Pro defender, but defensive tackle Gerald McCoy will have to watch from the sidelines for the next two weeks after sustaining a knee injury last Sunday in Charlotte. Still, team management can't be too upset about McCoy's absence because his injury is not severe enough to affect his 2015 preparations.
In addition, in a bit of good timing, fellow starting DT Clinton McDonald will be returning to action this week after missing the last three games with a hamstring injury of his own. McDonald should start along with Akeem Spence and the team will rely on versatile swing-linemen Da'Quan Bowers and Will Gholston to help them in the middle. Rookie DT George Uko could contribute, too, after being promoted from the practice squad this week; the Buccaneers kept a deep squad of nine down linemen active for the game.
"Long-term, Gerald's the face of our franchise," said Smith. "When any player is hurt, he can't go and that's the case with Gerald. He hurt his knee; luckily it won't require surgery or anything like that, but he can't go anymore so we put him on the I.R. list. He'll have to be Coach McCoy the rest of the season.
"We lose one and we get one back. We've been dressing eight defensive linemen for a while now and we may even go an extra one this week. We have another young player that hasn't seen an awful lot of time. We don't have the best interior lineman in football this week but we'll have some good numbers still."
A robust pass rush would certainly help the Buccaneers' secondary limit the potential damage from Rodgers and his top receivers, Jordy Nelson and Randall Cobb. That defensive backfield will be without S Major Wright, who also landed on injured reserve this week, but could get a boost from emerging young S Bradley McDougald.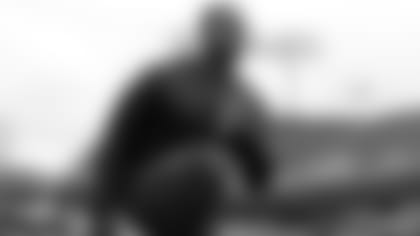 LB Danny Lansanah and the Bucs' defense will contend with one of the NFL's most balanced attacks Sunday
"He's played well, made a lot of progress," said Smith of McDougald, who has started the last three weeks in Wright's place. "He has a lot of potential, a lot of talent, young talent that we're excited about. He did a great job of tackling last week and he has excellent hands. The next step for him as a defensive back is to intercept the ball; he needs to get a few."
McDougald had a career-high 15 stops against the Panthers, many of them of the bruising variety. He will have to be stout in his tackles on Sunday because, in addition to one of the league's top passing attacks, the Packers also like to bash away with 250-pound RB Eddie Lacy. As always, the Buccaneers' defense knows it needs to keep the running game in check early in order to limit the opposing team's options and force longer third-down tries.
"Whenever you have a great offense you want to keep them off the field. That's why it will be so important on third-down conversions. A couple takeaways in there would really help, but these are the typical things you say each week. A lot's been said about their passing game, but again, we just can't let them be a balanced attack."
Slowing down Rogers won't solely be the responsibility of the Bucs' defense. Tampa Bay's offense could help significantly by staying on the field as long as possible, and that would be far easier if the rushing attack resembles the one that put up 95 first-half yards against Carolina last week. Statistically, Green Bay's biggest vulnerability appears to be a defense that ranks 25th in the NFL in stopping the run. The Bucs will attack that with a full stable of backs –including Doug Martin, Charles Sims and Bobby Rainey – and try to continue to pound away throughout the game's 60 minutes.
"It helped a lot less week to get started with the running game, Doug Martin breaking the big one early on," said Smith. "We're going to stay committed to letting our running backs be involved. We can't just become a throw-it-to-the-wide-receivers team. Doug, Charles and Bobby all will carry the ball this week.
With a quartet of players landing on injured reserve this week, the Buccaneers' game-day inactive decisions were based mostly on lineup needs and not injuries. Tampa Bay deactivated WR Robert Herron, WR Solomon Patton, RB Mike James, CB Isaiah Frey, T Anthony Collins, DL Lawrence Sidbury and TE/FB Evan Rodriguez. Patton and Frey were the only two of those seven on the week's injury report.
Green Bay had no announced lineup changes before the game. Their seven inactive players were QB Scott Tolzien, CB Davon House, LB Carl Bradford, C Garth Gerhart, TE Justin Perillo, WR Jeff Janis and DT Bruce Gaston.
The Buccaneers take on the Packers in Week 16 of the 2014 season on Sunday afternoon, with kickoff scheduled for 1:00 p.m. ET at Raymond James Stadium in Tampa. The game will be broadcast on television by FOX and on radio through the Buccaneers Radio Network and its flagship station, US 103.5 FM. That radio broadcast will also be carried live on Buccaneers.com.