STORY HIGHLIGHTS
On Thursday, WR Vincent Jackson was treated to a flight in one of the U.S. Thunderbirds Fighting Falcon F-16 jets
Jackson, the Bucs' 2013 Man of the Year, focuses most of his extensive community work on supporting military families
Based in Nevada, the Thunderbirds are in town to perform their famous aerobatics at this weekend's AirFest at MacDill AFB

Vincent Jackson grew up in a military family, so entering an Air Force base is nothing new to him.  However, he's never left a base quite like he did on Thursday afternoon: covering 10,000 feet in five seconds while pulling close to nine gees.
With the world-famous U.S. Thunderbirds in town to take part in the annual AirFest at MacDill Air Force Base, Jackson was invited to the base for a once-in-a-lifetime experience. The Tampa Bay Buccaneers' Pro Bowl receiver was strapped into one of the Thunderbirds' F-16 Fighting Falcon jets and taken on a high-speed ride complete with the aerobatic maneuvers for which the squadron is known.
"We took him up on one of our standard profiles to give him exposure to everything that people will see during the air show – every maneuver from loops to rolls to all the solo maneuvers, we were able to do that in the airspace and give him a taste of what it's like inside the cockpit," said the pilot who took Jackson for his ride, Major Tyler Ellison. "As Vincent experienced, when you start pulling six, seven, eight, nine gees, it really is a significant challenge. But he did really well and was able to tough it out and make it through."
Jackson was thrilled to receive the invite, but he was a natural choice for a demonstration by the Thunderbirds.  Chosen as the Buccaneers' 2013 Man of the Year in December, the veteran receiver is a vocal advocate for the men, women and children of the military. The mission of his Jackson In Action 83 Foundation is to support military families, with a focus on the educational, emotional and physical health of the families' children. Jackson's wide-ranging work with military families previously earned him selection by the country's second highest-ranked military officer, Admiral James A. Winnefeld Jr., to participate in a USO Tour to the Middle East.
"I grew up in the military," said Jackson. "I've been on military bases like MacDill since I was a child and so I'm very familiar in these surroundings. This opportunity is pretty exciting for me. I've watched these kinds of events – air shows – since I was a kid, and I've been in helicopters and tanks, but never a jet, so this is a first."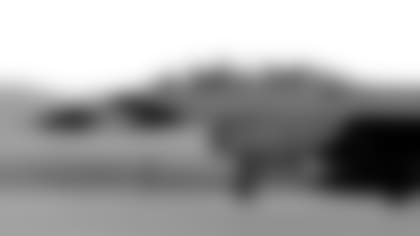 WR Vincent Jackson (waving) experienced nearly nine gees during takeoff in the Thunderbirds' F-16
While the high gees can be difficult for amateurs, the most significant problem the 6-5, 230-pound Jackson faced was fitting into the co-pilot's seat. He had to be measured very precisely from his waistline to the top of his head and then from his waistline to the front of his knee. Barely meeting the specs, Jackson folded himself into the plane and braced for a wild ride.
"I've watched multiple air shows and been on air force bases being in the military my whole life, but actually being in there – it's a tight squeeze, there's a lot of instruments, you can hear everything going on as far as the air traffic control, and these guys handle it like it's a walk in the park," he said. "I was back there just enjoying the ride, so I'm very fortunate to have had that experience.
"I could throw on some shoulder pads and a helmet and run around, but up there you're strapped in, you're tight, you're upside down, you're banging around in there. And the G force, again – the gravity is such a different feel from a commercial flight. You feel it a little bit [on a commercial flight] when you're taking off, you get those butterflies, but multiply that by 20. It's just very intense, fast. There's no comparison."
Jackson described the flight, which took him to high altitude and all the way out to Lake Kissimmee, as "intense and beautiful." Ellison said Jackson's ability to handle the heavy gees and his eagerness to experience different stunts allowed him to push the envelope during the flight.
"The ground we covered, the change of elevation and altitude so fast is incredible," said Jackson. "I have a lot of respect for these guys."
Based at Nellis Air Force Base in Nevada, the Thunderbirds have performed in front of more than 300 million people since 1953. The F-16 Fighting Falcon is a compact, multi-role fighter aircraft that is highly maneuverable and has proven itself in air-to-air combat and air-to-surface attacks. It provides a relatively low-cost, high-performance weapon system for the United States and allied nations.  The Thunderbirds will perform during the AirFest at 2:40 p.m. on Saturday and Sunday.  The AirFest gates open at 8:00 a.m. and close at 5:00 p.m. on both days.