Jameis Winston guided the Tampa Bay Buccaneers to a 24-17 victory over their division rivals, the Carolina Panthers, on Sunday at Raymond James Stadium, completing 20 of 30 passes for 249 yards, two touchdowns and no interceptions. It was the second consecutive week that he had posted a 2-0 touchdown-interception ratio and his second consecutive game with a passer rating of 114 or better. Unsurprisingly, the Buccaneers won both of those outings.
Winston's consecutive two-touchdown games also were enough to move him to the top of a prominent chart in Buccaneers history. He now has 81 touchdown passes in his career, surpassing Josh Freeman for the top spot. As noted in the chart below, Winston broke the team record in fewer games and with fewer pass attempts than all the quarterbacks he surpassed.
Most Touchdown Passes, Franchise History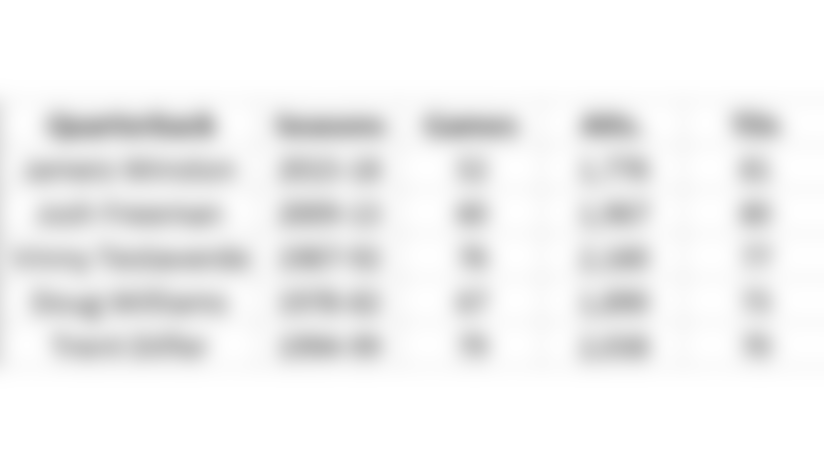 Winston also moved up one more spot on the Buccaneers' all-time passing yards chart, leaping over Freeman, and needs 1,244 more to claim the record.
Most Passing Yards, Franchise History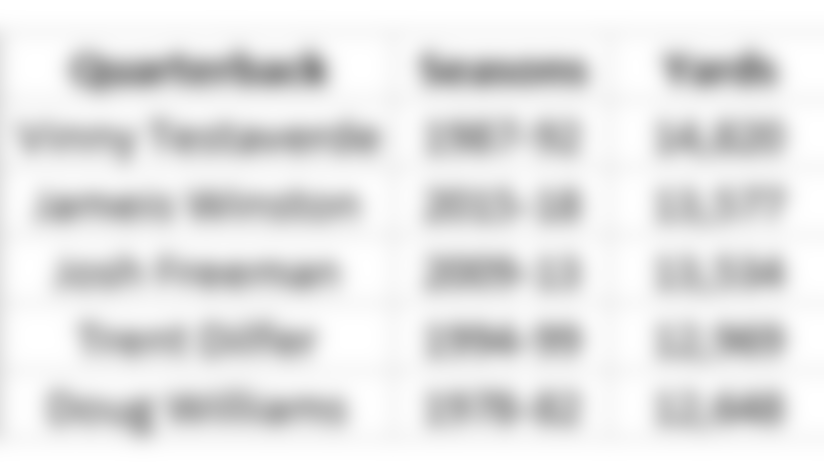 Winston also compiled a passer rating of 129.9 after relieving Ryan Fitzpatrick in the Buccaneers' Week 11 game at the New York Giants. He thus has the first three-game streak of games with 100-plus passer ratings in his career and the first by any Tampa Bay quarterback since Josh Freeman did it for a team-record five straight games in 2012 (Oct. 14-Nov. 11).
Tampa Bay's offense finished Sunday's game with 220 net passing yards, and while that stands as the team's second-lowest mark in that category in 2018 it still kept the Bucs on pace to break the NFL's all-time record. As of now, Tampa Bay already has the second-most passing yards by any team in league history through its first 12 games.
Most Net Passing Yards, Team, First 12 Games, NFL History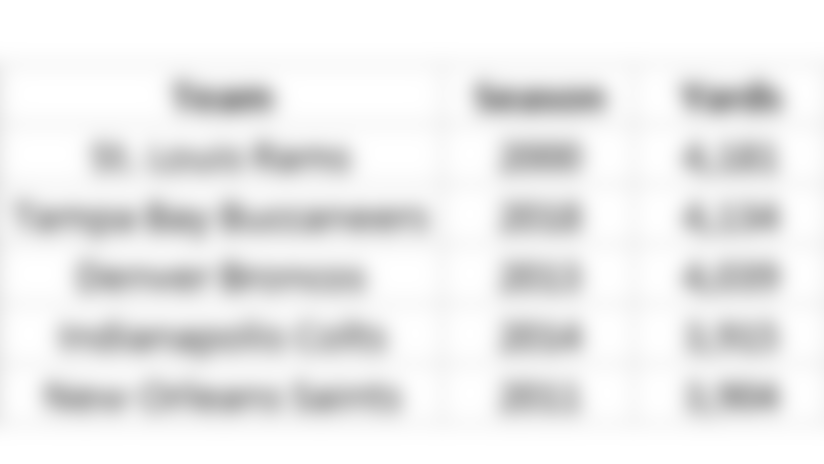 Winston has had help from Fitzpatrick in piling up those numbers; in fact, Fitzpatrick still leads the team with 2,366 gross passing yards in 2018. Winston and Fitzpatrick also have the Buccaneers on the verge of breaking their single-season record for touchdown passes, with 12 and 17, respectively for a total of 29. That's already equal to the franchise record set by Winston and the team in 2016.
Most Touchdown Passes, Team, Buccaneers History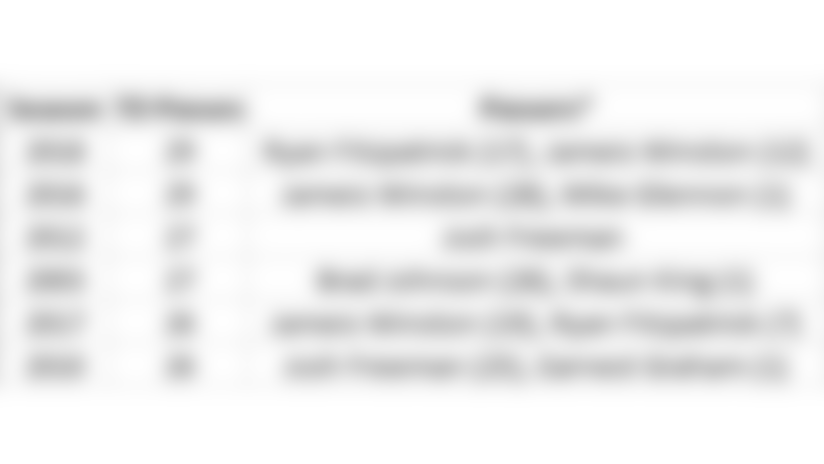 (* All players who threw touchdown passes in the season noted.)
Both of Winston's touchdown passes against the Panthers came on plays he extended by scrambling out of the pocket, first a three-yarder to Adam Humphries in the first quarter and later a 13-yarder to Chris Godwin in the second period. Winston fired the scoring pass to Godwin after escaping pressure to his right, and as we noted last week, the Buccaneer passer has the NFL's highest rating this year on plays that include a scramble to the quarterback's right.
Winston's rating on such plays actually declined a tiny bit after he came into Sunday's game with a perfect mark of 158.3, but it remains far and away the best in the league among qualified passers.
Best Passer Rating on Scrambles to the Right, Qualifying NFL Passers, 2018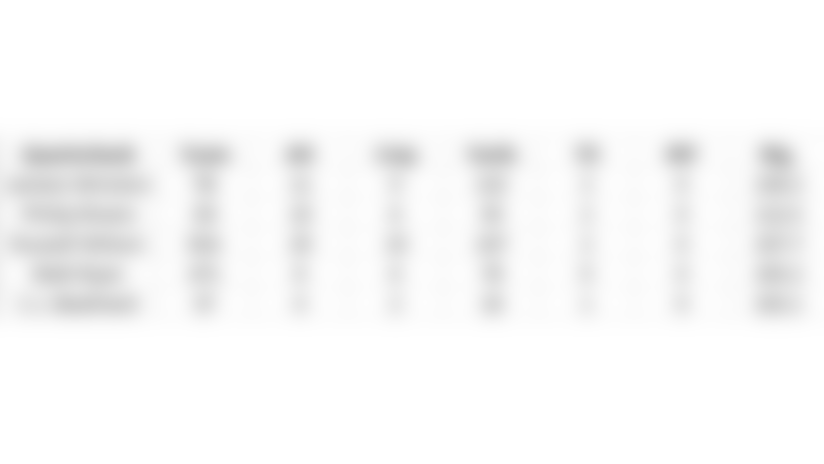 Winston's touchdown pass to Humphries came on a scramble to his left and improved his passer rating on such plays to 139.6, second best in the NFL to Ryan's 153.3. It also marked the third straight game in which Humphries has caught a touchdown pass, a career-long streak for the fourth-year wideout.
Humphries has a total of five scoring receptions this season, all of which have come in the last five games. Only two other players in the NFL can match Humphries touchdown reception production over the last five weeks.
Most Touchdown Receptions, NFL, Weeks 9-13
Humphries, Godwin and running back Peyton Barber – who scored on a one-yard dive in the third quarter – all improved their 2018 season totals to five touchdowns scored. That gives the Buccaneers six players with five or more touchdowns; the team had never before had more than three in any given season. That feat has been accomplished 30 other teams in NFL history, most recently by New England last year. However, only four teams have ever had seven different players reach the five-TD mark in the same season. Tampa Bay tight end Cam Brate currently has four touchdowns this year; if he gets one more the Buccaneers would join that exclusive club.
Seven Different Players with Five-Plus Touchdowns Scored, Same Season, NFL History
Like Humphries, Barber has scored a touchdown in each of the last three game. That marks just the sixth time in team history that a pair of Buccaneer teammates had concurrent three-game streaks of scoring touchdowns, although it's the second such occurrence this season. Prior to 2018, the last such occurrence for the Buccaneers was more than two decades ago.
Buccaneer Teammates with Concurrent Three-Game Touchdown Streaks, Franchise History
·     Peyton Barber & Adam Humphries, Nov. 18-Dec. 2, 2018
·     Mike Evans & Chris Godwin, Sept. 9-24, 2018
·     Mike Alstott & Dave Moore, Nov. 2-16, 1997
·     Mike Alstott & Warrick Dunn, Sept. 7-21, 1997
·     Bruce Hill & Lars Tate, Oct. 16-30, 1988
·     Jerry Bell & James Wilder, Dec. 16, 1984-Sept. 15, 1985