STORY HIGHLIGHTS
CB Mike Jenkins has come home to continue his NFL career after six years in Dallas and Oakland
Jenkins is learning his third defense in as many years, which is mostly a matter of terminology
While he may be in direct competition for the starting RCB job, Jenkins can help the Bucs in a variety of ways

It's one of the nicer scenes of training camp, and it never gets old no matter how many times it's repeated: A Buccaneer player, still dripping with sweat, holding one of his little ones by the hand for a walk around the field after practice.
Sometimes, if the child is old enough, a football gets tossed around, too. Josh McCown's sons, for instance, were running around imitating dad as soon as Sunday's practice ended. However, cornerback Mike Jenkins, however, is probably the only current Buc who could have fielded an entire flag football game after practice if he wanted to, with only the family and friends he had in attendance.
In his first year as a Buccaneer after five seasons in Dallas and one in Oakland, Jenkins is finally playing for the hometown team. After starring at Southeast High School in nearby Bradenton, he played his college ball at the University of South Florida in Tampa and did well enough to be a first-round pick of the Cowboys in 2008. As a USF Bull, he played his home games at Raymond James Stadium.
The Buccaneers drew a big crowd for their two weekend training camp practices, and Jenkins certainly helped with that. He had a total of 37 family members and friends at the workouts on Saturday or Sunday, which is why it's understandable when he says this: "It feels pretty good to be back home."
Jenkins was part of a second wave of signings in March by the Buccaneers, who were incredibly active on the free agency market. He had been a starter for most of his previous six seasons in the NFL, including the 2013 campaign, when he opened 15 games at left cornerback for the Raiders. By signing with the Buccaneers, he stepped into a situation where he will have to compete to be a starter once again, but the local support system made that a more palatable option.
"I'm happy to be back and I'm in very good spirits," said Jenkins. "I have a lot of motivation going on around me, from the family, from the coaches, from the friends, so it just feels good. I'm back home, I'm back in the same stadium and it feels good."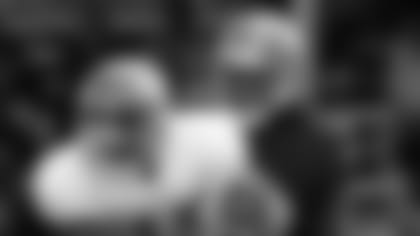 CB Mike Jenkins played his college home games in Raymond James Stadium, home of the Buccaneers
It has been presumed that Jenkins is battling second-year man Johnthan Banks for the right corner job, with the loser of that battle immediately moving into the competition for the nickel corner position, which is essentially a 12th starter on defense. All of that is probably true, but Jenkins isn't really bothering to look at it that way at the moment.
"Just keep practicing," he said, in regards to his approach to winning a significant role. "Just come out and work hard. I'm not really focused on the battle; I'm just focused on my own game play and trying to make the team better."
That's good, because in the long run Jenkins might be most useful to the Buccaneers as a defender they can rely on for multiple roles. For instance, starting left cornerback Alterraun Verner was given some snaps off on Sunday and it was Jenkins who filled in at that spot when the first-team defense was on the field, with Banks playing on the opposite side. That was certainly not a stretch for Jenkins – his 15 starts last year with the Raiders came on the left side.
Jenkins had to learn a new defense last year in Oakland after five years in Dallas, and now he has to do it all over again. Making sure he handles that baseline responsibility is more important to him right now than honing in on a particular starting job.
"I just keep working on my craft," he said. "I'm in a new system so I've got to learn the plays. I'm just trying to learn the terms – that's all it is, learning the terms. I've been in three different systems these past three years, so I got accustomed to those and I'm trying to get back to it."