STORY HIGHLIGHTS
RB Doug Martin faces a very stout Panthers front in his first regular-season game since last year's shoulder injury
Though they won't meet face to face, young star LBs Lavonte David and Luke Kuechly will try to outdo each other
The Bucs' pass-rush has some new pieces and hopes to hurry Cam Newton early and often

The Tampa Bay Buccaneers (0-0) will take on the Carolina Panthers (0-0) Sunday at Raymond James Stadium in Tampa. Here are several matchups between individual players and/or certain team units that could go a long way towards determining the game's final outcome:
RB Doug Martin vs. Panthers DTS
Martin is back in action after missing 10 games last season. He looks to bounce back to his rookie-season form when he gained 1,926 all-purpose yards and 12 TDs. He faces a strong first test against a Carolina front that allowed just 86.9 rushing yards per game last year, second fewest in the league.
Bucs Pass Rush vs. QB Cam Newton
Carolina is confident that Newton will take the field in Week 1 after he suffered a cracked rib in a preseason matchup against the Patriots. He will deal with a the Buccaneers pass rush featuring free agent signees Michael Johnson and Clinton McDonald, who join Gerald McCoy and Adrian Clayborn up front.
DT Gerald McCoy vs. RBS DeAngelo Williams, Jonathan Stewart & Mike Tolbert
If the preseason handed out an MVP award, McCoy would be in the discussion for his notable play through constant double teams, which led to six tackles, one sack and a forced fumble. He anchors the middle against Carolina's three-headed running back (plus Newton) which rushed for 126.6 yards per game last year.
QB Josh McCown vs. DES Greg Hardy & Charles Johnson
New Buccaneers QB McCown makes his first start against the defense that led the league in sacks last year. Hardy (15.0 sacks) and Johnson (11.0) will test a Buccaneers line featuring four new faces. McCown will have to find rhythm with his receivers early to avoid the inevitable pressure from the outside.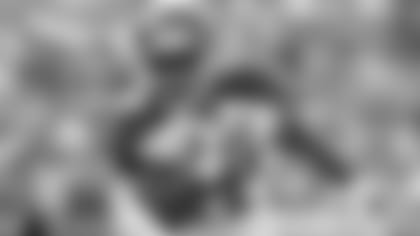 RB Doug Martin missed two-thirds of the 2013 season but is healthy again and ready to put up the type of numbers he produced in 2012
LB Lavonte David vs. LB Luke Kuechly
They don't face each other head-to-head, but when two of the NFL's best linebackers take to the same field the battle is always worth noting. Both young LBs finished in the top five in tackles last year and will fight to make an early statement for their respective defenses in the season opener.
WR Mike Evans vs. WR Kelvin Benjamin
The two rookie first-round draft picks will take the field for their NFL debut today. Evans will have some of the defense's attention off him thanks to #1 WR Vincent Jackson (1,224 yards, 7 TDs in 2013), which could make Evans a top target. Benjamin comes in at the top of the Panthers WR depth chart, a tough test as he may line up across from 2013 Pro Bowl cornerback Alterraun Verner.