The Tampa Bay Buccaneers played 675 regular-season and postseason games through their first 42 seasons (1976-2017). Those games produced 404 unique final scores, in terms of what the Bucs tallied as opposed to their foes (that is, a 21-0 win is a different score than a 0-21 loss). Some scores have understandably turned up more frequently, those involving such numbers as 14, 17, 21 and 24. The most common score of a Buccaneer victory has been 20-17, which the team has done 11 times. The most common score of a Buccaneer loss has been 17-10, which has occurred nine times. On only one occasion have the Bucs and their opponents scored the same amount, a 14-14 tie with Green Bay in 1980.
Some scores from the Bucs' first 42 seasons have been more memorable than others. Tell a Bucs fan the final was 48-21 and she will probably know you're talking about Super Bowl XXXVII. (Although, to be fair, the Buccaneers also beat New Orleans by a 48-21 margin late in the 2000 season.) There has been only one 3-0 final in Tampa Bay history, and longtime Bucs fans could probably peg that one as the rain-soaked finale in 1979, a win over Kansas City that gave the franchise its first division title.
As Tampa Bay's 43rd season approaches, we've taken a walk back through those 675 games in search of some of the most interesting scores. Today we're going to look at one specific category of final scoreboard iterations: One-point victories.
The Buccaneers have prevailed by exactly one point in a regular-season or postseason game 16 different times, most recently in the 2016 season finale. Weirdly, these narrowest of victories tend to come in bunches – there were two apiece in 1980, 1989, 2005 and 2010, but the team once went six whole seasons without one (1983-88). Here is a very quick recap of each of those 16 one-point wins, presented in chronological order.
1. Sept. 11, 1980: Tampa Bay 10, L.A. Rams 9
This was a revenge game of sorts, as the Rams had denied the Buccaneers their first Super Bowl appearance in the previous year's NFC Championship Game. Tampa Bay's excellent, Lee Roy Selmon-le defense of that era allowed the exact same amount of points in each of those two games, but the playoff contest ended in a 9-0 shutout. In Week Two of the 1980 season, in a game played on a Thursday night, the Bucs welcomed the Rams back to Tampa Stadium and prevailed when quarterback Doug Williams scored on a one-yard sneak with one minute left in regulation.
2. Oct. 26, 1980: Tampa Bay 24, San Francisco 23
Just six weeks after getting their first-ever one-point win, the Buccaneers did it again in San Francisco. This one is most notable for being the franchise's only win on the West Coast in their first 20 seasons. Williams kept a final, 11-play drive alive in the fourth quarter with an 11-yard pass to running back Ricky Bell on fourth-and-nine, eventually getting Garo Yepremian close enough to make a game-winning 30-yard field goal. Joe Montana, making just his third career start – in other words, before he was really Joe Montana – used the final seconds to position Ray Wersching for a desperate 63-yard field goal try, but it came up short.
3. Dec. 6, 1981: Tampa Bay 24, Atlanta 23
The Bucs won four of their last five in 1981 to earn a playoff spot, and two of them were very tight. This was the tightest, as it took a 71-yard Williams-to-Kevin House touchdown pass in the fourth quarter to give the Bucs their final lead. Another Williams touchdown pass (to Jimmie Giles) that could have put the game away late in that period was erased by an offensive pass interference call, and Bill Capece then hit a 32-yard field goal try wide to the left. That left the Bucs facing a 45-yard field goal try by Atlanta's Mick Luckhurst with eight seconds left, but defensive end Scott Hutchinson got a piece of the kick and it missed.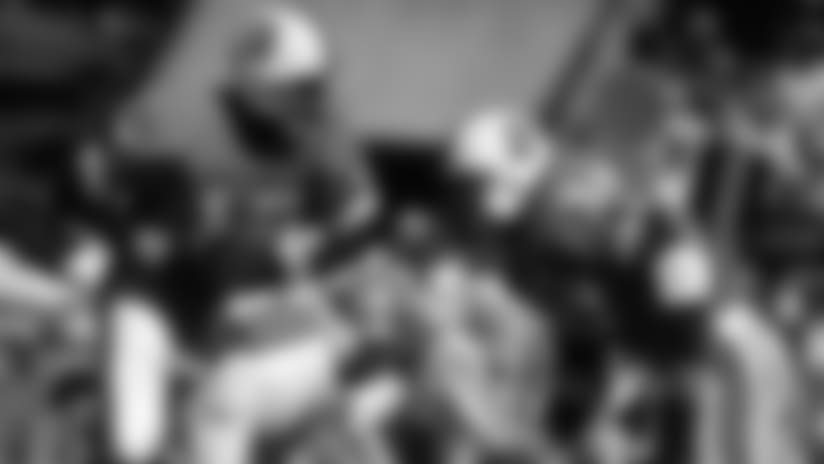 4. Dec. 19, 1982: Tampa Bay 24, Buffalo 23
Similar to the previous season, albeit in a campaign shortened to nine games by a player's strike, the Bucs got hot at the end to earn a playoff spot. This time they won their last three, including a one-point decision against Buffalo at Tampa Stadium. Running back Melvin Carver tallied two of his three career NFL touchdowns, one each on a run and a catch, to stake the Bucs to a 24-16 lead. Buffalo QB Joe Ferguson, who would later end up with the Buccaneers, got Buffalo within one in the fourth quarter on a 10-yard run, but he also threw three interceptions, including one on a game-ending Hail Mary attempt.
5. Nov. 19, 1989: Tampa Bay 32, Chicago 31
The 1989 season wasn't a particularly good one for the Buccaneers except in one respect: It featured a two-game sweep of the Chicago Bears. The Bears had taken the previous 12 meetings and would also win the five that followed, but the Bucs owned '89 by virtue of scoring a lot of points. After taking a 42-35 decision in Tampa in Week Five, Tampa Bay went to Chicago six later and squeaked by in this one-pointer. Mark Carrier caught six passes for 164 and a touchdown, including a 31-yarder that helped set Donald Igwebuike up for a 28-yard game-winner as time expired.
6. Nov. 26, 1989: Tampa Bay 14, Phoenix 13
This marked the only time in team history (so far) that the Buccaneers won back-to-back games by one point each. This one wasn't quite as thrilling as the Soldier Field showdown with the Bears, but the Bucs did have to survive a 47-yard field goal attempt by Al Del Greco as time ran out (it was wide left). Vinny Testaverde threw touchdown passes to Carrier and Bruce Hill.
7. Oct. 6, 1991: Tampa Bay 14, Philadelphia 13
Despite allowing all of 171 yards to the Brad Goebel-led Philadelphia offense, the Bucs found themselves trailing 13-0 in the fourth quarter, in part because Chris Chandler relieved Testaverde late and immediately threw two interceptions. The game turned, however, when linebacker Broderick Thomas blocked a Jeff Feagles punt…or, more accurately, got to Feagles so quickly that he was able to tackle the punter before he had a chance to kick. Chandler followed that with a touchdown pass to Robert Wilson then won the game with a TD toss to Hill with a minute to play.
8. Nov. 19, 1995: Tampa Bay 17, Jacksonville 16
The Jaguars were a first-year expansion team in 1995 and the Buccaneers barely avoided the embarrassment of losing to the newcomers in Week 12 (though, to be fair, Jacksonville had won three of its previous five games). Errict Rhett ran for 100 yards and two touchdowns, the second of which gave Tampa Bay a 17-10 lead in the fourth quarter. The Jaguars looked like they would tie the game in the final minute on Steve Beuerlein's 12-yard touchdown pass to tight end Pete Mitchell, but Head Coach Tom Coughlin chose to gamble on the road, sending out his offense to go for two and the win. Beuerlein connected with Desmond Howard on the play but Howard was ruled out of bounds. The Jaguars then successfully ran an onside kick but Martin Mayhew closed it out on the next play with an interception.
9. Sept. 28, 1997: Tampa Bay 19, Arizona 18
The Buccaneers famously won their first five games of the 1997 season en route to their first playoff berth in 18 years. This was the last of those five wins and it required a clutch-time interception by John Lynch (that was one of Lynch's calling cards), setting the Bucs up at the Arizona 35 with seven minutes to play. Four plays later, the Bucs were facing a fourth-and-six at the 31 and Tony Dungy elected to go for it. Trent Dilfer hit Karl Williams on a crossing route over the middle and Williams not only got the first down but scampered all the way to the end zone for the winning score. Continuing a theme in many of these games, the Bucs didn't get the win until the opposing kicker – in this case, Kevin Butler – missed a 47-yard field goal at the end.
10. January 15, 2000: Tampa Bay 14, Washington 13
This is the Buccaneers' only one-point win in postseason play, and it was a thriller. Tampa Bay's defense held Washington to 167 yards on the day but its offense didn't fare much better, with 191 total yards. However, Washington's Brian Mitchell returned the opening kickoff of the second half 100 yards for a touchdown and the Buccaneers were trailing, 13-0, late in the third quarter. That's when Lynch secured a critical sideline interception (see what we mean about him?) to set up a drive that ended in Mike Alstott's two-yard touchdown run. The momentum had turned and the Bucs mounted another scoring drive after a Warren Sapp fumble recovery. On third-and-goal from the one, quarterback Shaun King faked a handoff up the middle and whirled back to his left, only to find a completely un-fooled N.D. Kalu bearing down on him. King hastily got off a jump-throw over Kalu and into the hands of tight end John Davis for the winning touchdown.
11. Sept. 25, 2005: Tampa Bay 17, Green Bay 16
This one was memorable for being the third game in rookie RB Cadillac Williams' incredibly hot start. The Pro Football Hall of Fame called for Williams' cleats after he set an NFL rookie record with 434 rushing yards in his first three games. In his first visit to Lambeau Field, Williams ran for 158 yards on 37 carries, including one notable, weaving 26-yarder through the Packers' defense. The Bucs got up 17-6 and held on for the one-point win by intercepting Brett Favre three times. Will Allen's second pick of the game ended Green Bay's last drive just over midfield.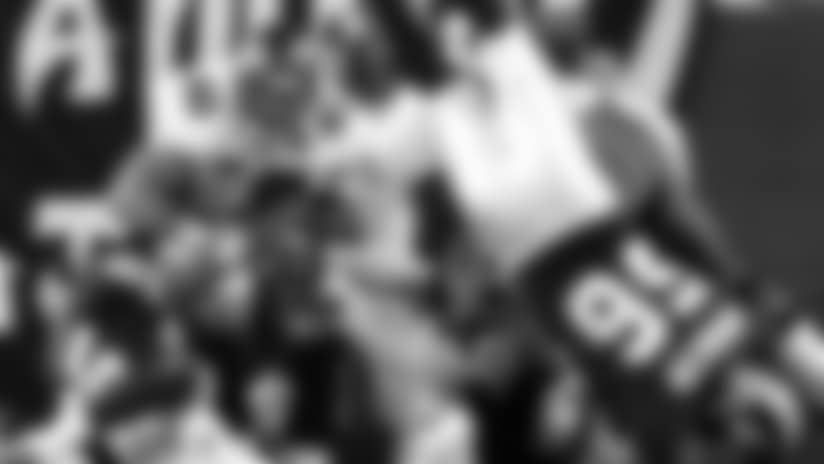 12. Nov. 13, 2005: Tampa Bay 36, Washington 35
Perhaps the most memorable one-point regular-season win in Buccaneers history, this one came down to a daring gamble by Jon Gruden at the end. Most of the game was a wild shootout, with Bucs quarterback Chris Simms tossing three touchdowns and the Buccaneers needing to rally from seven points down three different times in the second half. Simms's last pass of the game was a 30-yarder down the middle that Edell Shepherd caught as he dived into the end zone. Still up, 35-34, Washington went all out to try to block the extra point (and actually succeeded in doing so) but twice committed penalties in the effort. After the second one, Gruden took the yard the penalty gave his team and sent out the offense to try to win it with a two-point conversion. The play call surprised no one – Alstott up the gut! – but the Bucs' bruising back bounced off several tacklers and just barely got the ball over the goal line for the win.
13. Oct. 15, 2006: Tampa Bay 14, Cincinnati 13
Rookie quarterback Bruce Gradkowski threw second-half touchdown passes to Alex Smith and Michael Clayton and the Buccaneers won with less than a minute left on a fourth-down conversion. Gradkowski threw short of the goal line to Clayton on fourth-and-three from the eight and the receiver was just able to get the ball over the goal line before losing control. The play was reviewed and upheld and the Bucs held on when Shayne Graham came up short on a 62-yard field goal try. Coincidentally, the very next week Tampa Bay would win on a successful 62-yard field goal by Matt Bryant against Philadelphia.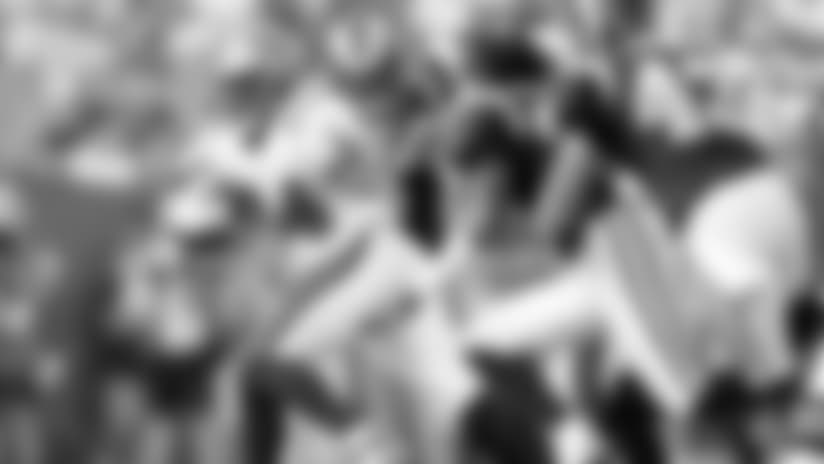 14. Oct. 24, 2010: Tampa Bay 18, St. Louis 17
This was a tale of two halves for the Buccaneers, who were putrid before halftime, getting just eight yards and falling behind 17-6 to the visiting Rams. The offense got things going after the break, though, setting up two more Connor Barth field goals to make it 17-12. That remained the score until just 17 seconds were left, when the Bucs got their first lead of the day on a two-yard Josh Freeman-to-Cadillac Williams touchdown pass. The two-point conversion failed but so did the Rams' desperate attempt to pitch the ball around on the ensuing kickoff.
15. Dec. 12, 2010: Tampa Bay 17, Washington 16
Washington makes its third appearance on this list, and in this case it had only itself to blame. Washington had 399 yards of offense and the lead for almost the entire game until Josh Freeman threw a 41-yard touchdown pass to Kellen Winslow with four minutes left and then ran in the two-point conversion himself. Those last two points were crucial, giving the Bucs a 17-10 lead, because Donovan McNabb countered with a scoring drive of his own, chewing up those last four minutes and finishing it with a six-yard touchdown pass to Santana Moss on fourth down. However, on the extra point try, holder Hunter Smith let the ball slip through his hands and Bucs WR Maurice Stovall recovered it to give the Bucs a gift of a win.
16. January 1, 2017: Tampa Bay 17, Carolina 16
Tampa Bay's defense kept Cam Newton in check for most of the game, but the Panthers' quarterback got hot at the end, directing two long drives in the fourth quarter. After first taking a 10-7 lead on Brent Grimes' 31-yard pick six, the Bucs missed a chance to go up again, 13-10, when Roberto Aguayo's field goal was blocked early in the final period. However, the Panthers countered with their own failed opportunity, with Graham Gano pushing a 36-yard try wide right. Mike Evans' 10-yard touchdown catch finally gave the home team the lead with four minutes to play but Newton converted two fourth downs on the ensuing drive to set up his own touchdown pass to Kelvin Benjamin with 14 seconds left. The Panthers, out of playoff contention, chose to go for two, with Newton looking for tight end Greg Olson over the middle. Safety Bradley McDougald broke the play up at the last second with a hard hit and the Bucs held on to the victory to finish the season 9-7 and just out of the playoff picture.