Tampa Bay Buccaneers linebacker Kwon Alexander clearly likes the Georgia Dome.
Last year, in his first visit to the soon-to-be-abandoned structure, Alexander led the Buccaneers to a 23-20 overtime victory over the Atlanta Falcons with the best all-around performance of his impressive rookie season. In addition to 11 tackles, he also forced a fumble and picked off a pass, with a second interception in the end zone erased by a penalty.
That was Alexander's best single-game tackle total until Sunday, when he went back to the Georgia Dome and racked up 17 tackles, including 15 solo stops. Not only did that lead all players in Sunday's game but it tied Chicago's Jerrell Freeman for the most tackles by any player in Week One (with two games still to be played on Monday night). His 15 solo tackles were the most by any player over the weekend, with no other NFL defender getting more than 11.
Alexander is just the seventh player in the NFL to have at least 15 solo tackles in a game since the 2010 season.
15+ Solo Tackles, Single Game, Since 2010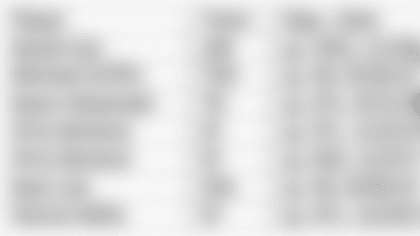 That was also the most tackles that any Buccaneer player has had in a game since another game against the Falcons a half-dozen years ago, when linebacker Barrett Ruud had 17 in the 2010 season finale at Raymond James Stadium.
Individual players' tackle totals have been difficult to compare through the years because they were long considered an "unofficial" statistic, and they were compiled and reported in different ways by different teams. Some teams, the Buccaneers among them, published defensive stats for years with the tackles taken from coaches' study of game film. As such, the Buccaneers' team record for tackles in a single game is considered the 23 Derrick Brooks was credited with making against Minnesota on Sept. 30, 2001. Brooks also had a 22-tackle game, as did Hardy Nickerson, and both Shelton Quarles and Broderick Thomas are given credit for 21-tackle outings.
Using press box totals as compiled by Statspass, however, the team record for tackles in a single game is 20, by Brooks in both that aforementioned Minnesota game and a Nov. 26, 2000 outing against Buffalo.
By those totals, Alexander tied for the sixth-highest single-game number of tackles in franchise history on Sunday.
Most Tackles, Game, Buccaneers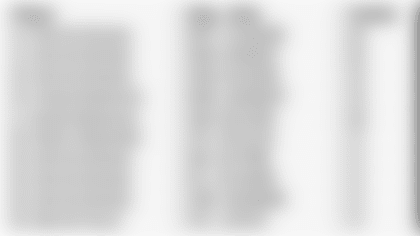 Again using Statspass totals, Alexander joined Brooks as the only players in team history to have at least 15 tackles AND a sack in a single game. Brooks punctuated his 20-tackle game against Buffalo in 2000 with a QB takedown.
Alexander had plenty of help on the Bucs' defense, of course, including fellow linebacker Lavonte David, who also has a strong track record in the Georgia Dome. In five games at that venue – which the Falcons will leave next year for the new Mercedes-Benz Stadium, David has racked up 38 tackles (just under eight per game), one sack four passes defensed, 6.5 stuffs (ballcarriers stopped behind the line of scrimmage), one forced fumble and one fumble recovery.
David just about hit his per-game tackle average in Atlanta on the nose, with eight stops. What stands out from his stat line, however, is his game-high three-tackles for loss, among the eight the Buccaneers recorded on the day. Since his arrival in 2012, David has been one of the NFL's best at making tackles behind the line of scrimmage. In fact, only three-time NFL Defensive MVP J.J. Watt has more TFLs in that span.
Most Tackles for Loss, NFL, 2012-16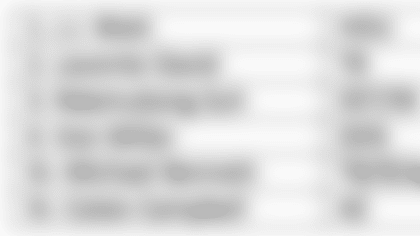 J.J. Watt is far and away the NFL leader, and it's worth noting that sacks – of which he has 69 since 2012 – are also counted as TFLs. That in no way diminishes his total, as sacks are indeed a very impactful form of a tackle for loss. It simply underscores David's dominance at his position, as a 4-3 outside linebacker.The only other linebacker on that list above is Denver's Von Miller, and he is a 3-4 edge rusher with 48.5 sacks since 2012. David doesn't rush the passer frequently and has a career total of 13 sacks. The next player on the list of most TFLs since 2012 who does not have at least 20 sacks in that span is Carolina's Thomas Davis, who is tied for 26th with 39 TFLs.READ: BUCS VS. FALCONS GAME AWARDS

David's three-TFL day tied his single-game career high in that category; he's now accomplished that feat seven times, including twice in the Georgia Dome (also on Oct. 20, 2013). That is not among the top 50 single-game TFL totals in the league since 2012, but that again has much to do with the sack/TFL double-count. Of the 52 games in that span in which a player has had four or more TFLs, only once has that been accomplished without the benefit of a sack. If you guessed that would belong to J.J. Watt, well done. Watt had a four-TFL, no-sack game against Indianapolis on Dec. 30, 2012.
Safety Chris Conte matched his single-game best as a Buccaneer with 10 tackles on Sunday**; he also had 10 in the team's win at Philadelphia last November 22. Two of those stops proved to be instrumental to the final outcome, which saw the Bucs hold off a furious Atlanta rally.
Atlanta's Matt Ryan had virtually no success throwing the ball deep downfield against the Bucs' defense on Sunday, but the Falcons did get two long pass plays on short and medium passes that included long runs after the catch. The first was to wide receiver Mohamed Sanu, who got wide open on the right sideline in the first quarter due to an apparent coverage breakdown and ran for a 59-yard gain. In the second quarter, Ryan got off a swing pass to running back Tevin Coleman against a heavy Buccaneer blitz and Coleman had lots of room to run before encountering a defender.
In both cases, it was Conte that got the Falcon ballcarrier down and prevented a touchdown. He stopped Sanu at the Bucs' 16 and Coleman at the Bucs' 10. After those two stops, the rest of the Bucs' defense joined him in holding the Falcons out of the end zone, forcing them to settle for field goals on both occasions, which was essentially an eight-point swing in an eventual seven-point decision.
The Buccaneers' red zone defense, which ranked 30th in the NFL last year in opponent touchdown percentage, served notice that it may be significantly improved in 2016. In 2015, the Bucs allowed touchdowns on 64.3% of drives that reached inside their 20-yard line; the league-average was 56.2% and the average for all playoff teams was 53%. The Buccaneers allowed an average of 5.46 points per red zone drive last year.
Though it's obviously the smallest possible sample size, one game, the Bucs fared far better with their backs against the wall on Sunday. They allowed one touchdown on four Atlanta red zone trips, for a 25% success rate. The other three drives ended in field goals, for a total of 16 points, or 4.00 points per drive. The Buccaneers were one of only two teams in the NFL in Week One (with two Monday night games still to be played) to face at least four red zone challenges and allow only one touchdown. Seattle did the same thing in a narrow, 12-10 win over Miami.
In addition to Alexander's takedown of Ryan, which came on a third down in the fourth quarter, ending one drive near midfield during the Falcons' comeback attempt, the Bucs also got single sacks from defensive tackle Gerald McCoy and defensive end Robert Ayers. Ayers got his QB takedown in his Buccaneer debut after signing with the team as an unrestricted free agent in March. Dating back to last season when he was with the New York Giants, Ayers has recorded at least one sack in each of the last six games he has played, with a total of eight sacks in that span. That's the longest active streak of games with a sack for any defender in the NFL.
Putting pressure on the quarterback has been one of the keys to a good Buccaneer performance over the last two years, unsurprisingly. Tampa Bay's defense has recorded three or more sacks in eight games since the start of 2015, including Sunday's contest in Atlanta, and owns a 6-2 record in those outings.The Bucs are 1-8 in all other games in that span.