STORY HIGHLIGHTS
Each team in the NFL is allowed to schedule a workout day for draft prospects who played high school or college ball locally
These workouts do not count against the team's limit of 30 pre-draft visits from prospects
CB Leonard Johnson attended a similar workout two years ago, just weeks before he was signed by the Bucs as an undrafted free agent

The first week of the Tampa Bay Buccaneers' offseason training program didn't include any work on Friday, but the practice fields behind team headquarters were still busy on the last day of the week.
On Friday, the Buccaneers took advantage of an NFL rule that allows them to hold on-field workouts for draft prospects who played their high school or college football nearby.  Each team in the NFL, in fact, can conduct such workouts with the prospects from their respective metro areas.
While visits from high-profile draft prospects gather a significant amount of attention, this particular part of draft preparations is not widely publicized.  It can be a very useful tool for the Buccaneers, however, particularly in identifying players who could potentially be targets as undrafted free agents, or even late-round picks.  Also unlike those other scheduled visits, which are limited to a total of 30 players per team, the evaluation of local prospects includes actual on-field exercises.  The local workouts do not count against that limit of 30 prospect visits.
The Bucs chose not to release a list of the players who worked out at One Buccaneer Place on Friday, but did confirm that a total of 26 players from 11 different colleges across the country were involved.  While the Bay area is a fertile ground for prep stars who go on to big-college programs, the Bucs' list on Friday likely also included players from the University of South Florida.
Former Iowa State cornerback Leonard Johnson, a Clearwater native, came to One Buc Place two years ago for a similar workout with fellow local prospects.  Johnson later signed with Tampa Bay as an undrafted after the 2012 draft and went on to make the active roster as a rookie after an impressive training camp.  During his first two years with his hometown team, Johnson has played in 32 games with 14 starts and recorded 98 tackles, four interceptions and two touchdowns.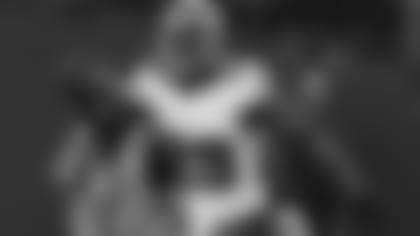 CB Leonard Johnson, who took part in a workout for local draft prospects two years ago, has started 14 games in his first two years with the Buccaneers
Johnson is actually one of three players on the current Tampa Bay roster who previously participated in pre-draft workouts for local prospects at Buccaneer headquarters.  The other two are a pair of recent free agent signees, cornerback Mike Jenkins (formerly of USF and Southeast High School in Bradenton) and wide receiver Louis Murphy (formerly of Lakewood High School in St. Petersburg).
Last year, the Buccaneers also signed three former USF players who had been at the team's workout for locals that spring or in an earlier year: tight end Evan Landi, defensive end George Selvie and wide receiver Carlton Mitchell.  Other local players who have attended such workouts (some for meetings but not on-field work) at One Buc Place in the past but ended up with other NFL teams include defensive end Jason Pierre-Paul, running back Dexter McCluster, cornerback Javier Arenas and safety Nate Allen.