STORY HIGHLIGHTS
Logan Mankins has already impressed his new teammates with how quickly he's picked up the Bucs' offense
Five Bucs didn't practice Wednesday but Head Coach Lovie Smith says the roster is in pretty good shape
If the depth chart doesn't change before Sunday, Bobby Rainey and Chris Owusu would be returning kicks for the Bucs

Logan Mankins spent the Labor Day weekend in the Tampa Bay area, his new NFL home, and had he felt compelled to check out the nearby beaches he would have had plenty of reading material to bring along.
Of course, this wasn't a vacation for Mankins, and he wasn't exactly engaging in some light reading. His current book of choice is short on plot but heavy on the Xs and Os. Traded from the New England Patriots to the Tampa Bay Buccaneers just 12 days before the kickoff of the regular season, and expected to step right in at left guard on the starting O-Line, Mankins had to bury himself in his new team's playbook.
His weekend cram session appears to be paying off. After a "bonus" workout on Monday, the Buccaneers began their typical week of practice on Wednesday and Mankins didn't look at all out of place.
"Logan is first class, he's a pro," said Josh McCown, the quarterback Mankins is now assigned to protect after years of working with Tom Brady. "We inserted him on the first day and he was on top of everything with minimal study time or preparation time relative to the rest of us. He's been awesome."
McCown was informed that Brady wasn't pleased with the rather sudden and unexpected news of Mankins' departure from the Patriots locker room. It didn't take him long with his new teammate to understand why.
"I understand Tom's frustrations," said McCown. "I would understand anybody's frustration when you take a guy like Logan off of your team or away from your franchise, because he brings so much, not with how impressive he was on the field, but his presence, his work ethic and the way he approaches the game."
Mankins has had no choice over the last week but to approach his current situation head-on, not if he wants to be ready to face the Carolina Panthers' extremely impressive defensive front on Sunday. While his new teammates were duly impressed on Wednesday, he saw plenty of room for improvement.
"[I'm] not where I want to be, but thankfully we've got a few more days. I'm just building on each day, trying to get better and retain more every day. We've got a big challenge [Sunday]. They've got a deep defensive line and a lot of good players over there. They rush the quarterback; I think they were number one in sacks last year, with 60 sacks. They were number one or number two against the run also, and that's doing a lot. It's going to be a big challenge for us."
Mankins has always been known as an outstanding run blocker, so his arrival is obviously good news for Doug Martin and the rest of the Bucs' ballcarriers. Martin has been as impressed as McCown but thinks he's only seen the beginning of the difference Mankins can make in the Bucs' rushing attack.
"Logan came in and he's picking up the offense pretty quickly," said Martin. "He asks questions. He doesn't act like a vet, he acts like he's a rookie trying to learn the offense and he's picked up on it very well. I can't wait to see what he's capable of."
When Mankins has asked questions, he's quickly received answers. His new brothers on the Bucs' offensive line know how important it is for Mankins to absorb the playbook and form a bond with the other four starters.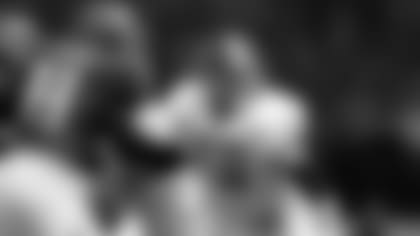 G Logan Mankins is starting to feel at home in the Buccaneers' locker room
"The guys have been great to me," he said. "They've accepted me, they've all helped me, and that's all I could ask for, that they would help me as much as possible. Hopefully I can do my part to earn their trust that what they're doing for me is getting me [ready].
"I've been here a few days now and this locker room's starting to feel like home."
Five of the Buccaneers' 53 active players did not participate in Wednesday's practice, and barring any sudden improvements, it's likely they will form most of the team's inactive list on Sunday against the Panthers. Those five are: defensive ends Da'Quan Bowers and William Gholston, safety Bradley McDougald, cornerback Rashaan Melvin and wide receiver Louis Murphy.
The continued inactivity of Bowers and Gholston may have played a part in the team's decision to keep nine defensive linemen on the 53-man roster, including young defensive ends Steven Means and Scott Solomon. Those two combined for three sacks during the preseason and will likely get a chance to be active for the season opener on Sunday, unless Bowers or Gholston makes a rapid recovery. The latter two also sat out the Bucs' final two preseason games, due to abdominal and shoulder injuries, respectively.
The Buccaneers already addressed the depth issue at safety, where McDougald has missed roughly two weeks, re-signing on Wednesday. And the team can still go into the opener with five active wide receivers, even if Murphy is unavailable.
There were eight players on the Bucs' first injury report of the season, and only one of them practiced fully on Wednesday: cornerback Mike Jenkins. Jenkins missed all four preseason games while recovering from a hamstring injury, but Head Coach Lovie Smith thinks he'll be able to work back into the mix quickly, if not necessarily for an entire game at the start.
"Mike has been conditioning," said Smith. "We took our time with him, wanted to make sure he was pretty much one hundred percent before we put him out there. And he's looked good out in practice. So I don't think there are any issues. It's not like we're going to play him 60 reps this week; we'll ease him back into the mix."
Overall, with the exception of the ankle injury that will keep rookie running back Charles Sims out until at least midseason, the Buccaneers made it through the sometimes treacherous month of August with a relatively healthy roster.
"We're in pretty good shape really," said Smith. "We have a few guys that won't play, but looking at everybody else on this football team, for all we've been through, the numbers are pretty good right now."
* Lovie Smith and the Buccaneers continue to play their cards close to the vest regarding any lineup or strategy information they don't have to reveal. As such, it has not specifically been announced who will be returning punts and kickoffs for the team in Sunday's opener.
However, the Buccaneers have published an updated depth chart this week, following the weekend's final cuts, and Smith says it's fair to view this version as more reliable than the ones that were reluctantly released during the preseason.
"Yes you can [put stock in the depth chart]," he said. "Again, that does go right up until game week, though. On some positions, we really do pay attention to how a player performs in practice leading up [to the game]. And if it's close and one guy performed a lot better in practice, we'll make that move too. The league tells us to come up with a depth chart right now; that's how we see it right now. Of course, things can change. But for the most part, this is who we're going with."
Therefore, if practice-field competition and/or additional roster moves do not intervene, the Buccaneers would appear to be leaning toward running back Bobby Rainey as the punt returner and wide receiver Chris Owusu as the kickoff returner.
Owusu has a good size-speed combination, and a north-south return style, that could work well on kickoffs. He also has extensive collegiate experience in that role, ranking second on Stanford's all-time list with a 27.3-yard average on 78 career returns, three of which he took for touchdowns. Rainey also returned kickoffs at Western Kentucky and has looked steady with the more difficult task of catching punts.
"The first thing is to catch the ball," said Smith.  "People take that for granted. But it's first, catching the ball, then getting positive yards. It's kind of simple as that. Every yard you get, it's one less the offense has to. But you've got to make somebody miss. Just know they're going full speed, want to knock you out. You've got to be able to make a guy miss. It's as simple as that. And then go vertical. Bobby can do that, along with a few other guys that we have."