STORY HIGHLIGHTS
Joshua Frey, a Tampa native and a retired Marine, incredibly chose to give the Bucs his Purple Heart medal on Thursday
Frey's gesture was meant to provide strength and support for others who are dealing with PTSD and other battle-related issues
Frey received two Purple Hearts during a 2004 tour that took him into combat in Fallujah, Iraq

On Friday, when the Tampa Bay Buccaneers take the field at Raymond James Stadium to begin their much anticipated "Night Practice," they'll run through a tunnel formed by visiting patients from the James A. Haley Veterans' Hospital. These servicemen and women, all of whom have made significant sacrifices for their country, have become as much a part of the Night Practice tradition as player competitions and night-capping fireworks.
On Thursday afternoon, another wounded warrior visited the Buccaneers at their training camp headquarters, completely of his own volition, and he came bearing a stunning gift.
Joshua Frey, a retired Marine Lance Corporal, earned two Purple Hearts during a tour in Iraq, the second one for a gunshot wound to his right shoulder that nearly cost him his life. Frey is a Tampa native and a lifelong Buccaneers fan who fondly recalls watching the Buccaneers play the Chicago Bears in old Tampa Stadium. Like the Buccaneers organization, which has lent its support to a long list of military causes, Frey understands the strength that can come from a partnership between the team and the Bay area's large military community.
It was for that reason that Frey, wanting to provide a symbol of strength and support for others who are struggling to overcome the physical and mental toll of battle, located Jason Licht on Thursday and presented the Buccaneers' general manager with one of his Purple Heart medals.
"It's not about me," said Frey. "This is about the guy sitting at home, dealing with these issues, and he sees: 'Hey, a wounded warrior at Bucs camp gives Purple Heart to the team.' There's a lot of guys out there that need help and they just need support. For me, it took support, it took my own soul-searching and it took time."
Understanding the obvious significance of the medal, Licht initially tried to refuse but the former Marine insisted. Frey's own experiences after his time in Iraq included four years in a veterans' hospital, assistance from his wife and others with some of the most basic life experiences and even learning to be left-handed after growing up right-handed.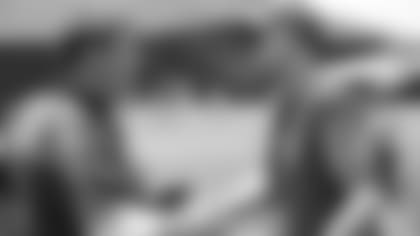 Retired Marine Lance Corporal Joshua Frey was awarded two Purple Hearts during his service in Iraq in 2004
"I've thought about this a lot since I got out – what can I give to help somebody else?" said Frey, who was wounded in 2004 and was eventually released from the hospital in 2008. "I've been a Bucs fan all my life and I decided I wanted to give this to somebody here with the Buccaneers. At first, [Licht] was like, 'No, you're not giving us your Purple Heart!' He wanted to give it back to me but I wouldn't take it. See, this is my way of healing, too. It's not fun to get a Purple Heart, but it's fun to give it to somebody else. It's not about me…there are guys out there with Purple Heart medals, and that's all they've got. They did heroic things and they just have one ribbon.
"It means a lot to me to show [Licht] that this is a 'team' thing, for the Buccaneers and for those of us who have served. The community is behind this team, and especially the veterans."
Frey elected to join the Marines in 2003 as a result of the 9/11 terrorist attacks in 2001. He was awarded his first Purple Heart in November of 2004 when he was knocked unconscious and suffered other wounds from an RPG blast. Less than a month later, he took his more serious wound when he got into a gunfight with an Iraqi soldier while clearing a house in Fallujah. The two combatants shot each other and Frey was dragged away by his fellow soldiers and loaded into a Humvee. He needed six blood transfusions to keep him alive and eventually underwent 22 operations. The nerve damage in his right arm makes it difficult for him to feel his fingers at times and to fully grip things.
And today he is an outgoing, talkative, well-adjusted father of two with a positive outlook and a desire to help others who have been through similar experiences. And that is why his prized Purple Heart medal now resides in Jason Licht's office at One Buccaneer Place. Frey believes it can do a lot of good from that location.
"I'm just blessed," he said. "I'm one of those glass-half-full guys, and time heals a lot. I just have a lot of passion, and if I can be a role model for some of the guys out there – because there are a lot of guys hurting with post-traumatic stress disorder – then that's a good thing."