STORY HIGHLIGHTS
QB Josh McCown is not likely to play Sunday but he's still working hard to bring value to the team
McCown's thumb injury led to a series of roster moves, including the promotion of QB Mike Kafka
DE Larry English was unable to practice Thursday due to a hamstring injury sustained on Wednesday

Back in March, Josh McCown signed a two-year contract to be the starting quarterback of the Tampa Bay Buccaneers. It appears nearly certain that McCown will not be the Buccaneers' starter this coming Sunday in Pittsburgh, but that hasn't changed the meaning of that contract in his mind.
"At the end of the day, I believe every person in the organization has to bring value to their job," said McCown on Thursday, his second straight day of missing practice due to a thumb injury. "You have to try and find a way that you can help us every weekend win football games."
That injury, suffered shortly before halftime of last Thursday night's loss in Atlanta, will apparently sideline McCown for at least this weekend, though he is working hard to get back as quickly as possible. The Buccaneers promoted quarterback Mike Kafka from the practice squad on Thursday, and Head Coach Lovie Smith confirmed that the move is a strong indication the team will go with Mike Glennon under center on Sunday, with Kafka as the backup.
It's an unfortunate turn of events for McCown, who said the opening three weeks of this season have been as tough as any three weeks e's experienced in his career, but he refuses to sulk. More importantly, he refuses to be a non-factor during his time on the sideline. And, to be more accurate, he hasn't been on the sideline this week as the Bucs have prepared for the Steelers; rather, he's been on the field, offering advice and insight to Glennon in any way he can.
"Absolutely I'm frustrated, and to add injury to insult so to be speak, it's a bummer," said McCown. "But the big picture, and how I operate in life, is understanding that there's a bigger process going on here. For me, it's to find ways within this to grow and … to help the team as much as I can, and that's why I'm trying to get healthy and get ready to go and be available.
"We have 13 games left, there's a lot of football left to play and as frustrating as this start is for us, there's nobody that's going to hang their head. For me, it's what can I do to help us and help Mike be ready to go."
Head Coach Lovie Smith knew McCown from their two years together in Chicago, and while he wasn't there when McCown turned in his superb relief performance during the second half of last season, he knew the type of player and man he was getting when the Bucs dipped into free agency in March. McCown's new teammates obviously figured out the same thing when they voted him as a team captain at the beginning of the season.
"Injuries are going to happen," said Smith. "And then if you're a veteran like Josh, you can say, 'OK, I'm probably not playing this week, so what can I do?' So he has been coaching the players up. Energy, all those good things you expect from a veteran captain on your football team."
Glennon started the final 13 games of his rookie season and certainly looked forward to keeping his job in 2014. If he had been thrilled with the team bringing in a veteran and naming him the starter in the spring, then he wouldn't be an NFL-level competitor. But, once the decision was made, he handled his role in a professional manner and formed a quick bond with McCown. Now that the roles are reversed, for this week at least, that relationship is still helping both quarterbacks help the team.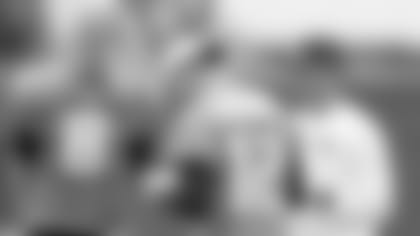 QB Josh McCown (12) has been like an additional coach on the field this week after his thumb injury
"We have a great relationship, as I said back in the spring," said McCown. "You know how I feel about him [as a person] and how I feel about him as a player, and for me it's always about the team first and foremost. As a player, when you experience an injury or something like that, what's the next thing you can do to help the team? 'A' is to get heathy and get back on the field and available, and then 'B' is to be an extra set of eyes and voice in that room to help that position."
Rookie offensive lineman Josh Allen, who was briefly a part of the Buccaneers' 53-man roster after the final round of roster cuts, has returned to the team, and he can thank McCown's thumb injury for that opportunity.
The Buccaneers made three roster moves on Thursday, and they are all in some way related to McCown's inability to play on Sunday. Allen's return was the last domino to fall in the three moves.
First, the team promoted Mike Kafka from the practice squad to the 53-man roster, giving the Buccaneers' three active quarterbacks. That would seem like a pretty strong indication that McCown will be inactive on Sunday in Pittsburgh, leaving the Bucs in serious need of a backup for reserve-turned-starter Mike Glennon. As mentioned above, Smith didn't disagree with that logic after practice on Thursday.
"That's accurate," he said. "[Kafka] has been around here a long time too…been with us I think from Day One. So it's good to have a player like that on your practice squad. You kind of set up your roster that way. As we tell all the guys on the practice squad, odds are you will end up coming up some time during the course of the year. Now, these things are happening a little bit quicker than we planned, but Mike, of course, has been signaling, so he has a full grasp of the offense. And as I said, Josh is getting better, but this is probably the way we'll go."
Obviously, the Buccaneers needed to clear a roster spot in order to bring Kafka up, and it is not surprising to see them to turn to the position on the roster with the most depth, particularly depth that would not be of use this Sunday. The Buccaneers have been keeping 10 offensive linemen – one or two more than is the most common number – which has led to them deactivating three of them on game days. One of those three has been guard Rishaw Johnson, a player the team acquired from Kansas City in a late-August trade. The team chose to waive Johnson on Thursday, and since he was likely to be inactive on Sunday, that does not deal a big blow to the team's game-planning efforts.
However, waiving Johnson did affect the team's work on the practice field, as it left them one down on the offensive line overall. Thus the re-signing of Allen, who played in all four preseason games with one start at center. Allen impressed in training camp after signing with the team as an undrafted free agent out of Louisiana-Monroe.
Defensive end Larry English wasn't able to practice on Thursday, and that was a bit of an unexpected development, if only because he was able to finish Wednesday's afternoon workout.
"Sometimes you go through a practice and, injury-wise, some guys can make it through [that practice] and you don't know about until a little bit later on," said Smith. "Larry English tweaked his hamstring a little bit yesterday. He was able to make it through practice but wasn't able to do anything today."
That left the Bucs with three players on the sideline Thursday, just as the day before. While McCown and linebacker Mason Foster were once again unable to go, starting right end Michael Johnson returned to work after sitting out on Wednesday. Johnson was a limited participant, but that is still a step in the right direction. He did not play in the Bucs' Week Two game against St. Louis after suffering an opening-day ankle injury, and he was held to six snaps in the next week's game at Atlanta.
Johnson is one of a handful of key players who have missed significant time during the first three weeks of the season, along with defensive tackle Gerald McCoy, running back Doug Martin, tight end Austin Seferian-Jenkins and several others. If there's a silver lining, it's that these players will have fresh legs when they return, hopefully as soon as Sunday.
"As I've said earlier, this happens sometimes during the year, and for us, hopefully we've gotten it out of the way," said Smith. "Those players have been out a while, they're rested up and ready to go; anxious to help our team win."