STORY HIGHLIGHTS
Whether it's Mike Glennon, Mike Kafka or a newcomer in the draft, Josh McCown wants to help all the Bucs' quarterbacks succeed
McCown has come to enjoy the mentoring role of his job more in the later stages of his NFL career
A 2002 draft pick, McCown knows how long a player's rookie season can be, from the Combine through the final games

Josh McCown has met Teddy Bridgewater, Jimmy Garoppolo and Johnny Manziel, three of the prospects in a 2014 class of quarterbacks that stubbornly refuses to sort itself out on the draft boards.  McCown has met those three because they've all recently been to his place of employment, presumably because it could become their place of employment, as well.
No, Bridgewater, Garoppolo and Manziel are not all coming to One Buccaneer Place to start their NFL careers.  Only a small handful of people inside that building's walls know if any of them are being considered for possible selection in the draft that starts on May 8.  But all three were among the Buccaneers' 30 allotted pre-draft visits, and whatever you believe the motivation was for those invites, you have to at least acknowledge the possibility of real interest.  Head Coach Lovie Smith has said it specifically, but it's pretty much an NFL truism, at least for any team that doesn't already have a Peyton Manning or a Russell Wilson: "Whenever you have a chance to get a franchise quarterback, you have to consider that."
McCown is a quarterback too, and a very smart man, certainly smart enough to know that.  He is not, however, the least bit worried about it.
After a superb stretch in relief of Jay Cutler in Chicago last fall, the 34-year-old McCown hit free agency in March and was quickly targeted by Smith's Buccaneers.  He signed a two-year contract with the team on March 12; the next day, Smith indicated that McCown would be first in line to start, supplanting 2013 rookie starter Mike Glennon.  McCown's contract with the Buccaneers is significant, but also relatively brief, leaving open the possibility that he will be a "bridge" to the team's next long-term solution at the position, whether that be Glennon or a player yet to arrive.  McCown's employers can have utter confidence in him and at the same time still be thinking about the future at his position.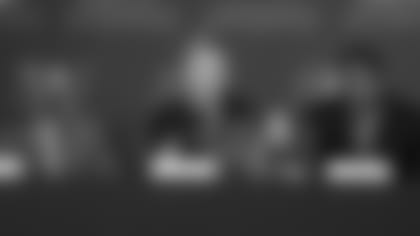 Josh McCown signed a two-year deal with the Buccaneers on the second day of free agency and was quickly named the team's starting quarterback
McCown's focus is on the present, and specifically on making the Buccaneers a better team, no matter what that means on the depth chart.
"If you're saying a first-round quarterback, you never know, but if you're picking somebody in the first round you're hoping they help your team at some point," he said, matter-of-factly.  "My focus won't shift.  My focus is, like I said before – whether it's me or Mike Glennon or Mike Kafka or somebody else – for the Tampa Bay Buccaneers' quarterbacks to play good football and to help their team win football games.  That wouldn't change.
"If we pick a young guy at that spot, lets help him get ready, too.  We're picking him there because we're thinking he can help us win games, if you're picking somebody that early.  Absolutely, it's about helping us win football games."
No matter what the Buccaneers do in this year's draft, McCown will be working with at least one young quarterback who is trying to get his career going in the right direction.  And even if McCown's run as the Bucs' starter is so successful that it extends beyond the current two-year commitment, there will eventually come a day in which he is handing over the reins to the next man in line.  Making sure this goes well, that the young quarterback(s) behind him on the depth chart are ready to take advantage of an opportunity when it arrives, is something McCown plans to enjoy in this stage of his career.
"For me, personally, that's the most fulfillment that you find in life, whether it's football or something else – you're giving that away, you're imparting that knowledge to somebody else to make their journey better," he said.  "That's the key to life in general – what can you do for somebody else.  I'm thankful that I've been able to stay around this long to be able to grasp that.  I really find joy in it.  Early on, I understood it but I don't know if I found joy in it.  But now it's fun to see a young guy go out and perform well and know that maybe you had a little part in it."
And indeed, the QB prospects who have been passing through One Buc lately seem quite young to McCown, who came into the league himself in 2002.  That's what struck him when he interacted briefly with Manziel and Bridgewater and Garoppolo, just long enough to shake hands and exchange pleasantries.  Seeing these soon-to-be-NFLers also stirred up some vivid memories for McCown, and he hopes they find a way to enjoy what can be a grueling process.
"It was cool to say hello to them, just briefly with Johnny and Teddy and Jimmy," said McCown.  "I just wished them well and all those things.  It's funny – you look at them when they come in and you think back a couple years and you remember how fast it can go, sitting in their chair and everything that's going through their mind.  This is, in my opinion, easily the longest year of your career, this first year.  From the Combine to the end of your rookie season, it's just a long year.  So you're excited but it can be draining and very emotional.  And now they've bumped the draft back so there's a waiting period for those guys.  Just more than anything, I wish them well."