STORY HIGHLIGHTS
Even coming off an All-Pro season, DT Gerald McCoy has to work hard in the offseason to absorb a new defensive scheme
Head Coach Lovie Smith says McCoy has been the perfect student this spring
McCoy has also taken on an even greater leadership role within the D-Line group, fromw he expects big things

Lovie Smith has had every minute of the Tampa Bay Buccaneers' offseason program scripted since March. The Collective Bargaining Agreement permits a limited number of hours on the practice field in the spring and summer – a bit more for teams like the Buccaneers with first-year coaching staffs – and that time is treated like a precious commodity. In Phase III of the program, during which more fleshed-out practices are allowed under the title of "Organized Team Activity," each practice can last two hours, out of which Smith wrings every last minute.
Simply put, the Bucs have a lot to learn in order to get the new offensive, defensive and special teams systems installed, and the practice field is the best classroom.
"It's just so much to put in, so many little fine details that you have to get ironed out by practice, but I see improvement each day," said Smith. "They're getting more and more comfortable in their roles."
One player who is accelerating very quickly through that learning curve is defensive tackle Gerald McCoy. Already an All-Pro and perhaps the most valuable player on the Buccaneers' roster, McCoy probably could have coasted to an acceptable grade but instead he's working harder than ever in his pursuit of greatness.
"Gerald has been just the perfect student, number one, to just buy into the coaching that he's getting," said Smith. "He's a great player, that's established, he's a great player, but what do you do from there? And he comes out every day, he's the first guy in every drill, he's running to the football, you can't ask for anything more in a defensive lineman than what Gerald McCoy is doing.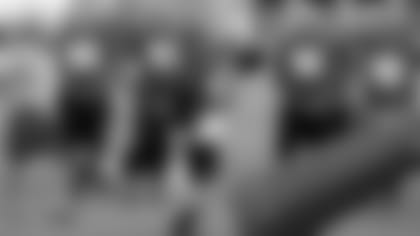 DT Gerald McCoy is working hard to set the pace for the rest of the Bucs' defensive line
"Gerald McCoy is a great player, but he has to get to know our defense, what's expected of him and in every situation…same thing for [linebacker] Lavonte David and across the board. We have excellent coaches on our staff and I see it coming though, we're going to be a good football team and in order to be a good football team we have to play great, not good, but great defense and I think we will."
If so, McCoy will be the driving force. Not only is he determined to become the next great Cover Two under tackle, but he's taking his leadership role to another level, as well. During bag drills, he takes the first rep and then doubles back to offer advice to everyone else coming through the line. He's also driving his fellow linemen to keep their effort at the maximum level, even imploring them to run, not walk, off the field at the end of practice.
That sort of encouragement is having an effect on the whole defensive front.
"Everybody's practicing hard, I don't want to single one guy out because everybody's working," said McCoy. "Everybody's coming out, day-in [and] day-out, putting in the work. I'm just really excited about everybody. Reality is we can't keep everybody on the defensive line, but definitely whoever is not here by the end of camp, they'll get picked up somewhere because of how hard they're working."
The under tackle position is the linchpin of the Cover Two defense, and the ability to get pressure with a four-man front is critical. McCoy, who had 9.5 sacks last year and many, many more disruptive moments in the backfield, will be leading that charge if things go as planned. He's looking forward to the responsibility.
"I love it," said McCoy. "It's just up-the-field penetrating front, cover two coverage and it really just depends on the defensive line to take care of the pass game. They always tell us if you're not rushing, you're stealing. We've got to get to the quarterback and it makes it easier on everybody else."
"We just have to have everybody get the scheme down to where it's second nature. It's a great defense to play in and once everybody figures it out and have the ins and outs of it, it's going to be scary."