STORY HIGHLIGHTS
Bucs DT Gerald McCoy lands at #28 on the NFL Top 100 of 2014, a leap of 64 spots from last year's rankings
McCoy is the third Buccaneer to be named to the current Top 100, joining Vincent Jackson (#44) and Lavonte David (#35)
Perhaps the most dominant DT in the NFL in 2013, McCoy set a career high with 9.5 sacks

When Gerald McCoy's name was announced during the first "NFL Top 100 Players of 2013" broadcast on NFL Network last May, it was a validation that the Tampa Bay Buccaneers' defensive tackle had realized his star potential in 2012 after two injury-shortened seasons.
In 2013, that star power went supernova.  The #92 player on last year's list, McCoy enjoyed another healthy season and emerged as perhaps the most dominant player at his position in the NFL.  He racked up 9.5 sacks, topped the DT ratings on Pro Football Focus, earned a second Pro Bowl trip and cracked the Associated Press First-Team All-Pro squad for the first time.  It would have been a surprise if McCoy had not moved higher on the NFL Top 100 list in 2014.
He didn't just slide a few spots – or even a few dozen spots – up the list, however.  McCoy, a comic book nut, leapt over a tall building a single bound.  With a meteoric rise of 64 spots, the Buccaneer team leader leapt all the way up to #28, a fact revealed on the latest Top 100 show on the Network Wednesday night.
So far, that's the biggest advancement of any player who was already on the list in 2013, though there are obviously 20 more names to be announced in the coming weeks.  It goes hand in hand with the huge jump made by fellow Buccaneer defender Lavonte David, who didn't make the list after his 2012 rookie season but debuted at number 35 just last week.  If any player not on the list the previous year is arbitrarily given a ranking of 101, then David's leap was 66 spots.  He had company in that range, as San Diego quarterback Philip Rivers and Buffalo defensive tackle Kyle Williams went from unnamed in 2013 to numbers 34 and 32 on this year's list, respectively.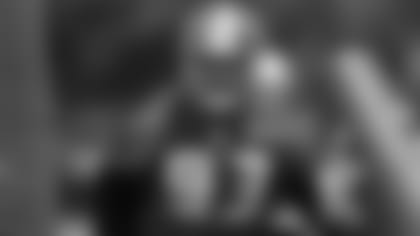 Like teammate (and #35 on the list) Lavonte David, Gerald McCoy earned first-team AP All-Pro honors in 2013
The NFL Top 100 rankings are compiled each year from votes cast by NFL players, which means that McCoy and David have captured the respect of their peers as well as the AP All-Pro voters in the media.
McCoy was often unstoppable in 2013, racking up 50 tackles, 15 tackles, for loss, 9.5 sacks, 19 quarterback pressures and four passes defensed.  Pro Football Focus graded McCoy as the fourth-best player at any position in the NFL last year.
McCoy is the third Buccaneer to make the list this year, and the third revealed in the last three weeks, with wide receiver Vincent Jackson coming in at #44.  McCoy appeared on the NFL Network's Top 100 show on Wednesday night to discuss his selection.