STORY HIGHLIGHTS
DT Gerald McCoy practiced with a protective cover on his injured hand and hopes to be ready to go Sunday in Pittsburgh
Three new players joined the practice squad: DE T.J. Fatinikun, LB Shayne Skov and TE/FB Ian Thompson
Injured TE Austin Seferian-Jenkins already proved once that he can jump quickly back into the mix on offense

As Gerald McCoy stands in front of his locker on Wednesday afternoon, he has no cast on his injured left hand and no visible discomfort as he lightly grips his sweatshirt. He doeshave his usual mega-watt smile, and at some point this becomes obvious to him, too.
McCoy joined the Buccaneers as the third-overall pick in the draft in 2010 and has since seen his share of ups and downs, both individually and in regards to his team. He lost good portions of his first two seasons to separate biceps injuries but has since developed into a first-team All-Pro. He was part of a 10-win season as a rookie and helped his team get off to a 6-4 start in 2012, but he has still yet to experience the NFL's playoffs. And, of course, his team is 0-3 after three weeks for the second straight year and he is personally trying to overcome a fractured in that left hand.
"I've seen a lot more than them," he said to the crowd assembled around him, referring to his teammates, almost all of whom are in the first few years in Tampa. "If I can be smiling through all of that, so can they. Follow me."
One suspects – though we won't know for sure until later in the week or perhaps even Sunday – that McCoy is also smiling because he thinks he's going to be back in action this week against Pittsburgh.  On Wednesday, he put on pads and practiced with the team, though he was officially a "limited" participant.  He did wear a protective device on his hand during practice and would in Sunday's game, but Head Coach Lovie Smith said it won't restrict his movements much.
"He has the use of his fingers and it's just giving a little bit of protection on the top," said Smith, motioning to the back of his own hand. "He should be good to go, if he's able to go then he should be OK and we shouldn't have to worry about that hand an awful lot."
Of course, it's fair to wonder if the hand will reduce his effectiveness by some small percentage – that, too, will not be clear until Sunday – but he's planning to be as disruptive as ever.
"I'm just doing what I can do," said McCoy. "Hopefully I'll be out there Sunday and anybody that has been around me knows that when Sunday comes I turn into a wild man. Whether I have one hand, half of a hand or no hands, I'm going to give it all I've got."
And even if this Sunday's Gerald McCoy isn't 100% of last year's All-Pro Gerald McCoy, he'll be a difference-maker if he's anywhere close. There may not be a more important position on the Bucs' defense than the three-technique tackle spot, and there may not be a better player in the league to fill it.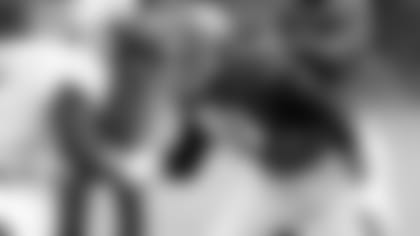 DT Gerald McCoy was limited in practice on Wednesday but he's working hard to get back on the field in Pittsburgh Sunday
"If he suits up, it's documented what the under-tackle means to our football team," said Smith. "Gerald is the face of the franchise, our best player. To get him in the mix – we talk about how tough a chore this will be playing the Steelers, we need our best players and it's as simple as that. Gerald looked pretty good today and we can't get him back on the football field too soon."
* The practice squad of an NFL team tends to mutate throughout the season, based largely on the positional needs of the active roster, which itself changes due to injuries. Thus, while there are usually one or two prospects who stay on that squad all season, it's not uncommon for a team to switch out 30% or more of the group in one week.
That's what the Buccaneers did on Wednesday, signing defensive end T.J. Fatinikun, linebacker Shayne Skov and tight end/fullback. That completed a process begun the day before when safety Kimario McFadden, linebacker Ka'Lial Glaud and defensive end Adrian Robinson were released.
Only Skov is new to the Buccaneers. He is on his second NFL team, having spent most of the last four months with the San Francisco 49ers. San Francisco signed him as an undrafted free agent out of Stanford and he made it to the final cuts before being waived and re-signed to the 49ers' practice squad. Skov spent two weeks with that group before being released last Tuesday. He was a third-team All-America selection as a senior at Stanford in 2013 after recording 109 tackles, 5.5 sacks, 13 tackles for loss and three forced fumbles.
Thompson joined the Buccaneers as an undrafted free agent out of Louisiana-Lafayette in May. He eventually converted from tight end to fullback in training camp and appeared in two of the Bucs' four preseason games. At ULL he played in 50 games, starting 20 and catching 36 passes for 284 yards. Fatinikun participated in the team's offseason-ending mini-camp in June on a tryout contract and was later signed in August after he finished his season with the Arena Football League's Orlando Predators. He played in the Bucs' last three preseason games before being released in the last round of cuts.
*The Buccaneers drafted Washington tight end Austin Seferian-Jenkins high in the second round of the draft in May believing he could give them big plays from a position that hasn't produced many of them in Tampa of late. And sure enough, in Seferian-Jenkins' first game, on the first ball thrown to him, he hauled in a medium-range pass and explosively turned it into a 26-yard gain.
That was on the first third-down of the season for Tampa Bay, and just the Bucs' third play from scrimmage against Carolina. Unfortunately, he hasn't been able to make much of an impact since, thanks to an ankle injury he sustained not long after that first catch. He toughed it out for 20 snaps in the Panthers game then missed the next two contests. As Week Four begins, Seferian-Jenkins is listed as being a "limited" participant in Wednesday's practice, but he's hoping his return is sooner rather than later. The rookie is confident he can step right back into the mix, and there's reason to believe he's right. After missing almost all of the team's offseason program, he hopped right into training camp full-speed and was one of the more impressive performers on the field.
"I've really wanted to be out there; unfortunately, I haven't been able to," said Seferian-Jenkins. "But I've been at every meeting, been to every practice, gone to every game – I've been watching what we're doing. I'm preparing every week; even when I didn't play I was just going to prepare like it was a game that week."
Will he be able to give the Bucs' offense a much-needed boost – and Glennon an underneath or down-the-seams target with some juice – this week in Pittsburgh? That answer will be more evident after the next two practices of the week, and the subsequent injury reports.
"It's really hard to put a percentage on things," said Seferian-Jenkins, regarding the status of his injured ankle. "We'll see how practice is today and go from there."
The Bucs' offense, likely under the direction of a new field general on Sunday in Pittsburgh and possibly with the services of running back Doug Martin (he's missed two games, as well, but was a full participant on Wednesday), needs to get on track, obviously. After three weeks, Tampa Bay ranks 30th in the league in total yards and, more importantly, 29th in points scored. There was a lot of optimism surrounding the Bucs' offense heading into the season, thanks to such new additions as Seferian-Jenkins, McCown, Mike Evans, Charles Sims, Anthony Collins, Evan Dietrich-Smith and Logan Mankins, but that group has yet to get in gear. Seferian-Jenkins thinks the turnaround could come quickly.
"It's unfortunate we've been struggling but everyone's working really hard and playing as hard as they can," he said. "We're only win away from getting on a roll, we're only one first down from getting on a roll, we're only touchdown from being on a roll – that's how I view it. All we can we do is focus on what we have to do as individuals, and collectively we'll get better."