If it seems like Mike Evans is doing things you've never seen before, it's because he is.
The Tampa Bay Buccaneers lost in overtime in Seattle on Sunday, 40-34, dropping a fourth straight decision and raising the frustration level in the locker room once again. A week ago, Evans had little interest in his own 198-yard, two-touchdown stat line immediately after a narrow loss in Tennessee. On Sunday in Seattle, Evans could recognize that Tampa Bay's offense was very effective in many ways – most of them involving him – but once again focused on the bottom line.
"This was one of our better games," said the sixth-year receiver. "We've just got to find ways to get the win. That's been our problem for a long time now. If we can just start to find ways to win the game, then everything else is going to be a little easier for us."
Evans also said that he, specifically, "didn't make enough plays." That's admirable to say but also very easy to disagree with.
This was Evans' output at CenturyLink Field on Sunday: 12 catches on 16 targets for 180 yards and a touchdown. Amazingly, that's only his third­-best output of this season, which has just now reached its halfway point. Those 180 yards would have been the fifth-highest single-game total in team history when the 2019 campaign began. Now it's seventh.
Evans currently owns five of the top eight single-game receiving yardage performances in franchise history.
Most Receiving Yards, Single Game, Buccaneers History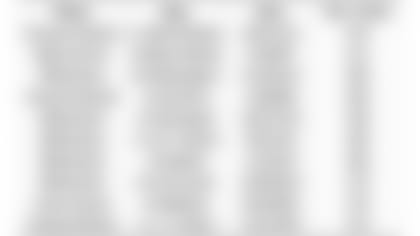 As noted, Sunday's effort, while equally impressive, was statistically a fraction down from what Evans produced in Week Eight in Tennessee. Put those two games together, however, and you have a first in the Bucs' 44-season history. Evans is the first player in Buccaneers history to record consecutive games with 150 or more rushing yards.
Obviously, that also makes Evans the first player in team annals with consecutive 180-yard receiving games. The rarity of that feat extends beyond Tampa, however. Evans is just the 10th player in NFL history to do that in two straight games, and the first since Julio Jones in 2014. (Andre Johnson did it twice.) Nobody has ever had three straight 180-yard games, giving Evans a chance to make history against Arizona next Sunday.
Consecutive Games with 180+ Receiving Yards, NFL History
·    Mike Evans, Buccaneers, 10/27-11/3/19
·    Julio Jones, Falcons, 11/30-12/8/14
·    Josh Gordon, Browns, 11/24-12/1/13
·    Andre Johnson, Texans, 11/18-22/12
·    Andre Johnson, Texans, 12/13-20/09
·    Chad Johnson, Bengals, 11/12-19/06
·    Isaac Bruce, Rams, 10/1-12/95
·    Webster Slaughter, Browns, 10/23-29/89
·    Lance Alworth, Chargers, 11/2-10/63
·    Raymond Berry, Colts, 10/23-30/60
·    Bud Grant, Eagles, 11/30-12/7/52
Evans had 11 catches at Tennessee and 12 at Seattle, making him just the second player, and the first wide receiver, in franchise history with 10 or more catches in consecutive games. Running back James Wilder, who Evans recently passed on the franchise's career receptions list, accomplished that feat 35 years ago on Nov. 25 and Dec. 2, 1984.
Evans also recorded eight catches for 190 yards and three touchdowns against the Giants in Week Three. Thus, he joins Cincinnati's A.J. Green (2016) and New England's Wes Welker (2011) as the only players in league history to record three games with at least eight catches, 150 receiving yards and a touchdown within a team's first eight games of a season.
Evans currently stands second in the NFL with an average of 105.3 receiving yards per game. His teammate, Chris Godwin, is fourth on the same list.
Most Receiving Yards Per Game, NFL, 2019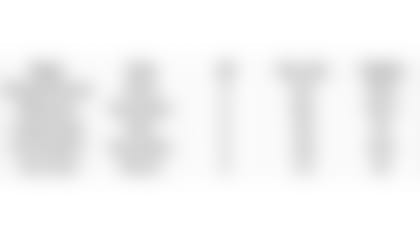 Evans hits the season's midway point on a record pace when it comes to receiving yards in franchise history. He has the most ever for a Buccaneer through eight games, and Godwin isn't far behind. If both Evans and Godwin were able to duplicate their first-half totals in the second half of the season, they would both break the Bucs' single-game record, set just last year at 1,524 by Evans
Most Receiving Yards Through Season's First 8 Games, Buccaneers History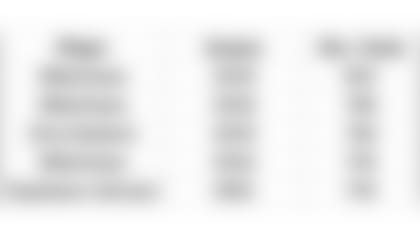 Evans is also tied for the NFL lead with seven touchdown catches. He and Godwin are two of the eight players in the league who have already hauled in at least a half-dozen scoring passes.
Most Touchdown Receptions, NFL, 2019
1t. Mike Evans, Buccaneers, 7
1t. Kenny Golladay, Lions, 7
3t. D.J. Chark, Jaguars, 6
3t. Chris Godwin, Buccaneers, 6
3t. Adam Thielen, Vikings, 6
3t. Tyler Lockett, Seahawks, 6
3t. Marvin Jones, Lions, 6
3t. Darren Fells, Texans, 6
Evans and Godwin are just the second pair of teammates in NFL history to each reach 750 receiving yards through the first eight games of a season. The Denver duo of Demaryius Thomas (894) and Emmanuel Sanders (785) were the first teammates to do so, in 2014.
In addition to his five-yard touchdown toss to Evans in the second quarter on Sunday, quarterback Jameis Winston threw another pass that was deflected and ended up in the hands of Breshad Perriman for a 15-yard score in the first period. Winston now has 16 touchdown passes this year, which is tied for fifth in the NFL. The only quarterback who has only played eight games and has more touchdown passes than Winston is Detroit's Matthew Stafford, with 19. Winston is also fifth in the NFL with 300.9 passing yards per game. His yardage total is the highest in team history through the first eight games of a season, while his touchdowns are just one off the record.
Most Touchdown Passes, Season's First Eight Games, Buccaneers History
1. Jameis Winston, 2019: 2,407
2. Brad Johnson, 2003: 2,070
3. Vinny Testaverde, 1988: 2,062
4. Josh Freeman, 2012: 2,047
5. Jameis Winston, 2016: 2,037
Most Touchdown Passes, Season's First Eight Games, Buccaneers History
1t. Ryan Fitzpatrick, 2018: 17
1t. Jameis Winston, 2017: 17
3t. Jameis Winston, 2019: 16
3t. Josh Freeman, 2012: 16
3t. Brad Johnson, 2003: 16
·    Shaq Barrett combined with Beau Allen on a sack of Russell Wilson on Sunday. That pushes Barrett's total on the season to 10.5 sacks, which currently leads the NFL. That also ties for the most sacks any Buccaneer has ever had through the first eight games of a season.
Most Sacks Through Season's First 8 Games, Buccaneers History
1t. Shaq Barrett, 2019: 10.5
1t. Warren Sapp, 2000: 10.5
3. Marcus Jones, 2000: 10.0
4. Simeon Rice, 2003: 9.0
5. Jason Pierre-Paul, 2018: 8.0
·    Devin White's 12 tackles on Sunday in Seattle led the Bucs' defense and set a personal best for the rookie linebacker. It's the first time since Kendell Beckwith had 14 stops against the Patriots on Oct. 5, 2017 that a Buccaneer rookie has had 12 tackles in a game. White also forced a pair of Chris Carson fumbles, becoming the first Buc rookie to have multiple forced fumbles in a single game since at least 1993. He is the first rookie in the NFL to do so this year.
·    K Matt Gay missed a 50-yard field goal at the end of the first half on Sunday to snap a streak of 21 consecutive successful placekicks (field goals and extra points). He made his other six tries (four PATs, two field goals) on the afternoon to score 10 points. Gay's 68 points on the season are tied for the seventh-most in the NFL, tied for sixth among kickers. Among players who have only played eight games so far, Gay is tied for the fourth-most points scored.
·    The Buccaneers' 34 points in Sunday's loss pushed their season total to 230 at the midway point. That's the most points Tampa Bay has ever scored through the first eight games of a campaign, one more than their midpoint total last year.