Tampa Bay Buccaneers wide receiver Mike Evans finished third in the NFL in receiving yards in 2018, joining Atlanta's Julio Jones and Houston's DeAndre Hopkins as the only three players in the league to crack 1,500 yards. Evans recorded a career-high 1,524 yards, 48 fewer than Hopkins and 153 fewer than Jones.
Of course, Evans also had 29 fewer receptions than Hopkins and 27 fewer than Jones. That's not a criticism of Evans, who played in an offense that pulled off the rare feat of having four different players who surpassed 750 receiving yards in the same season. More on that below. The Buccaneers had a deep group of talented pass-catchers to feed, which was always going to put some kind of limit on how many opportunities Evans would get.
And it certainly worked. Compare the Buccaneers' passing attack to that of the Falcons, who were also quite prolific through the air. Tampa Bay threw 625 passes and completed 408 of them. Atlanta's numbers were very similar: 617 passes, 428 completions. But Tampa Bay averaged a league-leading 320.3 passing yards per game, to 290.8 for the Falcons, who finished fourth.
What Evans' numbers indicate that he made the most of his opportunities. Here's a very good way to put it, as researched by The Athletic's Greg Auman:
Auman had his eye on that impressive statistic heading into the game and updated it late in the afternoon for the above tweet. That was before Evans finished his day with a 10-yard touchdown catch, which dropped his average just a bit to 17.72. He is still in rare company in the top three. To flesh out that list, here are the top 10 single-season yards-per-reception totals in league history among players with at least 85 receptions. Evans is one of only five ever to average at least 17 yards on that many grabs. Note another Buccaneer on the top-10 list, too.
Highest Yards-Per-Reception Average, Minimum 85 Catches, Single Season, NFL History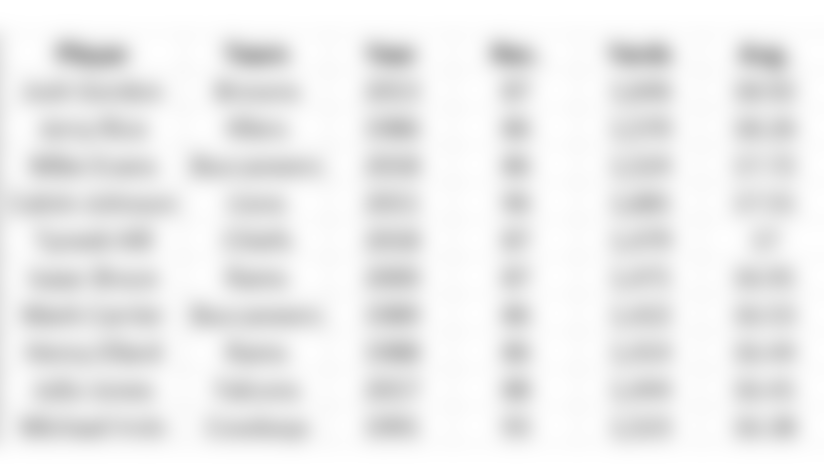 Evans finished his magnificent fifth NFL season with 106 yards and two touchdowns against the Falcons. His second score was part of a fourth-quarter rally that saw the Buccaneers go from 11 points down to the lead, 32-31. However, Evans only needed one catch to secure two very significant milestones.
Evans' first reception of the game was a 19-yard catch-and-run over the middle, kick-starting a drive that eventually ended in his own 19-yard touchdown catch in the first quarter. On that play, he both broke the Buccaneers' single-season receiving yardage record and joined a very exclusive list in NFL history.
Already the franchise's all-time leader in receiving yards and receiving touchdowns, and the single-season record-holder in touchdown catches, Evans completed the sweep by surpassing Mark Carrier's 1989 mark of 1,422 yards. The record stood for nearly three decades but was then topped by 102 yards by Evans in 2018.
Most Receiving Yards, Single Season, Buccaneers History
Evans entered the 2018 season finale with the sixth most receiving yards in a player's first five seasons, and he ended the game in the same spot on the list. However, he did join the five very prominent names above him – likely all eventual Hall-of-Famers – as the only ones in NFL history to top 6,000 yards in their respective first five campaigns.
Most Receiving Yards, Player's First Five Seasons, NFL History
Mike Evans was 25 years and 131 days old on Sunday, which means he was the youngest player in NFL history to reach the 6,000-yard receiving plateau.
Given that he averaged nearly 18 yards per reception, it's not terribly surprising that Evans produced a lot of first downs in 2018, 68 of them in fact. That tied for the fifth most receiving first downs in the NFL this season. That also means that 79.1% of his 86 catches moved the chains, which was the seventh-highest percentage in the NFL. Interestingly, the Buccaneers had four of the top 11 players in this category, with O.J. Howard (82.4%) ranking second, Chris Godwin (81.4%) ranking fourth and DeSean Jackson (75.6%) ranking 11th.
For Evans, his first-down percentage is in keeping with his career numbers. Since he entered the league in 2014, Evans has caught 395 passes and 313 of them have resulted in first downs. That rate of first downs on 79.2% of his catches is the highest in the NFL in that span among players with at least 100 receptions.
Highest Receiving First-Down Rate, NFL, 2014-18 (Minimum: 100 Receptions)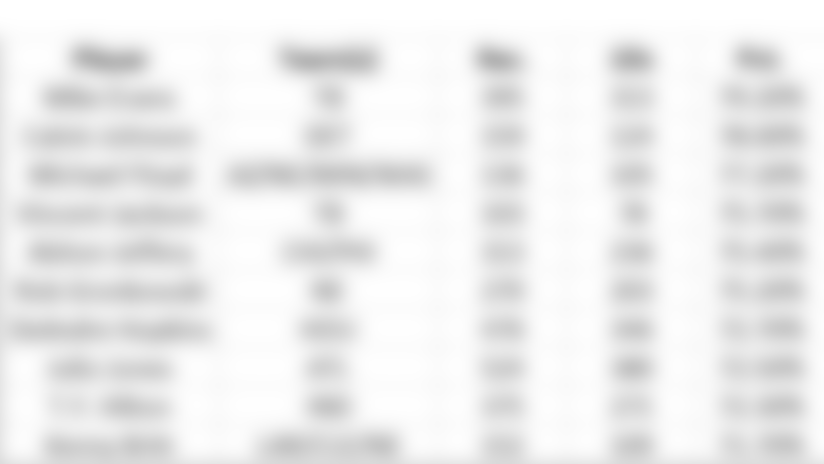 Finally, we did promise "more" on the Buccaneers' passing attack having three other players with 750-plus receiving yards to go with Evans' record output. That's only the fifth time any team has had such a quartet. Here are all five:
1. 1990 Houston Oilers: WR Haywood Jeffires (1,048), WR Drew Hill (1,019), WR Ernest Givins (979), WR Curtis Duncan (785)
2. 2009 Pittsburgh Steelers: WR Santonio Holmes (1,248), WR Hines Ward (1,167), TE Heath Miller (789), WR Mike Wallace (756)
3. 2013 Denver Broncos: WR Demaryius Thomas (1,430), WR Eric Decker (1,288), TE Julius Thomas (788), WR Wes Welker (778)
4. 2014 San Diego Chargers: WR Malcom Floyd (856), TE Antonio Gates (821), WR Keenan Allen (783), WR Eddie Royal (778)
5. 2018 Tampa Bay Buccaneers: WR Mike Evans (1,524), WR Chris Godwin (842), WR Adam Humphries (816), WR DeSean Jackson (774)