STORY HIGHLIGHTS
The first week of free agency was the sort of event that causes significant upheaval in the assorted mock drafts
More analysts are now expecting the Buccaneers to target an offensive player with the seventh overall pick
Tampa Bay's work in free agency has made it more difficult to predict what the team will do in Round One

As the assembled NFL mock drafts continue their slow and steady evolution from January through May, we await the big moments that really scramble their collective DNA.  As noted in our second look at the mock-draft wisdomscattered across the net, which took place in late February, the NFL Scouting Combine was that sort of event.  After some strong performances by the top-rated pass-rushers in Indianapolis, the prevailing opinion began to coalesce on the Tampa Bay Buccaneers taking either Buffalo linebacker Khalil Mack or UCLA linebacker Anthony Barr with the seventh overall pick.
If that was a sea change from the results of our first collection of the various mock drafts back in January, then the first week of free agency caused a climb-out-of-the-sea-and-grow-legs change.  It's fair to say that the Buccaneers' hyper-aggressive run through the free agent market has caused an evolutionary leap in what NFL analysts believe the team will do in May's draft.
While the predictions of said analysts aren't necessarily important to NFL decision-makers (though they are still very entertaining), general managers would love to know what their counterparts around the league are really thinking.  If the Buccaneers' early free agency moves – which have included additions at quarterback, tackle, guard, center, tight end, defensive tackle, defensive end, linebacker and cornerback – have done anything, they've made it much harder to predict what the team is targeting at #7.  Heck, they may not even stay at #7.
"We want to go into the draft not being pigeonholed into taking on position," said General Manager Jason Licht after one of last week's rounds of signings.  "We may move up, we may move down. We're not sure yet. But this gives us some flexibility."
Still, the mocks must go on, and the analysts have to put somebody at #7.  Let's take a look at the 13 prediction-makers we tracked just after the combine and see how they're opinions have changed.  We've also added in a few more latecomers to the party so that we can track them going forward, as well (additions to the table marked with an *).
(The players mentioned in the chart are UCLA LB Anthony Barr, Louisville QB Terry Bridgewater, Central Florida QB Blake Bortles, Texas A&M WR Mike Evans, Buffalo LB Khalil Mack, Texas A&M T Jake Matthews, Auburn T Greg Robinson and Clemson wide receiver Sammy Watkins.)
Right off the bat, you see a lot more variety in this list.  The 16 analysts have identified eight different players the Buccaneers might take at #7, which is really a surprisingly wide range given that there are far fewer variables that high in the draft than at, say, #20.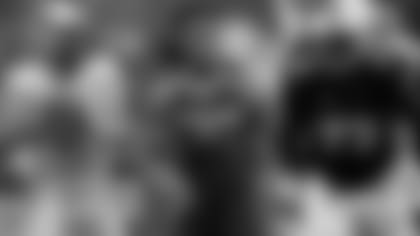 (From left) UCF QB Blake Bortles, Clemson WR Sammy Watkins and Auburn T Greg Robinson have all been matched with Tampa Bay in recent mock drafts
Also, the tide seems to be swinging to offense after the Buccaneers picked up a new edge rusher in Michael Johnson and a cornerback in Alterraun Verner.  Of the 16 analysts in the table above, nine matched the Bucs up with an offensive player, and that's with one of the few previous offensive picks (Pete Prisco's selection of Clemson WR Sammy Watkins) flipping to defense.
Three different mock drafters now have the Buccaneers nabbing Watkins at #7, perhaps because the team's free agency haul has not included a receiver (so far!).  That would likely make some offensive-minded Buccaneer fans very happy, but the Prisco pick is an illustration as to why those fans shouldn't be investing in Watkins jerseys just yet.  See, Prisco didn't change his mind on Watkins because he felt the Bucs wouldn't be interested; he simply now has the big pass-catcher unavailable at #7.  Prisco currently has Watkins moving all the way up to the St. Louis Rams at #2.  Of the other nine analysts aggregated on NFL.com and CBSSports.com, not one has the Bucs passing on Watkins if he is actually there at #7.
Two of the NFL.com analysts changed their minds and flipped from a pass-rusher to a quarterback for the Buccaneers in their latest mocks.  Daniel Jeremiah tabs UCF's Bortles while Matt Smith lands on Louisville's Teddy Bridgewater.  However, it's worth noting that both of those mocks were updated before the Buccaneers signed QB Josh McCown last Wednesday.  The prevailing wisdom is that the presence of McCown won't necessarily stop the Buccaneers from picking a passer in the first round in May, but chances are that most mock drafters are going to play the odds in the coming weeks and match the team up with a receiver, lineman or pass-rusher instead.
Along those lines, CBSSports.com's Pat Kirwan makes an interesting pick, going with Texas A&M WR Mike Evans.  Evans doesn't show up that high with any other team in the assembled mock drafts; is this an indication that some believe the Bucs would be willing to "reach" a little bit to address a specific need?
There likely won't be another event like the first week of free agency that will cause such a drastic change between now and May's draft.  Still, there are dozens of college pro days still to go and the very real possibility of more free agency additions for the Buccaneers.  What the coaches see on the practice field when the offseason program begins on April 7 could play into the team's thinking as well, and perhaps into the thinking of those hard-working mock drafters.  The only foolproof prediction in this whole exercise is that these mock drafts will continue to change between now and the start of Round One.