STORY HIGHLIGHTS
The Falcons lost in painful fashion in London on Sunday but at least have a looming bye week to recuperate
Carolina let one slip away late against Seattle and now has new injury concerns on the offensive line
After beating Green Bay, the Saints can take over the division on Thursday night, but they have to win on the road

The NFC South got its first win in a while in Week Eight, as the Saints racked up 44 points in a home win over Green Bay. However, the other three teams in the division all fell in painful manners, and it's difficult to choose which was the most painful between an overtime fumble-recovery TD, a last-minute loss to the defending champs and a second-chance field goal after a penalty on the kickingteam. But all four teams are now looking forward – and some of them are looking to the waiver wire after a fresh round of key injuries – so it's time once again for our weekly check of the headlines from around the Buccaneers' division.
The Falcons are backin Atlanta after their Week Eight trip to London, and they're probably not eager to head overseas again anytime soon. Thanks to a bizarre finish against the Lions, they'll have not-so-fond memories of Wembley Stadium, though Atlanta players were impressed with the American football knowledge of the London crowd. The Falcons had a 21-0 lead on the Lions before most of the rest of the league was warming up, as the game kicked off at 9:30 a.m. ET in the US to better accommodate the Wembley fans. Unfortunately, Atlanta went on to lose 22-21, suffering their worst blown halftime lead ever. The game was decided by Matt Prater's 48-yard field goal at the end of regulation, which only happened because his missed 43-yarder moments earlier was erased by a delay-of-game penalty against Detroit. That fantastic bit of luck for the Lions did not overshadow what Yahoo's Eric Edholm called a string of "fascinating and curiously awful decisions late in the game," by both coaches. Since it's the Falcons' Mike Smith and not the Lions' Jim Caldwell who had been rumored to be on the "hot seat" before Sunday's London showdown, those in-game decisions were seen by some as another nail in Smith's coffin. If that's true – and, again, Smith and G.M. Thomas Dimitroff presided over the most successful stretch in franchise history from 2008-12 – ESPN.com's Vaughn McClure doesn't think a change will happen midseason. Not surprisingly, Smith is able to stand up against the heat, saying in his Monday press conference that the buck stops with him. "I haven't done a good enough job," he said. "Plain and simple, because ultimately, it's my responsibility. I haven't done the job that I need to do. I've let down the players, the coaches and the fans, thus far, but I tell you what we plan on doing, we plan on getting hot and making it a really good second half of this season." Of course, if Tampa Bay's Lovie Smith can make the legitimate claim that his 1-6 squad is not out of the division race – the Bucs are still just two wins behind the 3-4-1 first-place Panthers – then certainly Smith and the Falcons can say the same at 2-6, despite a five-game losing streak. And the Falcons have the advantage of a bye in Week Nine that will allow them to regroup and recuperate before starting the second half. Among the key players who may be healthier and/or back in the lineup after the break are T Jake Matthews, RB Antone Smith, DT Jonathan Babineaux and LB Prince Shembo. The bye also gives Falcons administrators a little extra time to survey the trade market and see if they wish to be sellers. Owner Arthur Blank does not appear to be a big proponent of in-season trades, but if the Falcons do choose to become involved, the possible targets on their roster include DE Osi Umenyiora and RB Steven Jackson.
In Carolina, the Panthers are also licking their wounds from another loss after Russell Wilson threw a 23-yard touchdown pass to Luke Willson with 47 seconds left at Bank of America Stadium on Sunday. In this case, there are some literal wounds, and once again the offensive line has taken a hit. Starting offensive tackles Byron Bell and Nate Chandler both missed portions of Sunday's game, and now the Panthers have to get the O-Line ready quickly with a Thursday night game and the Saints coming to town for what is a battle for first place. Estimating that Bell would not have practiced and Chandler would have been limited if the team had held a workout Monday, the team quickly signed former Buccaneer Mike Remmers off the Rams' practice squad. In addition, LB Chase Blackburn was placed on injured reserve. The Panthers' line was already playing without starting guard Amini Silatolu, and ESPN.com's David Newton suggests that high snap counts for such inexperienced blockers as David Foucault and Andrew Norwell had a lot to do with Carolina being limited to 266 yards and three field goals. The good news for the Panthers: RB DeAngelo Williams returned to the lineup on Sunday and ran for 78 yards, the best total by an individual Carolina back this season. Head Coach Ron Rivera hopes Williams will be even more effective on Thursday night. "DeAngelo has signified that he's ready to roll," said Rivera on the Panthers' web site. "I'm excited about that. It will be a nice boost because when he and Jonathan get rolling and do the things that they do, I think that's a huge thing for us. That can be a nice shot in the arm." Carolina's defense had a much better day in Week Eight, as well, holding Wilson and the Seahawks to six points through three quarters after giving up at least 37 in four of its previous five games. However, the Panthers couldn't get the big play they needed to finish out the win and were particularly upset about allowing Wilson to scramble for a 14-yard gain on the winning drive. In addition, the Seahawks were in position to win it at the end because the offense struggled mightily in the red zone. Each of Carolina's first three drives penetrated the Seattle 20-yard line, but they resulted in just two field goals and a fumble. The Panthers' offense ranks 26th in the league with a red zone TD percentage of 46.2%, and the Cat Scratch Reader contemplates whether that's a breakdown of execution or play-calling. With a series of embedded screen caps, the Reader comes to the conclusion that the play-calling by Mike Shula was good enough but the execution was not. Returning to Thursday's first-place showdown with the Saints, the Reader makes the case that it is the "bellwether game" for Carolina in 2014, potentially determining which way the rest of the season goes.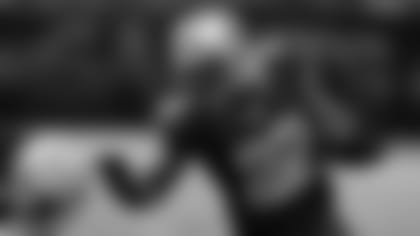 With several other Saints backs injured, Mark Ingram took advantage with a 172-yard day against the Packers
In New Orleans, the Saints are celebrating a season-correcting 44-23 win over the Green Bay Packers, and as the score would indicate, everything was working on offense. While a 311-yard, three-TD game from Drew Brees was no surprise, nor was a Jimmy Graham touchdown or another impressive outing by rookie WR Brandin Cooks a shock, what pulled it all together was the 172-yard night for beleaguered RB Mark Ingram. Ingram got his shot with Pierre Thomas and Khiry Robinson out with injuries, and he ran with "momentum and confidence," as described by ESPN.com's Mike Triplett. Even if Graham's 59-yard night was nothing new for the All-Pro tight end, it was much better than the limited-snap, zero-catch outing he had the week before in Detroit. To be ready to put up better numbers again by Thursday in Carolina, he will have to "live in the treatment room" this week. Head Coach Sean Payton and the Saints know that first place is on the line on Thursday night but the Saints are trying to remain focused on what's directly in front of them. "I think that certainly there's all sorts of goals, big picture, small picture," he said, as noted on the Saints' web site. "What we try to do is focus on the smallest picture and that is our team getting better. Guys pay attention obviously within the division. You're playing a game last night and you know obviously that the three other teams lost. I understand that and yet, it's so early in the season. I think the focal point has been on our team and as much as is said and written and week to week about how the league's doing, who's playing well and who's not, I think you really want to focus on how to improve yourself. I think that handles itself." The Saints' defense gave up almost 500 yards in the win over Green Bay, including a 418-yard outing by QB Aaron Rodgers, but they picked Rodgers off twice, sacked him three times (and reserve Matt Flynn a fourth) and recovered a fumble. Nick Underhill of The Advocate pointed to the Saints' pass rush, which has been far less effective this year than it was in 2013, as the key to the victory. More of the same would be very useful in Carolina on Thursday night, as the Saints have had difficulty proving they can be the same team on the road. "I think there is something that we have to prove," said LB Curtis Lofton, as reported by Triplett. "We have to prove we can win on the road. Everything everybody keeps saying, keeps bringing it up, until we prove that we can win on the road, then they're right."