STORY HIGHLIGHTS
The Falcons' struggles since the start of 2013 can be seen most clearly in pass defense, and in allowing big plays
Cam Newton ran 17 times for over 100 yards in Sunday's tie in Cincinnati
Coming out of their bye, the Saints hope to increase their takeaways and QB pressure on defense

The Atlanta Falcons are looking for ways to limit opposing offense from getting explosive plays, an issue they believe they must fix to stop their three-game skid. The Panthers are on neither a winning nor a losing streak after finishing in a rare tie on Sunday in Cincinnati. Carolina might not have been in position to hold onto that tie on a missed field goal near the end of the extra period if Cam Newton had not re-emerged as a rushing threat. The Saints enjoyed the relative lack of success across the rest of the division as they relaxed during their bye week, but they have pressing issues to address as well, including the health status of TE Jimmy Graham. With Tampa Bay now headed into a bye but the rest of the South trying to get their seasons back on track Sunday, it's time for our weekly check of the headlines from around the Buccaneers' division.
In Atlanta, the Falcons have dropped three straight since their Thursday night win over the Buccaneers, leading to a corrective to-do list that includes some issues as limiting explosive plays when on defense, improving QB Matt Ryan's protection and eliminating dropped passes. In his Monday press conference after a 27-13 home loss to Chicago, Head Coach Mike Smith counted eight explosive plays by the Bears that accounted for 231 of their 478 yards of offense. "We cannot continue to give up explosive plays on the defensive side of the football. That's 197 yards passing in five plays, and we had some miscommunication. We have to do a better job coaching. Our players have to do a better job executing. I know that you guys will have your opinions on who was at fault. Don't always believe you know who was at fault when you don't know what the defensive call is. We've got to get better." As for that third issue, WR Roddy White pegged his team's number of dropped passes at nine or 10 against the Bears. Given that the Falcons had by far their longest run of sustained success after Smith arrived from 2008-12, including four playoff berths, it might seem like a stretch that Smith's job would be in jeopardy if a second straight Atlanta season goes south, but that's exactly the conjecture of The Falcoholic's Dave Choate. For a graphical look at where the Falcons have struggled the most since the start of 2013 – after their 2012 NFC Championship Game appearance – check out this interesting data visualization on the Atlanta Journal-Constitution's web site. It appears as if the pass defense could be the Falcons' biggest problem, which has led to a much higher average of points allowed per game. Of course, as was the case last year, Atlanta has had to deal with some significant injuries, including a rash of O-Line mishaps that led to three new starters last week. Two other key players who are fighting through injuries are wide receiver Julio Jones (foot) and tackle Jake Matthews (ankle). "Jake has done a very good job of dealing with that ankle all through this season," said Smith. "I'm not going to say that it's affecting his play. I think that he's toughing it out in practice and in the games." The Journal-Constitution's D. Orlando Ledbetter doesn't necessarily agree with that assessment, citing a poor grade for Matthews by Pro Football Focus. On a positive note, the Falcons are talking for the second straight week about the need to get more touches for reserve RB Antone Smith, the big-play specialist who once again took a short pass to the house on Sunday. That was Smith's seventh career touchdown and, amazingly, all seven have covered at least 35 yards. "I have not seen a guy have the average per touch like this guy's had," said Smith. "We'll continue to try and get him the ball. Again, we've got talented players at the running back position. We're very deep there, but we need to continue to increase his workload, in terms of game plan for him. You've got to be careful about what he's skill-set is, and make sure you play to it and put him in the best position."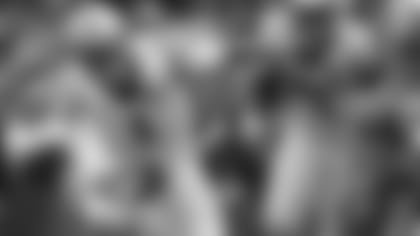 The Panthers set QB Cam Newton loose in the running game for the first time this season in Cincinnati
In Carolina, the Panthers are surely groaning at a thousand "kissing your sister" jokes after tying the Cincinnati Bengals, but at least they can feel good about an offense that produced 431 yards and a season-best 37 points. Part of the almost winning formula was Offensive Coordinator Mike Shula turning QB Cam Newton loose. Newton ran for 107 yards and a 12-yard touchdown after totaling 42 yards on the ground through the first five games of 2014. Newton had a team-high 17 carries in the continued absence of DeAngelo Williams, Jonathan Stewart and Mike Tolbert, and that prompted Shula to say, "I feel like I ran him too much, and yet, I don't feel like I ran him enough. We have to keep him as fresh as we can for the whole year. I don't anticipate us doing that every week. There's still obviously a risk factor. It's a fine line." Help may be arriving soon; Stewart is expected to return to practice on Wednesday, though Williams is likely to be out for several more weeks. Newton also threw for 284 yards and two touchdowns, and he wasn't sacked. That excellent protection may be a bit tougher next week in Green Bay if starting LG Amini Silatolu is unable to play due to an calf injury. The Panthers signed guard Chris Scott as insurance. Carolina may be fortunate that Newton and favorite target TE Greg Olsen are not also on the injury list, as they were reportedly the targets of several ankle-twisting maneuvers by Bengals LB Vontaze Burfict. Olsen believes that Burfict, who drew two personal fouls in the game, should be suspended by the league. Of course, as one might expect in a game that lasted 75 minutes and included 74 points, the Panthers' defense also gave up over 500 yards. That crew is now ranked 26th in the NFL in yards allowed and 24th in points allowed, and that's a major surprise for what was considered one of the league's best defenses before the season began. ESPN.com's David Newton says the statistics suggest that Carolina's defense is worse without absent DE Greg Hardy, but the Charlotte Observer's Joseph Person reports the Panthers brain trust as believing the issue is about a lot more than just one player. "It'd be asinine for me to sit up here and say that his loss has no impact on us," Person quotes Head Coach Ron Rivera as saying. "But at the same time it is a next-man mentality. That's not the reason why [the defense has struggled]. It comes down to base fundamentals. And it's not the guys that have replaced him that are the only ones making mistakes. There's a few other guys that need to play more disciplined." ESPN.com's Newton finds another bundle of stats that shows a more specific problem for the Panthers' defense – responding to sudden game changes. After making sure that 69% of the turnovers committed by the Panthers last year did not result in points for the opposition, this year they've only been able to do that 14% of the time.
In New Orleans, the Saints weren't making a lot of news the last week as they were the first team in the division to enjoy its bye week. Of course, fantasy football players (in particular) still had their eyes on the team in the hopes of finding out how fit tight end Jimmy Graham would be when the team returned to action. Though the team downplayed Graham's shoulder injury after the game against Tampa Bay in Week Five, multiple reports say he could miss two-to-three weeks. That would seem to be supported by the Saints' decision to sign free agent TE Tom Crabtree, a former Buccaneer. ESPN.com's Mike Triplett said that Graham would be "greatly missed," even with capable reserves Benjamin Watson and Josh Hill ready to step in. Even if the bye wasn't enough time to get Graham back on the field, it was useful for the Saints as a way to rest and recharge. It might have also allowed RB Mark Ingram's thumb to heal to the point where he can return to action in Week Seven against Detroit. "With the fracture that he had, which is right where the thumb and the hand kind of go together, you gradually just reduce what he's having to wear," said Payton in a CBS Sports Radio interview, as reported by ESPN.com.  "And he's probably, I would say three or four weeks away from not having to wear anything. But right now, there's a chance he plays in the next game." Likewise, the Lions are expected to have RB Reggie Bush back on Sunday so that he can match up with his former team. Last week, we shared in the confusion over why the Saints would release rookie LB Khairi Fortt, a fourth-round pick, from their injured reserve/designated for return list. Though the team still has not commented, and likely won't, Katherine Terrell of Nola.com cites a report that the rookie, who was claimed by Cincinnati, missed several meetings. The Saints come out of the bye week with a 2-3 record but are still very much in the division race with no team taking over. New Orleans could be that team in the long run if they can be better in three areas after the bye: producing turnovers, rushing the passer and competing in road games. "Obviously you want more production, more sack numbers, more pressure and again, we're still evaluating," said Defensive Coordinator Rob Ryan. "Let's get our best group out there to rush the passer to execute the plan. People constantly change their protections. I think with our success last season with the two edge guys dominating like they did and the push up the middle, I think people have more plans to try and slow that down. But at the end of the day we need to get on the passer and we need to do it better."