STORY HIGHLIGHTS
Atlanta is finding ways other than kick returns to get an impact out of veteran WR Devin Hester
Carolina expects to have QB Cam Newton back under center in Week Two, though Derek Anderson performed well in Tampa
The Saints' defense struggled to slow down Matt Ryan in Atlana and may need some work on tackling and fundamentals

The NFC South's four teams kicked off the season with a pair of intra-division visits, with Carolina heading to Tampa and New Orleans playing in the Georgia Dome. The Panthers and Falcons won close games to take an early one-game lead in the division, while the Saints joined the Buccaneers at 0-1 despite racking up nearly 500 yards of offense. In Atlanta, they're waiting for the word on rookie Jake Matthews, the team's starting left tackle, after Matthews suffered an ankle injury against the Saints. The Panthers won behind reserve QB Derek Anderson but believe they will have Cam Newton back under center for their Week Two contest. With all four South teams getting set to play teams out of the division in Week Two, it's time for our weekly check of the headlines from around the Buccaneers' division.
In Atlanta, the Falcons are 1-0 after prevailing in what Grantland's Bill Barnwell says has become "a classic rivalry" between Matt Ryan and the Saints' Drew Brees.  Barnwell breaks down how the Falcons rallied from a 20-7 deficit to upend their division-rival Saints, including the important work of a pair of backup offensive tackles, but the sentence that jumps out in an unwelcome way: "After a year off, the Falcons are back."  Indeed, Michael Cunningham of the Atlanta Journal-Constitution reports Head Coach Mike Smith's contention that the win over the high-flying Saints was enough to move the team's fan base beyond last year's 4-12 record.  "We as coaches and people in this organization, we liked to say we turned the page in February last year because we were making plans for 2014," Cunningham quotes Smith as saying. "But this game is so popular. With the offseason, they will talk about acquisitions but they are still going to be talking about last game played because that's the focal point of the NFL is those games. Now everybody has an opportunity to have a new focal point to talk about and that's the game against the Saints."  One of those aforementioned backup tackles was former Buccaneer Gabe Carimi, who was pressed into service in the second quarter when rookie and first-round pick Jake Matthews suffered an ankle injury.  Matthews was already the team's second left tackle; the Falcons moved him across the line after losing Sam Baker for the year during the preseason.  Carimi drew Smith's praise for his fill-in work, particularly since he hadn't taken many snaps at left tackle before the game.  Matthews' status won't be updated until Wednesday.  Ryan obviously enjoyed good protection from the entire line on Sunday, as he threw for 448 yards and three touchdowns against no interceptions.  Smith called it Ryan's "best game as a Falcon."  Smith also commented on the team's purposeful – and successful – effort to get all four running backs involved in the game plan: Steven Jackson, Jacquizz Rodgers, Devonta Freeman and Antone Smith.  Ryan threw touchdowns to three different players and connected with four receivers at least five times each, and the most surprising name in that latter list may be Devin Hester.  Hester had spent the previous season in Chicago focusing almost exclusively on kick returns, but the Falcons have found a way to make him a useful part of the passing attack, as he caught five passes for 99 yards Sunday.  ''We sat down with him and had a very frank conversation, what our thoughts were and what we wanted him to bring to the table,'' said Smith regarding their free agency recruitment of the long-time Bears star. ''He told us he was not just a return man, he was a wide receiver, too, and one who could help us. He told he would come here to compete for playing time in the wide receiver group.''  Another Falcon named Matt made his mark in the NFL record books on Sunday, and it wasn't Mr. Ryan.  K Matt Bryant became just the fourth player in NFL history to, as Jay Adams of the team's web site explains, kick a 50-plus-yard field goal with less than a minute remaining in regulation to force overtime in addition to converting a 50-plus-yard game-winning field goal in overtime.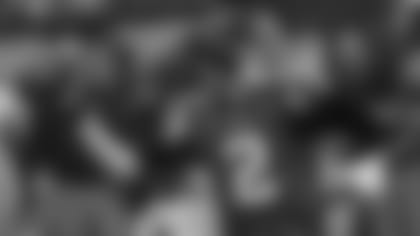 QB Matt Ryan had perhaps his best game as a Falcon in the team's 2014 opener
In Carolina, the Panthers are also enjoying a 1-0 start to the season after defeating the Buccaneers, 20-14, at Raymond James Stadium on Sunday.  Head Coach Ron Rivera went with backup quarterback Derek Anderson due to Cam Newton's cracked rib, but the Charlotte Observer's Jonathan Jones reports that Newton tried hard to talk Rivera out of that decision.  Anderson completed 24 of 34 passes for 230 yards and two touchdowns and did not commit a turnover…so, will there be a quarterback controversy brewing in Charlotte?  Rivera on that idea, as reported by the Observer's Scott Fowler: "There is no quarterback controversy whatsoever. Cam is our starter. He's been our starter since Day 1, and he'll continue to be our starter."  That's not particularly surprising, of course; the ball was bound to be back in Newton's hands once he was healthy enough to play at a high level, and it appears as if that will be in Week Two.  Speaking of Newton's future with the team, ESPN's David Newton (no relation, presumably), believes that the recent contract restructuring the team got done with defensive end Charles Johnson could be a sign that Newton's next deal is coming soon.  ESPN's Newton also did what he described as a little "nitpicking," identifying a few areas in which the Panthers could get better after winning their opener in Tampa. He says Rivera wants his defense to remain as aggressive in the fourth quarter as the first three, even with a lead.  The Panthers' web site reported the same thoughts from Rivera, as the team figured out ways to "learn from a win," which also includes helping rookie wide receiver Kelvin Benjamin get better.  Benjamin seemed to have a pretty strong NFL debut with six catches for 92 yards and a touchdown, but Rivera saw both ups and downs on the game tape. "He did a lot of good things and was very productive, but that doesn't speak to the whole body," Rivera said. "His grade should have been higher. He's got to understand how to finish plays, how to be involved in plays even if the ball isn't coming to him.  He's a young guy that has to learn those things. Those are things that rookies learn and understand over time."  On defense, veteran safety Roman Harper also made his Carolina debut after many years in New Orleans, and he celebrated the occasion with an interception in the third quarter.  Harper only played 19 snaps as he returned from a turf toe injury that kept him sidelined for much of the preseason, but his activity should ramp up as the season goes on.  Cornerback Josh Norman, on the other hand, got exactly zero snaps on defense in the game, and that will definitely change, according to Rivera.  "I think Josh Norman deserves an opportunity to play," said Rivera, as reported by the Observer. "And we talked about that [Monday] as a coaching staff.  Josh will do whatever he can to help the team, and he told us that.  In all honesty as we looked at that, he needs to play and it will be addressed."
If they're searching for answersin New Orleans after losing a 13-point lead and then the game in overtime in the Georgia Dome, outside linebacker Junior Galette says to look squarely at the defense.  Drew Brees and the offense put up 472 yards, 30 first downs and 34 points, but it wasn't enough against an equally explosive Atlanta attack. "Watching the film, how much more can the offense do?" said Galette, as reported by the Times-Picayune. "They played phenomenally. They ran the ball well, passed the ball well. We've got to get takeaways, we've got to stop the run, we can't let Ryan throw for over 400 yards. It's ridiculous.  So it is on us."  The issues may be traced to fundamentals such as sound tackling technique.  As Jeff Duncan of the Times-Picayune points out, the shootout loss on Sunday was "the emotional opposite" of a last-second Saints win over Atlanta in the season opener a year ago.  While Duncan knows the defeat will be a tough one for the team and the town to shake, he points out that the 2011 squad won 13 of its last 15 games after losing the opener.  He also attributes tackle Zach Strief with a pretty thick silver lining. "Everyone is so hungry for information on who this team is, because we just waited six months to find out," Strief said. "The natural feeling is to jump to [the conclusion], is this indicative of how this team is going to play all season? And to be perfectly honest with you, I hope it is. Because I think we played well. We just didn't make plays at the end. ... We were one play away from this being a different discussion."  On SB Nation, contributor Jeff Gray thinks that the game could indicate that defense will be a trouble spot in both Atlanta and New Orleans; Gray also notes the Saints' continued backfield-by-committee approach.  Rookie WR Brandin Cooks had a very nice debut, catching seven passes for 77 yards and a touchdown and also gaining 18 yards on a single handoff.  "I thought he made enough plays," said Head Coach Sean Payton on the Saints' web site. "I thought he looked sharp, I thought he made some good plays in space, hung on to the football. The thing with him is, he's prepared and it's nothing we haven't seen. He's very comfortable with his spots."  ESPN.com's Mike Triplette learned some things by going over the snap counts for all the Saints players after Sunday's game.  For instance, young receiver Joe Morgan is ahead of Robert Meachem and Nick Toon as the third receiver with Kenny Stills sidelined.  Linebacker Parys Haralson got just seven snaps on defense, but he also got two on offense, serving as a lead blocker on a pair of runs and even helping RB Khiry Robinson score a touchdown on the first of those two snaps.  Haralson, who had never played fullback before, helped the Saints get past the injury absence of former Bucs fullback Erik Lorig.