STORY HIGHLIGHTS
DE Larry English hasn't been a Buc long, but he may have helped extend his stay with two sacks in Buffalo
G Rishaw Johnson arrived even more recently and will try to make the most of the preseason finale on Thursday
The Bucs confirmed that Richie Incognito was visiting the team Thursday

After the first of Larry English's two sacks of E.J. Manuel on Saturday evening in Buffalo, he jumped up off the turf and was swarmed by Gerald McCoy and Clinton McDonald. Lavonte David came flying up to deliver a high-speed chest bump. Johnthan Banks slapped him on the helmet.
There is significance in those particular names. The round of congratulations English enjoyed for his big play – it came on a third down, thus ending a Bills drive and helping to preserve the Bucs' first-half shutout – came from a group of defensive regulars. English's first sack as a Buccaneer came midway through the second quarter, meaning he was getting a chance to showcase what he could do as a part of the first-team defense.
That's what English would be doing if he were part of the team's defensive line rotation during the regular season, so it stands to reason that this was a purposeful audition for that role granted by the Bucs' coaching staff.
"I would hope so," said English. "But that being said, I'm just trying to make a difference every snap that I'm out there, and show that I can get out there and work."
True to his word English bagged another sack of Manuel in the third quarter, but this time as part of a full squad of defensive reserves. He also was just a fraction of a second behind fellow defensive end hopeful Scott Solomon when Solomon sacked backup quarterback Jeff Tuel in the game's final minute. Few Bucs saw more extended playing time, from the first quarter to the fourth, than English on Saturday night, and few took more advantage of that playing time.
Of course, English really can't afford to waste any opportunities right now. He only joined the Buccaneers on August 14 after being released by the San Diego Chargers just before their training camp. English spent his first five NFL seasons in a Chargers' uniform after the team drafted him in the first round in 2009. He saw a little bit of playing time in the second preseason game against Miami on August 16, but that was just two days after he joined the team. After a week to get acclimated to the Bucs' defense, he was able to do much more in Buffalo.
"It definitely was a great opportunity coming in here and I'm just trying to make the best of it," said English. "I definitely feel like there are some things I can contribute. I'm just trying to show these coaches and this front-office staff every day when I go out to work what I can bring to the table."
In the cross-country move from San Diego to Tampa, English also switched sides in the great NFL defensive divide, leaving a 3-4 team to join a 4-3 team. The 6-2, 255-pound defender was an outside linebacker in the Chargers' scheme but he's got his hand in the dirt with the Buccaneers, rushing off the edge of a four-man front. Some aspects of those two jobs overlap, of course, and one way or another he's being asked to get to the quarterback, but he could find that the Bucs' defense suits him well.
"There are nuances here and there," said English. "Both defenses have their pros and cons. Playing defensive end in a 4-3 is more of a 'go-get-it' type of position. There's a little bit less of a mental mode that you have than [you do] as an outside linebacker in a 3-4.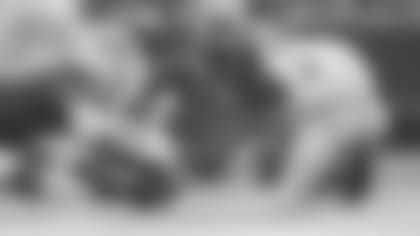 DE Larry English switched from a 3-4 to a 4-3 defense when he came to Tampa after five seasons in San Diego
"I think it's going pretty good. I'm really just keeping a working mentality. I'm just trying to work to get better every day, and show that I'm worth being on this roster, that I can give something to this defense. I'm just coming out, working and trying to get better each day."
As was widely reported Monday morning and eventually confirmed by the Buccaneers, the team is bringing in former Miami Dolphins guard Richie Incognito for a visit on Monday evening. As Head Coach Lovie Smith stressed in his post-practice press briefing, a visit from a player does not mean that a signing is necessarily imminent.
"I think we're jumping the gun a little bit on [saying we are] bringing in a player," said Smith. "We look at everyone that's available, and it's no more than that. We haven't signed anyone. I think we owe it to ourselves to compare our roster to what's out there and Richie is a part of that. I think we should just wait and just let the process take care of itself and go from there."
Any team that considers adding Incognito is going to face close scrutiny after Incognito was suspended by the Dolphins for the second half of the 2013 season. Smith said that his team will always take into account the impact a player will have off the field before adding him to the roster.
"You think I'm going to bring someone here that's going to hurt what we have in our locker room? No," he said. "And every decision we make, it's not just me and us, it's everybody. When you look at our 53-man roster, everyone is on board with everyone on that roster, that final one."
The Bucs moved a bit closer to meeting Tuesday's 75-man roster deadline with one more cut on Monday, releasing first-year linebacker Damaso Munoz.  The team had made a dozen moves on Sunday and now has to clear just two more roster spots to get down to 75.
That was the first cut the team made from the back seven of the defense, as receivers, offensive linemen and defensive linemen made up 75% of Sunday's moves. Even without Munoz, the Buccaneers still have eight linebackers on the roster, though second-year player Brandon Magee has missed a string of recent practices due to a minor injury. The Bucs commonly keep six linebackers on the regular-season roster, though that number can go up or down slightly depending upon which group has the most core special-teamers.
Munoz signed with the Buccaneers in February after playing three seasons with the Edmonton Eskimos of the Canadian Football League. As an undrafted rookie in 2010, he signed with the Chicago Bears, which at the time were led by Tampa Bay's current head coach, Lovie Smith. Munoz played in the Bucs' first three preseason games this month, contributing five tackles and a team-high three stops on special teams.
After hitting Tuesday's limit, the Buccaneers will then have to reduce the roster to 53 active players by Saturday at 4:00 p.m. As was the case with the first cuts, the team could choose to make those moves at any time between the end of Thursday's game and the Saturday deadline.
Rishaw Johnson became a Buccaneer just last Thursday, coming over from the Kansas City Chiefs in a trade for safety Kelcie McCray. Johnson flew into town that evening, but the Buccaneers departed for Buffalo early the following afternoon, and there obviously wasn't any time to get him ready to play the Bills.
That leaves just one final preseason contest before the Bucs make their cuts to 53 players on Friday or Saturday, and Johnson isn't about to miss that opportunity.
"I think I can be ready by Thursday…I'm going to be ready by Thursday," he said. I'm cramming myself on the playbook, just trying to learn everything, but I will be ready."
When Johnson suits up in his new uniform on Thursday, it will be the end of one whirlwind week, a whirlwind he never saw coming. He said he was "shocked" when he was informed of the deal by the Chiefs, and for good reason. Player-for-player trades are relatively rare in the NFL, and Johnson had received no indication he was going to be out of the Chiefs' plans after playing in three games with one start last year.
Of course, the Buccaneers had been pleased with McCray's play, too, before making the deal. Tampa Bay simply had a surplus of safety depth (which has since taken some temporary hits with injuries to Major Wright and Bradley McDougald); the same was apparently true of the Chiefs' offensive line. Smith described the deal as one that put both players into more favorable situations, and Johnson is willing to believe that's true.
"It's a blessing to be here – a new team and a fresh start, so I'm excited," said the former undrafted free agent out of California University of Pennsylvania. "I definitely feel like it happened for a reason, so I'm just going to take it in stride. It definitely happened for a reason, so it worked out good for both of us."
Like English – but to an even greater degree – Johnson stepped into an accelerated situation, where he must make a quick impression on his new coaches. Of course, he already did that to a somewhat lesser degree as a rookie in Seattle in 2012 and last year with the Chiefs.
"That's the NFL," said Johnson.  "You've got to show what you've got pretty quickly all the time.  I've just got to come out today and every day and just show these people what I'm about."