STORY HIGHLIGHTS
Special Teams Coordinator Kevin O'Dea previously worked for the Bucs from 1996-01 and with Lovie Smith in Chicago
O'Dea's evaluation of the Bucs' special teams players won't be complete until he sees how they approach their job on the field
K Connor Barth's comeback from last year's injury is likely to be successful, by O'Dea's estimation

On May 27, 2014, during a special teams period that runs exactly five minutes, the Tampa Bay Buccaneers will practice the act of punting after a safety.
This is neither a guess nor an estimate. This is something I know. I could track down the precise five minutes in question and share that information, too, knowing there is virtually no chance the schedule will change during the next two months. But I won't because I'm not quite that obsessive.
Fortunately for the Buccaneers and their efforts to excel in the oft-unappreciated third phase of the game, Kevin O'Dea is that obsessive…not to mention meticulous, organized and detail-oriented. I know this, and I know the precise schedule for that May OTA practice because I have seen "The Wall."
Lovie Smith was hired as the Tampa Bay Buccaneers new head coach on January 2, and on January 6 he held his first press conference at team headquarters. At the time, Smith already had Offensive Coordinator Jeff Tedford and Defensive Coordinator Leslie Frazier signed on to his fledgling staff, and he mentioned during his comments that he was close to landing the special teams coordinator he was targeting.
That man was O'Dea, who had previously worked alongside Smith with the Buccaneers from 1996-2000 and under him in Chicago (2006-07; 2011-12) during Smith's tenure as the Bears' head coach. O'Dea officially joined Smith's staff on January 9 and soon took up residence in his One Buccaneer Place office, three down from the northeast corner office that houses new Director of Player Engagement Isaiah Harris, on a hall that ends in Lovie Smith's door. That room is now the nerve center for all of the special teams work that will take place over the next five months, and the ganglia spread all over "The Wall."
Walk into any coach's office and you'll see obvious signs of his profession. The receivers coach might have a route tree on his dry-erase board, or the defensive line coach might have a binder full of drill descriptions on the corner of his desk. Even by such standards, the north wall in O'Dea's office is a thing to behold. Essentially, that entire side of the room has been turned into a wall-to-wall, floor-to-ceiling dry-erase board, which has since been blanketed with charts, schedules, plans, descriptions and lists. It is this wall, with its incredible level of detail, that will allow O'Dea to keep the coming preparations for the season meticulously scheduled.
Ask O'Dea about this wall and be prepared for him to break it down in minute (and, frankly, fascinating) detail. It's almost as if describing it all to an uninitiated observer helps him burn the timeline even deeper into his brain. And that's important because Smith preaches preparation in exacting detail and O'Dea is an all-in acolyte. There is not a single aspect of special teams play, no matter how obscure (think the nearly-mythical "fair-catch kick" that last happened in 2008…which O'Dea knows by heart) that the Bucs won't practice between now and next September, and on a very specific date at a very specific time.
"This profession is no different than any corporation," says O'Dea. "You have to know when you're going to do everything. Nike has to know exactly when they're going to introduce a new line of shoes, and everything that has to be done to make that happen."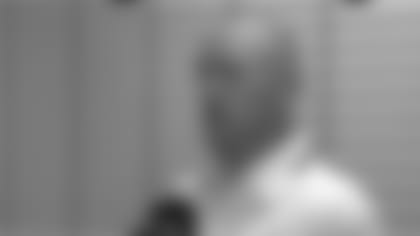 Special Teams Coordinator Kevin O'Dea will display his players' game-by-game contributions in a very prominent place
An example from The Wall: The Buccaneers will hold 10 organized team activity workouts during the spring and summer, as allowed by the NFL. One small portion of The Wall has a chart with three columns that covers those 10 practices; for each one, O'Dea has tasked himself with creating a practice plan, a Power Point presentation for the players and a film cut-up to demonstrate the scheduled drills. There are check marks already by all 10 plans and cut-ups, but the Power Points are awaiting completion until he has some practice video from the workouts in April.
O'Dea smiles when he thinks ahead to presenting these materials to Buccaneer Players. "You've got to be a little bit of a professor as well as a gym teacher," he says.
The 53-year-old O'Dea may have gotten this detailed approach in part from Smith – or, at least, that was part of O'Dea's appeal when Smith was hiring in January – but he has also picked up quite a bit from nearly two decades of working with outstanding special teams coaches around the NFL. During his first six years with the Buccaneers he was a defensive (1996-2000) and offensive (2001) assistant but he also worked closely with Special Teams Coach Joe Marciano. Marciano went to the Houston Texans in 2002 when the Bucs' staff turned over and coached special teams there through the end of last season. O'Dea has also had several stints alongside Chuck Priefer, another highly respected special teams coach who worked in San Diego and Detroit.
"I was also involved with Special Teams Coach Joe Marciano while he was here. [He's] a great special teams coach; I learned a lot," says O'Dea. "He's enthusiastic, a really high-energy guy, and I really enjoyed working with Joe. I was with Chuck Priefer out in San Diego before that, so I learned a lot about special teams from Chuck, and then I went back with Chuck after I left here up in Detroit. I've had several homecomings. My career has kind of been an evolution of going out, establishing something, and then somehow coming back."
His latest move is both a reunion with Smith and a homecoming in Tampa. Smith left one year earlier than O'Dea to take over as the St. Louis Rams' defensive coordinator in 2001, which was the last step before he got his own head coaching spot in Chicago in 2004. Smith's return to the Buccaneers has raised hopes that the team is heading for another renaissance like the one that began with the arrival of Tony Dungy and his staff in 1996, a staff that included O'Dea in just his second NFL gig.
This particular homecoming has seemed particularly sweet for O'Dea, who has been impressed with how easy it has been to reconnect with coaches and players from that Buccaneer era who are still in Florida.
"We rebuilt a franchise and we turned history, and it was really neat to do that," he says. "It was a special time here, so to come back and see that, and still see a lot of the players…that's going to be neat. I've been very, very blessed to be with some special people, players and coaches."
As for the current players he inherits on the Bucs' roster, O'Dea is still waiting to get a true feel for what he has to work with. Smith has very vocally emphasized the importance of special teams since returning to Tampa in January, so he'll be expecting O'Dea to build some of the league's best kick-and-return units. O'Dea has evaluated what he can through 2013 game tape, but he won't get a full picture until the players hit the field, which begins on April 7.
"You've got to know the mentality of these guys," he says. "You can see the athletic traits, and that's a big thing. You have to have some of those traits, but special teams are different. Sometimes a guy doesn't have all those traits, but he's extremely good at doing his job because it's a mentality thing. 'I'm going to out-work you. No matter what you do, I'll beat you. You may be bigger, you may be stronger, you may be faster, but I'll beat you.' That you don't get on film."
Buccaneer players won't have any doubt as to the importance of special teams to the coaching staff, even if they never see the detailed plan on O'Dea's wall. That's because there's an even bigger board downstairs, covering the entire wall that stretches from the locker room doors to the hallway with the positional meeting rooms. It's a grid, as yet unmarked, that will have columns for all 20 games (and room for additional playoff contests, if needed) and rows for player names. Using a grading system that is not something O'Dea wishes to share with other teams, players' contributions on special teams will be very publicly displayed for all to see.
He's hoping that inspires some of the zeal for the third phase of the game that he wants to see.
"If you're going to be good at anything, you'd better be passionate about it," says O'Dea. "The guys that are great at special teams, those guys have a heart that you can't believe. Those guys are different guys. Those are the guys you want on the front line, not the back line. Every team has a guy or two like that. The good teams have more than a guy or two like that, and they teach the other guys."
On the other hand, what might seem like one of the biggest question marks regarding the Buccaneers' special teams in 2014 isn't causing O'Dea much concern. Long-time Buffalo Bills kicker Rian Lindell handled the team's place-kicking duties last year after incumbent Connor Barth tore an Achilles tendon in a charity basketball game just before the start of training camp. Lindell hit free agency on March 11 and has not been re-signed, meaning the only kickers currently on the roster are Barth and Patrick Murray, a former kicker at Fordham who has yet to go to an NFL training camp.
Barth got a nice four-year contract during the 2012 offseason after two very good seasons in Tampa, then was outstanding again that fall. But the injury wiped out his 2013 season and seemed to at least cast a little doubt on his long-term future with the Buccaneers. O'Dea, however, has talked with Barth and is confident he will be back to his 2010-12 form in 2014.
"We can't talk football right now, but as a person, his personality, he shows traits of being a very competitive guy," said O'Dea. "Everybody's going to get injured in the game you choose to play, whether you're Michael Jordan or Bo Jackson. It doesn't matter what sport you play, eventually you're going to have an injury, and how you respond to that injury is going to be determined by how you attacked your skill set before you were injured. For him to be able to come back from injury, it's already built into his DNA how he's going to handle it.
"So I don't worry about that. I don't worry about that with the elite players and the guys that are hungry. Just getting to know him off the field a little bit, I'm not worried about him. He'll be ready."
And O'Dea will be ready with a pinpoint plan for Barth to follow this offseason, along with every player who touches special teams in some way. That, by the way, is almost every player on the roster. That's one of the main reasons that coordinating special teams has to be such an intensely detailed job, as evidenced by O'Dea's repurposed office wall. He feels a sense of responsibility to those scores of players who will be depending upon his direction to get ready for the upcoming season, so he's going to make sure every I is dotted and every T is crossed. And that even goes beyond the Xs and Os in the playbook.
"There's not a guy on the roster that I won't, at some point, look him in the eye and say, 'Hey, I need something from you,'" he says. "Everybody on the roster is going to be a part of special teams. It's one of the challenges, but it's also the biggest lure that brings me to doing special teams. Before long, I'll know everybody on our football team. I'll know their names. I'll know something about them. I can call him by his name, I'll know something about him, and I'll probably know something about his family before too long so you can have a conversation about more than just football. It's just like anybody else in any other phase of life – who are your friends? The people that know you. And are your friends going to take care of you? Yeah. So you need to know something about them, because I'm going to take care of them and they're going to take care of me."