STORY HIGHLIGHTS
Doug Martin will have more help than he did during his 2012 breakout season, but his fantasy value shouldn't drop much
Would the Buccaneers consider switching either Tim Wright or Jeff Demps to wide receiver?
The Bucs are halfway done with their draft-pick contract work but there's no real hurry to finish

Each week, Senior Writer/Editor Scott Smith will dip into the inbox to answer questions from  Buccaneer fans.  This week, we get our first injection of fantasy football into the discussion before touching on Tim Wright (again!) and Jeff Demps and then finishing with some rookie contract talk.
Fans can submit questions for upcoming mailbags via Twitter to @ScottSBucs (#BucsMailbag), through a message on the Buccaneers Official Facebook Page or via email at *tbbsocial@buccaneers.nfl.com. The One Buc Mailbag runs every Thursday and is not necessarily meant to reflect the opinions of the team's management or coaching staff.*
I don't know how you feel about fantasy football or if you take questions about it but if so here goes. It's about Doug Martin. I'm wondering about his value. With all of those running backs on the team, aren't runs and catches going to be split up a lot more this year? I'm asking because I have a decision to make on my team, but I am interested in the topic outside of fantasy football too. I'm in an auction league with my buddies and I got Martin last year for $28, which I thought was a good deal. I'm the only Bucs fan in the league, so that probably helped. Anyway, I can keep him this year but it will cost me $33. I can also keep Julio Jones at $33, Pierre Garcon at $14 or Matthew Stafford at $21. (As you can see,  injuries kind of wrekced my season). I can keep two players. So, just in general what do you think about Doug Martin's workload this year, and if you want to add in some fantasy advice that would be great too.
- Louis Richardson, via email to tbbsocial@buccaneers.nfl.com
Me? I love fantasy football. I've played in a lot of leagues and won a couple. I don't spend a huge amount of time preparing for drafts (or auctions in your case; my leagues are almost always draft), so I wouldn't call myself anything like a fantasy football expert. But I guess I know enough about that topic and about the Buccaneers to weigh in here.
(Perhaps we can do some all-fantasy mailbags closer to the season just for those of us who are into it.  For now, if fantasy football isn't your thing, just skip ahead to talk of Tim Wright and Jeff Demps.)
Again, I'm not very experienced in auction leagues, and hopefully you'll forgive me for not looking up any cheat sheets from last year to know if those were considered good values. Also, I've read enough from guys like Matthew Berry and Michael Fabiano to know that I really need some more specifics about your league to give a good answer. You know: Is it 10 or 12 teams? Are you using the standard $200 budget? How many running backs and quarterbacks do you start? What scoring system do you use? Etc. Right off the top of my head, for instance, that seems like a pretty low price on Matthew Stafford.
So let's just discuss the Bucs' running back situation and what it might mean for Doug Martin, the fantasy running back stud, in general.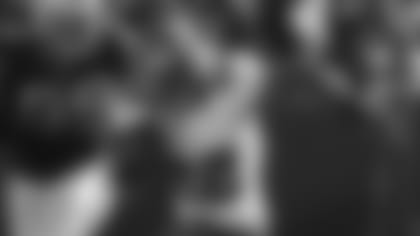 RB Doug Martin was one of the highest-scoring players in all of fantasy football in 2012
Let's start with this: Head Coach Lovie Smith has stated very clearly on several occasions – before and after the draft – that Doug Martin is the starting running back and the player who will get the largest share of the carries. I believe he used the word "bellcow" at one point. Mike James and Bobby Rainey each did some very good things last year after Martin was felled by his shoulder injury in Game Six, but I don't think you have to worry about one of them overtaking Martin for the starting job.
The same is true of Charles Sims, the third-round draft pick out of West Virginia.  I've made a point of noting that Sims was a very productive runner at both West Virginia and Houston, since he seems to have been pigeon-holed since the draft as a pass-catcher only. Still, we can't ignore that it is his pass-catching ability that Smith cited immediately after the Bucs drafted him, and that Smith has referenced that potential role for Sims on several occasions since. Right now, Sims seems like the most likely of the three behind Martin to be involved in the offense on Sundays, but I still believe it will be in a complimentary role to Martin.
The Bucs could very well keep all four of those backs on the roster, but even if they did they would likely only have three of them active on any given game day.  So in this scenario you have Martin starting, Sims taking a handful of carries in his place and perhaps also serving as the third-down back and either James or Rainey taking some series from Martin as well.
The other day Smith said that he and his coaching staff think very highly of Martin and would like to have him around for a long time. (Emphasis added.) I interpret that as meaning the Bucs will make an effort to make sure Martin's workload isn't too big, so that he can continue to be effective for as many years as possible. In his remarkable rookie campaign, in which he produced 1,926 yards from scrimmage, Martin got 319 carries, which is almost exactly 20 per game. Last year, he had 127 carries through six games, which is a little over 20 a game. He also had 61 catches over those 22 games, or about three per game.
So if we're starting with 23 touches and stepping back just a bit from that, let's say he gets 18-20 this year. At his career averages of 4.3 yards per carry and 8.8 yards per catch, that's about 75-90 yards per game, and he was definitely a good goal-line back in 2012, so the touchdown numbers should be there. I think it's fair to say that Martin would still be a number-one fantasy back, but not necessarily one you would take in the top six or seven, just because of the uncertainty of the Bucs' backfield rotation. In terms of auction value, I did take a moment to look up a cheat sheet on line for this year and I see LeSean McCoy and Jamaal Charles at the top at $41 and $40, respectively (10 teams, $200 budget). Doug Martin is ranked fifth at $30. That's pretty close to what you'd be paying, so I'd say if you like him enough you can swallow those extra three dollars for the certainty of having him on your team.
You know there's a flip side to the additions of Sims and such other players as Josh McCown, Mike Evans, Austin Seferian-Jenkins, Brandon Myers and Robert Herron to the team. Instead of thinking about the scarcity of footballs to go around, think about the possibility of a much-improved offense. The Bucs were dead last in offense last year, which made it hard to find any player that had much of a fantasy impact, save for perhaps Vincent Jackson. If the Bucs are even middle-of-the-pack in offense this year, there will be more extended drives, meaning more carries and targets to go around, and more touchdowns to be spread around. Martin may have difficulty matching the fantasy impact of his 1,926-yard, 12-touchdown rookie season, but I could see him really thriving in 2014 at the middle of a much more dangerous Tampa Bay offense.
At this point, I almost feel like I should do a separate Tim Wright-themed mailbag.  Is it my imagination or do we end up talking about Wright almost every week?  I guess that's a good thing – a lot of Bucs fans apparently want to see more from the young receiver-turned-tight end, and it looks like the team's coaching staff feels the same way.
But I'll grant you that this is a slightly different angle, Bobby, plus you throw in Jeff Demps for good measure, so we'll give Wright one more turn in the spotlight.
First I'd like to quibble just a little bit with the wording of your question. I don't think that either Wright or Demps would be the ones considering a change; that kind of thing is generally initiated by the team, not the player. That's probably what you meant, but to be clear, we should be discussing whether or not the coaches are thinking about making Wright and/or Demps receivers since the tight end and running back positions look deeper than wideout as the roster is currently constituted.
Starting with Wright, I would say probably not. The Bucs signed Wright as an undrafted free agent out of Rutgers last spring, and of course the team's head coach at the time was Greg Schiano, who had coached Wright in college. Wright came to Tampa knowing that a position switch to tight end was a possibility, because it was something that had been discussed at Rutgers. At 6-4 and 220 pounds, Wright had the size to play tight end, if a bit at the lower end of the weight spectrum. But by that measure, so do Vincent Jackson and Mike Evans. There's a reason somebody looked at Wright and thought "tight end;" presumably they liked his size and receiving/route-running skills but thought his raw speed might not quite be NFL-caliber.
I mean, there's a reason Wright went undrafted.  That's not a knock on him. There are many good players that pass through the draft every year, and dozens of rookie free agents make it onto rosters around the league every year.  That said, the majority of those players do not make it (there are only so many NFL spots available), so you'd be asking Wright to go back to a position where the odds were against him making the Bucs roster a year ago. On the other hand, if you keep him at tight end, you have a player who has already proven he can make it in the league, and one with fairly intriguing potential. And you'd be keeping him at a position where the Bucs had huge difficulty maintaining depth last year.
Furthermore, I don't even think you have to switch Wright's position to utilize his skills as a receiver. There's nothing preventing the Bucs from putting him in the slot on any given play and forcing the defense to decide whether to cover him with a linebacker or a cornerback. You could also put him in a variety of places in the backfield as something of an H-back.
Finally, I don't think the depth at tight end is as daunting as you seem to indicate. In addition to Wright, the team has free agent pick-up Brandon Myers (a good pass-catcher) and second-round draft pick Austin Seferian-Jenkins (a potential two-way star). Luke Stocker, whose career has had difficulty getting off the ground due to injuries, is also back and could still figure into the mix. The only other tight ends on hand are recent UDFA signings Cameron Brate and Ian Thompson, and they have to be considered long shots at this point.
Teams most commonly keep three tight ends on the 53 man roster, and it's not hard to envision a trio of ASJ, Myers and Wright…and there's a lot you could do with that trio. And, as I've said before, I wouldn't be shocked to see the Bucs keep four tight ends, particularly if no viable fullback is found. Tight ends can be used as lead blockers in certain plays, so you could take that open fullback spot and devote it to a fourth tight end if you had that many you wanted to keep.
Now, as for Demps, that certainly seems possible, though I would call it more of a position confirmation than a position change. That is, in his two seasons in the NFL (most of it spent on injured reserve in New England and Tampa), Demps has pretty much been a ball of unmolded clay. A very fast ball of unmolded clay. Lovie Smith said in March at the league meetings that the Bucs would try Demps at a variety of positions to see what works best. That could be receiver, specifically as a slot receiver, where there appears to be an open competition.
In this case, I agree with you, Bobby, that the position depth in front of Demps is daunting if he remains a running back. At receiver, he might be able to find an opening and in the (massively) best-case scenario become something of a Percy Harvin type of weapon.
The most specific thing I could tell you, jgonz, is that talks have begun with three remaining unsigned draft picks, but I don't think there's any particular hurry.
There's no particular worry, either. A flurry of early signings this year – including the Bucs' last three picks (Kadeem Edwards, Kevin Pamphile and Robert Herron) – might have made it seem like the whole process would be over in weeks, but really there's a window of nearly three months to get it done. The only real issue is getting the players signed before training camp because – unlike offseason workouts – they cannot participate without a signed contract. Some teams like to get this process over with as quickly as possible; others purposely wait until shortly before camp.
There's no particular difference in signing your players now or the week before training camp, unless waiting until the eve of camp makes you nervous.  And don't be nervous – the Bucs haven't had a significant rookie camp holdout since Trent Dilfer in 1994 and those holdouts have almost become a thing of the past with the new CBA that was put in place in 2011.  The slotting of salaries by draft spot and the rookie salary cap have simplified the process.  There's a little more wiggle room with the early picks, which is why they are usually done last, but it's still a lot less complicated than it used to be.
That's reflected, again, in that early surge of signings. Getting later-round picks under contract early is nothing new, but what is new is seeing 11 of the 32 first-round picks already inked.  By the way, if you want to keep up with those signings, there's a handy first-round tracker on NFL.com. It's worth noting that the three players right before Mike Evans have already signed, and the player two after him has a deal, as well.
I'm not privy to the negotiations between the Bucs and the agents of those draft picks (nor would I want to be…sounds boring to me!), so I really can't tell you exactly what's going to happen.  I can tell you that I would be shocked if any of those three missed any significant camp time.  I predict you see at least second-round pick Austin Seferian-Jenkins and third-round pick Charles Sims under contract at some point before or shortly after the end of the offseason program on June 12.  The same could be true for Evans, or his negotiations could carry on until close to camp.