STORY HIGHLIGHTS
Green Bay's Jermichael Finley could be the most coveted tight end in free agency, especially after he gets medical clearance
Devin Hester, perhaps the greatest return man in league history, is departing Chicago and could be a good fit in Tampa
CB Champ Bailey will be looking for a new home this offseason, and could end up at a new position, too

Each week, Senior Writer/Editor Scott Smith will dip into the inbox to answer questions from  Buccaneer fans.  This week, Smith fields three related questions, all about players the Buccaneers could potentially pursue in free agency.
Fans can submit questions for upcoming mailbags via Twitter to @ScottSBucs (#BucsMailbag), through a message on the Buccaneers Official Facebook Page or via email at **tbbsocial@buccaneers.nfl.com*.  Following  this introductory edition, the One Buc Mailbag will run every Thursday, beginning this week.*
Do you think the Bucs will go after Jermichael Finley in free agency? They should! That guy's a beast and we need that in our offense.
- Mitchell S., via email to tbbsocial@buccaneers.nfl.com
Well, I think we can agree that a consistent receiving threat in the tight end position would be a great addition to the offense, and it would give young passer Mike Glennon a much better chance to succeed.  That's not to take anything away from second-year man Tim Wright, who started at tight end for the majority of 2013 and finished with 54 catches.  If Wright is that threat the Bucs need, then that would be an even easier solution.  Still, one as to acknowledge that he is a bit of an unknown as a recently-converted wide receiver, and that his blocking is considered a work in progress.  The Bucs could very reasonably hold onto the idea of developing Wright further while still adding a significant outside talent to the position.
Every move the Bucs make to the roster over the next three months is going to be informed by what the team thinks of the free agent field compared to what it thinks of the draft talent pool.  Will it be easier and – this is pretty important – cost-effective to address a need through free agency, and thus tighten up the target for their half-dozen or so draft picks ? (I'm assuming one compensatory pick and considering the possibility of adding more via trade.)  If that's the case at tight end, then yes, I could see the Bucs making a move at that position in March or April.  If the team believes it can land, say, Eric Ebron in the first round or maybe a Jace Amaro in the second, and considers that position a priority, then you'd likely see it lay off in free agency, or focus on a second-tier option.
Finley, of course, is a first-tier option, and considered by most to be the best available tight end, if he doesn't re-sign in Green Bay before the market opens next Tuesday.  He's also in the prime of his career at age 26, and visions of his eight-touchdown season in a Green Bay offense that had a huge number of weapons in 2011 are still fresh.  The kicker, of course, is that Finley is coming off spinal-fusion surgery – which just sounds scary – after missing 10 games last year.  He also missed 11 games in 2010 with a knee injury.
In other words, this is really a high-risk, high-reward option we're talking about here, and in my gut I don't think that's what the Bucs are looking for this spring.  Finley says he'll be just fine, and he certainly knows the situation with his neck better than I do.  He says he'll be cleared to be back on the field in a couple weeks.  The question is, will that clearance come before March 11?  And will every team wait to hear that clearance?  It only takes one team to decide that the potential reward far outweighs an acceptable risk in order for Finley to be one of those high-priced free agents right out of the gate.
And that's the other issue at work here.  Finley could get paid very well in free agency; again, it only takes one team to fall in love for an unrestricted free agent to get a really big contract.  I continue to believe that the Buccaneers are going to be targeting middle-tier players in free agency (and that description is not meant to be pejorative), basing that belief on GM Jason Licht saying the team would be actively looking for value on the market.  And there is some depth at the position if the current free agent list still looks about the same on Tuesday.  Brandon Pettigrew, Dustin Keller , Garrett Graham, Brandon Myers, Ed Dickson…none are likely to be superstars, but any one of them could be a solid addition.
You asked if the Bucs will "go after" Finley.  I'd say this: There's no harm in kicking the tires and finding out just exactly what it would cost.  But if his price starts to rise quickly, my guess is the Bucs wouldn't stay along for the ride.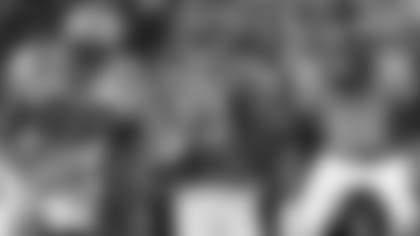 (From left) Jermichael Finley, Devin Hester and Champ Bailey could all have new NFL addresses within the next few weeks
Please please please tell Lovie to get Devin Hester. Please and thank you.
- Nick Simpson, via Facebook message
Is that it?  Just get that message to Coach?  Because his office is right down the hall and it would only take a moment to poke my head in and say those three words.  Not a problem.
Oh, I suppose what you'd like is for me to support or refute the idea, since we both know that my suggestions are going to have no effect on the free agency plans that Lovie Smith and Jason Licht are going to put into play.  I know this because Coach told me himself: The plan is in place.  If the Buccaneers are going to pursue a Smith-Hester reunion, they've already decided to do so and my office visit won't make any difference.
So would that be a good idea for the Buccaneers?  I assume you want him almost solely for his return abilities; that's all the Bears had him do last year and he turned in his best season in a while in that regard.  I think it boils down to how you answer this question: How closely does the 2014 version of Devin Hester resemble the one that built a reputation – and rightfully so – as perhaps the greatest return man in league history during the second half of the previous decade.
There is no doubt that Hester has had an incredible NFL career.  He has 18 career kickoff and punt return touchdowns – 18!! – 13 of them on punts.  He has averaged 24.8 yards per kickoff return and 12.3 yards per punt return in his career, and any team would gladly take that production as a baseline from their return man.
Keep in mind, however, that 11 of those 18 scores came during his first two NFL seasons, 2006-07.  He has scored "only" two touchdowns in the past two years and, honestly, no one could have honestly expected him to keep up that '06-07 pace for most of his career.
Does this mean Hester's in decline? He's 31 and heading into his ninth season.  He certainly wouldn't be the first player, particularly one whose game relies heavily on speed, to begin to start to fade at that point.  Obviously, Nick here doesn't think Hester is in decline…and you know what, neither do I.  I'm going to throw my support in here with you, Nick, and say that signing Hester would be a good move.
Are the Bucs going to get the 2006-07 Hester?  Almost certainly not.  Will any team ever get two years of kick return production like that again?  I doubt it.  But the current version is none too shabby, and he would fill a significant need for Tampa Bay.  The Buccaneers haven't had a truly scary return threat since Clifton Smith in 2008-09, and they've tried an awful lot of options since.  There's some promise in Eric Page and maybe Jeff Demps or Skye Dawson or Chris Owusu.
But Devin Hester is a proven commodity, and he was still very good in 2013.  His 27.7 yards per kickoff return actually represented the second-best mark of his career and that was on a career-high 52 runbacks.  His 14.2 yards per punt return ranked as his fourth-best average and were a huge step up from his 8.3-yard mark in 2012, when he was devoting a lot of energy to the receiver position.  He ranked fifth in the NFL in the former category, and while he didn't have enough punt returns to qualify for the league lead, his average would have put him third overall.  Oh, and he did find the end zone again.  The Bucs had zero kick-return TDs in 2013, so even a repeat of that production would be an improvement.
Hester was pretty vocal about his ambivalence towards the game after the 2012 season, when the Bears let Lovie Smith go.  He specifically did not believe it would be a good idea for him to continue playing offense.  New Head Coach Marc Trestman apparently agreed and the result was a rejuvenated Devin-Hester-the-return-man.  Reunite him with Coach Smith, try to get one or two more near-vintage Hester years out of him, and hope he provides that spark the team has been looking for on special teams.
Headed down to the corner office now, Nick.
Y'all need to pick up Champ Bailey for his last two years and have Revis on one side and Champ Bailey on one side.
- Devin Whatitdew Ray, via Facebook message
So, apparently it's free agency day here in the mailbag.  I guess that makes sense, with the opening bell just five days away.  It's also the day of questions that aren't really questions, but I think we can work with this.
So we had Jermichael Finley, who has the injury question mark but is still young and is very likely to be a star-caliber player if he is healthy.  I said the Bucs probably get priced out on that one.  We had Devin Hester, who probably would be more affordable but could conceivably be on the decline.  I said, go for it, that one's worth the gamble that he's still as effective as he was in 2013, if not necessarily 2007. And now we have Champ Bailey, who had a health issue last season (a foot injury that kept him out of eight games and hampered him for most of the rest) and is also 35 years old.  I'm going to go the opposite direction I did with Hester and say, no, I don't think that's an investment the Bucs should/will make.
I certainly don't want to disrespect Bailey, who will eventually be in the Hall of Fame.  He has 12 Pro Bowl selections, the most ever for a cornerback.  That alone should get him to Canton.  But look at the noise surrounding Bailey and his possible landing spots – there is speculation that his new team will want to move him to safety, a la Charles Woodson and Ronde Barber.  Bailey says he would consider that move if the situation made sense.  I assume he would prefer to stay at cornerback, and some teams out there might want him there, but just the fact that the issue has been raised gives me a sense of Bailey's perceived value.  Remember, Ronde Barber was 36 in the last season he played cornerback, and he was seen as having remarkable longevity.
I think your notion that playing Bailey alongside Revis would be the Bucs' best way to go is built on Bailey's reputation, not necessarily the player he is right now.  Bailey may well prove his doubters wrong this season, or he may move to safety and be a valuable player there.  For the Buccaneers, however, I'd say the better approach would be to stick with young Johnthan Banks and see how good of a corner he can develop into.