STORY HIGHLIGHTS
The current lack of practice time for Mark Barron and Dashon Goldson isn't too concerning, and it gives other safeties a chance to compete
WR Russell Shepard was strong on special teams in 2013, an asset that could help him in the receiver competition
Some Buc fans still don't agree with the team choosing to pass on QB Johnny Manziel in the draft

Each week, Senior Writer/Editor Scott Smith will dip into the inbox to answer questions from  Buccaneer fans.  This week's fan-submitted topics include a little hand-wringing over the team's sidelined safeties, a look at Russell Shepard's potential role and a dig-disguised-as-a-question about this year's most polarizing NFL rookie.
Fans can submit questions for upcoming mailbags via Twitter to @ScottSBucs (#BucsMailbag), through a message on the Buccaneers Official Facebook Page or via email at **tbbsocial@buccaneers.nfl.com*.  The One Buc Mailbag runs every Thursday and is not necessarily meant to reflect the opinions of the team's management or coaching staff.*
Alright, Scott, shoot it to me straight. Dashon Goldson AND Mark Barron aren't practicing, and I don't think anybody even knew they were hurt before the practices started. At least, I didn't, and I think I follow the team pretty well. I watch the videos after practice and I keep hearing Lovie Smith tell us not to worry about it, they'll be fine, they'll be back for training camp. Okay, I guess, but it always makes me nervous when coaches talk like that at this time of the year. Last year, Davin Joseph hardly played at all in the preseason and I don't think that helped when the real games started. I can't remember for sure, but I feel like we were being told the same thing about him during the offseason last year. What I want to know is, should I be worried about our safeties?
- Renny MacAuley, via email to tbbsocial@buccaneers.nfl.com
One of the advantages to using email to send in your questions, as Renny has obviously discovered, is you can really flesh them out a lot more than on Twitter.  In this one, you can really feel Renny's angst, can't you?  I can understand it, too.  It does feel like sometimes we get the "don't worry" approach from NFL coaches at this time of year – talking about coaches in general, not Lovie Smith and his staff, specifically – and then we find out in August that everything isn't quite as smooth as we had hoped.
That said, Renny, don't worry.  I realize you'll probably treat my words with as much or more skepticism than you do those of Coach Smith, but I really don't think the health of Goldson and Barron is going to be an issue.  I'd be more worried about Carl Nicks, simply because nobody has yet put any kind of specific timetable or percentage of likelihood on his return.  With Goldson and Barron, both Smith and Defensive Coordinator Leslie Frazier have said pretty unequivocally that they'll be ready to practice at the start of training camp.
As you've probably read elsewhere, Goldson had a "cleanup" type of foot procedure in February, and he did it at that time specifically so that he'd be ready for training camp.  Meanwhile, Barron has actually been getting some work in on the practice field, mostly going over footwork with an assistant coach.  He can't be too far off from a full return if he's running around like that.  Frazier said that neither of the two starting safeties would take part in next week's mini-camp, but that's probably the last time they'll have to watch from the sideline.
I hear what you're saying about Joseph, but he had something of a setback in the summer before training camp, which threw off his timeline.  When he originally tore up his knee in August of 2012, he had surgery right away and the original timetable would have had him back for the start of camp, without that setback.  The issues for Goldson and Barron aren't nearly as serious.  Similarly, when Mike Evans and Vincent Jackson tweaked hamstrings in May, the team decided it was a good time to be cautious, with no games on the immediate horizon.
Plus, the Bucs know what they have in Jackson and Evans (especially Jackson) and can spread the reps around a little more among the unproven receivers while they're out.  The same is true at safety.  Coach Smith said recently that he's rarely been on a team that, due to minor injuries along the way, was able to make it through the season without getting down to its fourth safety.  The Bucs will carry at least four safeties on the 53-man roster, maybe five, and they would like to be confident in all of them.
Smith is already confident in Goldson and Barron; he thinks they're going to be very good in the Bucs' new defense.  He obviously has a built-in confidence level with Major Wright, who was signed as an unrestricted free agent this spring, having had Wright as a starter in his Bears' defense in 2011 and 2012.  Still, Wright is trying to get back to the level of play he displayed under Smith after a 2013 season that wasn't quite as strong, and he's also trying to mesh with his new defensive teammates.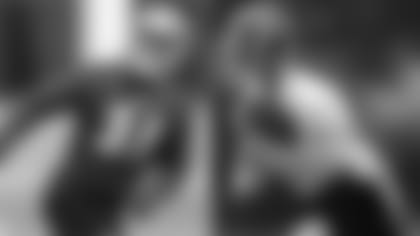 S Major Wright (left) is getting first-team reps in practice right now and WR Russell Shepard is looking to impress a new Bucs coaching staff like he did the previous one
Right now, the Bucs have been giving the first-team snaps to Wright and third-year player Keith Tandy.  Tandy didn't play much as a rookie in 2012 but he got his chances last year and was one of the team's pleasant surprises.  He started five games and came up with three picks – tied for second on the team and most among the Bucs' safeties – including one of two huge goal-line interceptions in Detroit.  The current run of practices is a great opportunity for Tandy to absorb the new defense and impress upon the current staff that his 2013 season was no fluke.
Right now, the Bucs have enough safeties on hand to cycle through two-and-a-half sets of them during practice.  After Wright and Tandy, the Bucs also have Kelcie McCray, who also got a decent amount of playing time last year after being claimed off waivers in October; Bradley McDougald, another midseason waiver-wire pick-up who didn't see much action last fall; and Mycal Swaim, an undrafted rookie out of Eastern Michigan who has great size (6-4, 215) and some intriguing workout numbers in the vertical leap and the three-cone drill.
Hey, and if I'm wrong, there's not much you or I can do about it anyway, is there?  Don't spend these next two glorious summer months worrying about Mark and Dashon, Renny!  Go hang out by the pool or have a cookout or something.  There's always going to be somebody on the roster who is a question mark due to injuries; we should be concerning ourselves with whether or not Lovie Smith and Jason Licht have succeeded in improving this team's depth so the inevitable injuries don't sink the season.  Barron and Goldson should be fine in August, but right now the coaches are finding out if that depth does indeed exist at safety.
@ScottSBucs What's the plan for Russell Shepard this year? Do you think he makes the team, and in what role would he fit in? #BucsMailbag — Bailey Adams (@BaileyAdams22) June 1, 2014
Do you have a hidden camera in my office, Bailey?  I was just discussing this very issue with our producer, Ed, yesterday.  The conversation actually was about the receivers the Bucs would keep – how many? which ones? for what roles? – and we were a little stumped when we got to Russell Shepard.
If you're asking about Shepard, Bailey, you probably know his story pretty well, but let me just run it down for any other readers who are not very familiar with the second-year receiver.  Shepard played quarterback in high school and racked up huge numbers both passing and running.  He was the Class 5A Offensive Player of the Year in his state – which happened to be Texas, and you may have heard that high school football is kind of a big deal there.  Obviously, that meant he was hotly recruited, getting interest from such schools as Texas (of course), USC and LSU.  He chose LSU because he believed that program would give him the best chance to stay at quarterback.
LSU started him out as a sort of super-utility offensive player as a freshman, lining him up for about seven or eight snaps a game at quarterback, running back and wide receiver.  After that he basically settled in at receiver, starting 14 games over the next three years and finishing his LSU career with 58 catches, plus 716 rushing yards.  Those aren't overwhelming numbers, obviously, and it wasn't a big surprise when he went undrafted last year.
There were several NFL teams that still wanted to find out what Shepard could do, however, and even some conjecture that he might be best off converting to defensive back on the pro level.  He ended up signing with the Philadelphia Eagles.  The Eagles waived him during the final roster cuts after the fourth preseason game – perhaps in the hopes of bringing him back to the practice squad, though that's just conjecture on my part – and the Bucs swooped in with a waiver claim.
It was clear right away that Shepard was very good on special teams, and he became one of the team's primary gunners, those players who line up wide on punts and can start hunting down the return man as soon as the ball is snapped.  He was active every week until landing on injured reserve in late December and he finished the season with six special teams tackles.
So, that's where we are now.  Like a lot of other young players on the team, Shepard has the additional task this year of proving himself to a new coaching staff; it's obvious that the previous one valued his work, and the new one insists it places great emphasis on special teams work, which should help Shepard.
You could say that Shepard is still learning the receiver position, and there's some truth to that, but I don't want to overstate it.  His speed is considered good, if not elite, and some scouting reports question his hands, though I haven't personally seen any evidence one way or the other on that issue.  He'd be a nice player to have around for gadget plays, like end-arounds, but that alone probably isn't enough to keep him around, especially if Jeff Demps makes the team.
You know what, Bailey, it may come down to how many receivers the Buccaneers choose to keep on the 53-man roster.  I have a feeling that the number might be five, which would make it tougher on Shepard.  You can obviously lock in Vincent Jackson and Mike Evans, and it seems like the staff has high hopes for rookie Robert Herron, as well.  If they take up three spots, and there are only two more, than you still have to sort through the likes of Chris Owusu (who drew Lovie Smith's praise the other day), Louis Murphy, Lavelle Hawkins, Sky Dawson, Eric Page and Solomon Patton.  A few of those guys have potential as kick returners, too, which could trump Shepard's kick-coverage skills when doling out spots.  If you're only keeping five receivers, you probably want all five to be ready to step in on offense and Shepard wasn't used at all in that capacity last year.
Now, if there's a sixth spot for the position, Shepard's chances go up, because I think you could conceivably devote one of those spots to a player who is still learning as a receiver but can immediately add value in another way.
I'm basing most of this on evidence from last year.  I'd be lying if I said I've watched Shepard extensively on the practice field this spring.  It could be that we see him take a step forward as a receiver in training camp this year, and then I might need to rethink everything above.  I'll be rooting for him, because he seems like a hard worker and someone who really wants it.
Actually, Boy Wonder, I think that has been adequately explained by now, and more than once.  The Bucs did not believe they needed to add another quarterback in the draft but did believe Manziel's teammate, wide receiver Mike Evans, could help them more, and right away.  In fact, it's likely that Evans was not the only player the Bucs would have drafted ahead of Manziel (and the other available quarterbacks) if some team in the top six had jumped on the Aggie receiver first.
But don't take my word for it.  Here is the exact thing Lovie Smith said on that topic on the first night of the draft, after the Evans selection:
"There are a lot of good players, but it's what's best for us. Just talking about our quarterback position: Our quarterback position is as strong as, to me, any quarterback position I've had when I've been a head coach. You know how much I like Josh McCown as our starter here, but I love Mike Glennon. Mike Glennon is our quarterback of the future here. Why would we want to add a third quarterback to the mix? We needed other positions and forget just a quarterback position – yeah, we like it, but we thought this was the best available player for us. It was an easy decision for us. [General Manager] Jason [Licht] and I, we both don't have a lot of vertical, but we high-fived pretty high in there when we were able to make this pick."
See, here's the thing, Boy Wonder.  I don't think you're really asking me to tell you what the team's logic was behind that pick.  I think what you're actually saying is, "The Bucs SHOULD have drafted Johnny Manziel," and you're not the only one.  There is not a single topic that I've had feedback about on Twitter this year that has been more polarizing than whether or not the Bucs should (and then after the draft, should have) drafted Manziel.  About half of you think the Bucs are idiots for passing on Manziel, while the other half was begging the team not to take him before the draft.
And, honestly, that's great.  The NFL needs players like Johnny Manziel, who can spark so much interest, not just for the teams they play on but for fans across the league.  The Browns may have ended up with a steal, or they may in the long run find out why there was enough skepticism about a player of Manziel's pedigree to allow him to fall to pick #22.  Either way, it's not going to be boring.  My guess is that Manziel ends up as a success, but I know plenty others believe he'll be a bust.  If Manziel does succeed, will that prove that the Bucs messed up in the draft?  Not necessarily.  If Mike Evans is also a star, and if the Bucs' quarterback position ends up in good hands with Josh McCown and/or Mike Glennon, then I think we'll look back on that draft-day decision as a good one, regardless of what Manziel does for the Browns.  Manziel will have to become a superstar – and remain one for a long time – for this to be comparable to the Trail Blazers passing on Michael Jordan or the Mets passing on Reggie Jackson or the Packers passing on Barry Sanders.
And if that happens, the Bucs will have plenty of company.  Twenty teams passed on Manziel before the Browns took them, including the Browns themselves.  The Jaguars took a quarterback at #3…just not Manziel.  The Rams passed on him twice and one could make the argument that their quarterback situation is more of a question mark than that of the Bucs.
To circle back to my main point, I don't think I can really answer your question, BW, because I don't think there's an answer you'll accept.  If I'm reading this right, you're staunchly in the "passing on Manziel would be/was idiotic" camp and this was simply your way of saying so.  But, hey, I may not have given you any new reasoning to sway your opinion, but at least I gave your side some screen time, and that's a win, right?
Maybe the competing camp can figure out how to put their opinion into the form of a mailbag question so that next I'll be able to comply with state regulations and give both parties equal screen time.