STORY HIGHLIGHTS
By taking both Warren Sapp and Derrick Brooks in the first round in 1995, the Buccaneers made draft history
Hardy Nickerson and Shelton Quarles were thrilled to see their former teammate selected for the Hall of Fame
For the second time in a row, the #1 defense dominated the #1 offense in a Super Bowl matchup

The single greatest draft ever conducted by an NFL team was almost certainly the 1974 effort by the Pittsburgh Steelers. That spring, the Steelers took wide receiver Lynn Swann in the first round, linebacker Jack Lambert in the second round, wide receiver John Stallworth in the fourth round and center Mike Webster in the fifth round.  All four wound up in the Pro Football Hall of Fame.
For nearly a half-century, however, it is the Chicago Bears who could brag of making the single greatest draft round in league history.  In 1965, the Bears owned the third and fourth picks in the first round and they made the most of that opportunity, drafting linebacker Dick Butkus and running back Gale Sayers back to back.  That marked the first and only time a team had picked two future Hall of Famers in the same round of the same draft.
On Saturday, former Tampa Bay Buccaneers linebacker Derrick Brooks was named to the Hall of Fame's Class of 2014 along with Ray Guy, Claude Humphrey, Walter Jones, Andre Reed, Michael Strahan and Aeneas Williams.  Brooks earned the ultimate honor in his profession just one year after his former Buccaneer teammate, defensive tackle Warren Sapp, got the same good news.  Brooks and Sapp are just the second and third players to enter the Hall who spent all or the majority of their careers as Buccaneers.  Together, they formed the core of one of the greatest defenses in NFL history from 1995-2003.
But Brooks and Sapp were more than just teammates.  They were also draft-mates, having come to the Buccaneers together in 1995.  Following a series of astute trades by then-General Manager Rich McKay, the Buccaneers drafted Sapp with the 12th overall pick and then added Brooks at number 28.  And just like that, two future Hall of Famers walked into One Buccaneer Place.
So now there are exactly two pairs of Hall of Famers who came into the league in the same round of the same draft for the same team.  Butkus and Sayers.  Sapp and Brooks.  NFL experts could debate for years which was the more impactful pair, but suffice it to say they share a very special place in league history.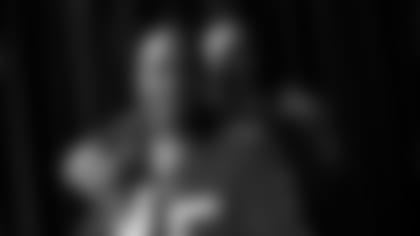 Derrick Brooks and Warren Sapp were both first-round picks by Tampa Bay in 1995
The Buccaneers, Bears and Steelers aren't the only teams ever to nail two future Hall of Famers in the same draft class, but it remains a relatively rare accomplishment.  Coincidentally, another team joined that list on Saturday.  Reed was drafted by Buffalo in the fourth round in 1985, three rounds after the Bills took defensive end Bruce Smith.  Smith was inducted into the Hall in 2009.
Overall, there have been 15 occasions of a team drafting multiple Hall of Famers in the same year. Eleven of those 15 instances came before the 1970 merger, six of them between 1936-57.  Obviously, when the league had far fewer teams, there was less competition for the players who would prove to be Hall of Famers.  To put it another way, assuming a certain number of Hall of Fame players will emerge from any decade, there were simply fewer teams for those players to be spread among in the pre-merger days.
Here are all 13 of those memorable draft combinations:
| | |
| --- | --- |
| | |
| | Warren Sapp (1), Derrick Brooks (1) |
| | Bruce Smith (1), Andre Reed (4) |
| | Lynn Swann (1), Jack Lambert (2), John Stallworth (4), Mike Webster (5) |
| | Terry Bradshaw (1), Mel Blount (3) |
| | Dick Butkus (1), Gale Sayers (1) |
| | Charley Tayloy (1), Paul Krause (2) |
| | Mel Renfro (2), Bob Hayes (7), Roger Staubach (10) |
| | Paul Warfield (1), Leroy Kelly (8) |
| |  Buck Buchanan (1), Bobby Bell (7) |
| | Jim Brown (1), Henry Jordan (5), Gene Hickerson (7) |
| | Tommy McDonald (3), Sonny Jurgensen (4) |
| | Forrest Gregg (2), Bart Starr (17) |
| | Les Richter (1), Gino Marchetti (2) |
| | Elroy Hirsch (1), Tom Fears (11) |
| | Joe Stydahar (1), Dan Fortmann (9) |
* The Buccaneers' 2002 Super Bowl team probably featured the best defense in team history; it owns the franchise record for fewest points allowed (196) and it terrorized opposing passers with 43 sacks, 31 interceptions and just 10 touchdown passes allowed.
However, the 1999 version of that defense, which featured a lot of the same core players, is in the conversation.  That crew also kept scoring to a minimum and created turnovers in bunches; in fact, that defense carried the NFL's 28th-ranked offense to within five points of the Super Bowl.  It was that disparity that prompted the Buccaneers to import Keyshawn Johnson and then Brad Johnson in the following years, in an effort not to waste what was clearly a rare collection of defensive talent.
The heart of that defense was its three-man linebacking corps of Derrick Brooks on the weak side, Hardy Nickerson in the middle and Shelton Quarles on the strong side.  The Buccaneers have rarely had so much talent concentrated at one position – all three of those players were already or would soon be Pro Bowlers.
Fifteen years later, two of those three linebackers – Nickerson and Quarles – are valued members of the team's staff.  Quarles is in his eighth year in the Buccaneers' player personnel department, having risen to the position of director of college scouting.  Nickerson recently returned to serve as linebackers coach under new Head Coach (and the Buccaneers' linebackers coach during that 1999 season) Lovie Smith.
Of course, Nickerson and Quarles were watching on Saturday night when Brooks was selected for the Hall of Fame.  Both had long overlapping periods in Tampa with the new Hall of Famer (Nickerson from 1995-99; Quarles from 1997-2006), though it was only in 1999 that all three started together on defense.  Both were thrilled to see their former teammate receive the game's ultimate honor.
"I was excited," said Quarles.  "I thought he was a first-ballot Hall-of-Famer for what he meant to the game, both on the field and off.  That shows you the type of man that he is.  I don't think getting in the first year was overly important to him – he knows the process and that a lot of guys have been waiting to get in – but I guess that shows you that what he did on the field meant a lot to a lot of people."
Nickerson described his reaction on Saturday night as "pure joy."
"I was just so excited for Derrick," he said.  "What a great guy, a great football player, which everybody knows.  It's well-deserved.  He had a great career.  For me, I was just so happy for him having been a friend and a former teammate.
Prior to Sunday's Super Bowl, much was made about the matchup between Denver's #1 scoring offense and Seattle's top-ranked scoring defense.  That's a relatively rare combination for an NFL championship game, and in this case at least it seemed to validate the hoary old cliché, "Defense wins championships."
The NFL usually publishes its offensive and defensive rankings based on yards gained or allowed.  The top rankings in scoring and yardage often don't belong to the same teams, but they did in 2013.  Denver led the NFL with an eye-popping 457.3 yards of offense per game, but Seattle countered with a defense that allowed a league-low 273.6 yards per outing.
As it turns out, that's an even rarer matchup, at least in the Super Bowl era.  As many Buccaneer fans will recall, a major storyline of Super Bowl XXXVII was the anticipated matchup between Oakland's top-ranked offense and Tampa Bay's #1 defense.  That was the first time the Super Bowl had pitted #1 against #1 in terms of yards.
Given the outcome of that game on January 26, 2003, there might have been a little less surprise in the Bay area than the rest of the nation on Sunday when Seattle's defense ruled the day at MetLife Stadium.  In both cases, the defense put intense pressure on a seemingly unstoppable quarterback, causing critical turnovers and even putting points on the scoreboard.  The Buccaneers set Super Bowl records by picking Rich Gannon off five times and returning three of them for touchdowns.  Seattle intercepted Peyton Manning twice, held him to 5.7 yards per pass attempt (his regular-season mark was 8.3) and only one surrendered one garbage-time touchdown pass.
The Buccaneers won, 48-21.  The Seahawks won, 43-8.  That's a combined score of 91-29 in favor of the defensive teams when the #1 offense and #1 defense (in terms of yards) match up in the biggest game of them all.