This piece is definitely about outside linebacker Shaq Barrett and his three sacks, don't get me wrong. Barrett was instrumental in Thursday's primetime win in getting pressure on Carolina quarterback Cam Newton, tallying those three sacks and an additional quarterback hit. Those three sacks all came in the third quarter, making Barrett just the second Buccaneer to accomplish such a feat, along with Simeon Rice. He's one of 11 players league-wide to record three sacks in a single quarter since he entered the league in 2014.
This is all very impressive stuff. I wanted to take a closer look at said sacks to see what went into all of them. And though they are punctuated by stellar play from the outside linebacker, there's a lot more that goes into it than sheer willpower – so let's break that down.
---
3rd QUARTER - 1st & 10 at the TB 42 (14:20)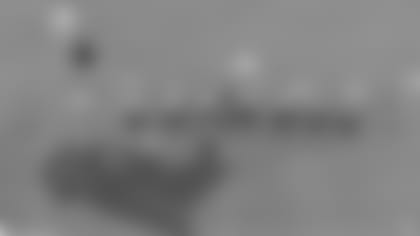 Judging from the two attached tight ends aligned on the right side, you may think this is a handoff where running back Christian McCaffrey crosses Newton to shoot through the closed B or C gap, given the extra protection to that side. Alas, it's a pass. But guys like Barrett aren't fooled. He's lined up outside the left tackle in a wide-5-technique with his closest defender on the line being Vita Vea, who's in the 2i just inside the left guard. Vea is actually key here. He's going to command a double team of the center and the left guard. It isn't until too late that 73 (guard Greg Van Roten) realizes Barrett, using a pretty textbook swim move, has blown past left tackle Daryl Williams and is on his way to bringing Newton down, ball still in hand.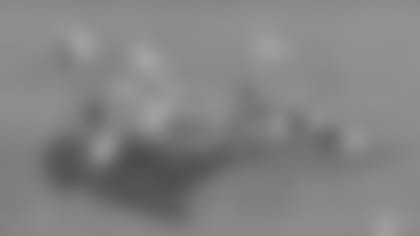 You can see the Van Roten's head just get around here to spy Barrett as he's breaking loose from his blocker with a straight shot at Newton, who is still holding onto the ball. Credit goes of course to Barrett for overpowering his man, but it's also that he was left one-on-one to do so, which is a credit to Vea and the respect opposing offenses have for him in the double team. There's also the fact that Newton is still holding onto the ball – meaning the secondary has done their job in coverage, not leaving Newton many options to get rid of the ball. You can see above that linebacker Lavonte David chipped tight end Greg Olsen on his way across the formation and cornerback Carlton Davis is tight to wide receiver Curtis Samuel at the time Newton is going through his progressions. He won't get to his next read before Barrett brings him down.
---
3rd QUARTER - 2nd & 10 at the TB 21 (09:23)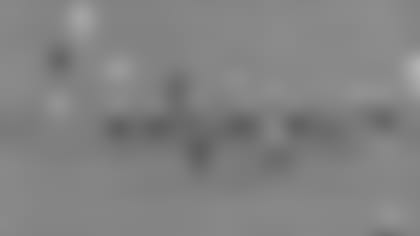 Here, we've got tight end Greg Olsen split out with running back Christian McCaffrey in the backfield and a basic five-man protection. The Bucs are showing a four-man front with an extra DB in their nickel package and therefore, are anticipating the pass. Barrett is again in a wide-5 with Vea next to him, this time looking like he's shading the center in the 1-technique. The play unfolds very similarly as his first sack – both Carolina center Matt Paradis and Van Roten get preoccupied with blocking Vea on the interior, leaving Williams one-on-one with Barrett.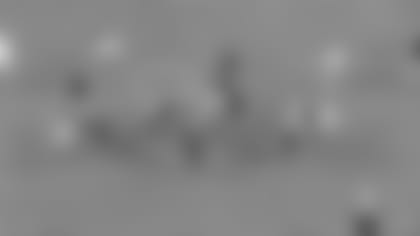 It goes exactly like last time, too. Barrett overpowers Williams, bends around the edge and gets to Newton from behind. Van Roten realizes it a little bit quicker than the last time, but still not soon enough. Vea does a good job keeping him engaged, too. Newton never gets beyond his first or second read as Barrett gets there in just over three seconds.
---
3rd QUARTER - 3rd & 17 at TB 28 (08:40)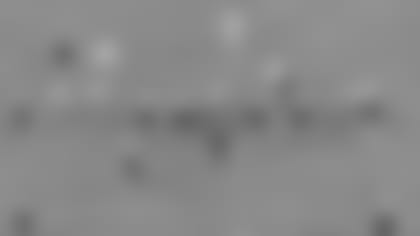 Initially, Carolina has running back Christian McCaffrey split out wide as a receiver on the line of scrimmage. Before the snap, he motions to the other side of the formation, opposite tight end Greg Olsen. The Bucs' defensive line is operating out of a four-man front still but only three players have their hand in the first. Vea is right over the center with defensive tackle Ndamukong Suh in the wide-5 like we've seen Barrett in the last two plays. It pushes Barrett to more of a 9-technique alignment, and although the closest Panther to him is a receiver, he's still eyeing Newton. Suh's positioning leaves Carolina's offensive line with a decision. Does Williams (60) take him? Or will he immediately cross Williams, leaving Van Roten one-on-one with Suh? You know Vea is going to keep Paradis occupied – so it becomes Barrett and Suh vs. Williams and Van Roten.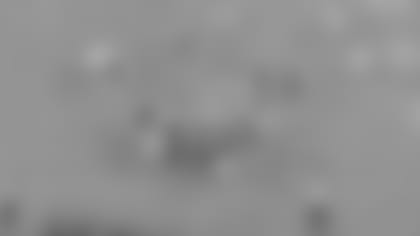 Unlike his last two sacks, where Barrett came around the edge to get to Newton, he instead is able to get leverage on Williams and cut back inside. As Williams goes down and the pocket collapses, thanks in large part again to a double-team by Paradis and right guard Trai Turner on Vea, Barrett is able to sneak through to get to Newton that way and bring him down for a loss on third down.
Quite the series for the first-year Buccaneer. Barrett has 4.0 sacks on the season, giving him the second-most of any player through Week Two, and though he's taken advantage of this opportunities, he's not getting them if it isn't for Vea in these situations, which deserves recognition. The 2018 first-round defensive tackles has taken a big step forward in his second year with the Buccaneers and as a result, is creating plays for others like Barrett.