STORY HIGHLIGHTS
RB Bobby Rainey would have become an exclusive rights free agent next week but sped up the process by signing a one-year extension Wednesday
Rainey led the Buccaneers with 532 rushing yards last year after injuries to Doug Martin and Mike James gave him a chance to start
Tampa Bay will enter camp this summer with a loaded offensive backfield and a plan to make use of several runners

The Tampa Bay Buccaneers still have 19 players who could potentially hit the unrestricted market next Tuesday, but they did tick one item off their free agency to-do list on Wednesday. Third-year running back Bobby Rainey, who proved to be something of a revelation in the backfield after being claimed off waivers in October, has been re-signed to a one-year contract.
Technically, Rainey's new deal is an extension of his 2013 contract, since that pact is still in effect until next March 11 and he had not yet been extended a tender offer as a pending exclusive rights free agent (ERFA). Since free agents of that type can only negotiate with their original team (once tendered), Rainey was almost certain to return in 2014 anyway, but Wednesday's deal takes care of the issue in a less-complicated manner.
Rainey was one of three players from the Buccaneers' 2013 roster who were due to become ERFAs, along with cornerback Deveron Carr and wide receiver Eric Page. Tampa Bay also has one pending restricted free agent (tight end Kyle Adams) and the aforementioned 19 players who will become unrestricted free agents if they are not re-signed before Tuesday.
Rainey, who began the 2013 season in Cleveland, got an unexpected chance to start for the Buccaneers and in the process helped establish some very valuable depth at the running back position heading into the 2014 campaign. The Bucs will take into next year's camp three different tailbacks who posted 100-yard games during the 2013 season, all of whom entered the NFL in 2012 or later: Rainey, Doug Martin and Mike James.
Rainey's opportunity to start came after season-ending injuries took Martin and his first replacement, James out of the lineup by Week 11. In his first extended NFL playing time, against the Atlanta Falcons on November 17, Rainey stepped in for the injured James and carried 30 times for 163 yards and two touchdowns, scoring a third time in the passing game. That made the former Western Kentucky star the first Buccaneer ever to score two rushing touchdowns and one receiving touchdown in the same game.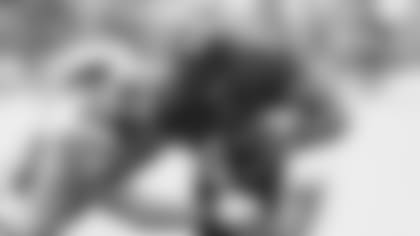 RB Bobby Rainey started six games for the Buccaneers in 2013 and posted two 100-yard rushing efforts
The 5-8, 212-pound Rainey also ran for 127 yards on 22 carries in a win over the Buffalo Bills in Week 14. In all, he appeared in 10 games with six starts for the Buccaneers and amassed a team-leading 532 yards and five touchdowns on 137 carries. Rainey also caught 11 passes for 27 yards and one score and returned one kickoff for 15 yards.
Rainey first entered the NFL as an undrafted free agent with the Baltimore Ravens in 2012. He began the season on Baltimore's practice squad before an October promotion to the active roster, but he was on injured reserve during the team's run to the championship in Super Bowl XLVII. Rainey went to training camp with the Ravens again in 2013 but was waived during the final roster cuts and subsequently claimed off waivers by the Browns. He got into six games in Cleveland before his waiver in October, rushing 11 times for 35 yards.
Rainey left Western Kentucky as the Hilltoppers' all-time rushing leader, with 4,523 yards on 1,695 carries. He hails from Griffin, Georgia.
Martin, who racked up 1,926 yards from scrimmage during a magnificent rookie season in 2012, is in the final stages of his recovery from a 2013 shoulder injury and is expected to take the lead in the Buccaneers' rushing attack. However, new Head Coach Lovie Smith has indicated that he would like to have several backs involved in the offense, and he has plenty of talent from which to choose.
James, a sixth-round pick out of Miami last spring, looked strong during his shot at the starting job in 2012, particularly in a 158-yard performance against Seattle's league-leading defense. He, too, should be ready to compete in camp after his rookie campaign ended with a knee mishap. With Rainey back in the fold, as well, the Bucs' backfield is stacked.