When the Tampa Bay Buccaneers broke training camp on Thursday, it appeared they had made it through the three-week process without suffering any injuries of long-term consequence. Unfortunately, that's not quite the case.
Rookie running back Charles Sims will undergo surgery on Saturday to repair an ankle injury suffered on the practice field on Tuesday. The estimated recovery and rehabilitation period is 12-14 weeks, which would extend to around the midpoint of the regular season, or a few weeks past.
That's a blow to Tampa Bay's offense, as the third-round pick out of West Virginia was expected to carve out a significant role, perhaps as a third-down back due to his advanced pass-receiving skills. However, if the Bucs had to absorb a significant injury at any position, they were perhaps best equipped to do so at running back, where they still have lead back Doug Martin, promising young players Bobby Rainey and Mike James and untapped speedster Jeff Demps.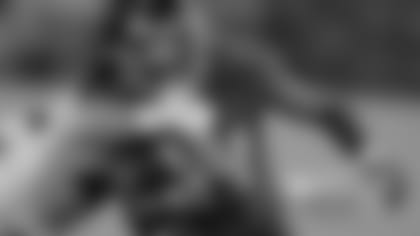 RB Charles Sims played in the Bucs' preseason opener in Jacksonville but subsequently injured his ankle in practice
In addition, Friday's announcement of Sims' pending surgery doesn't necessarily end his chances to suit up at some point during the regular season. Given the expected recovery time, the Buccaneers essentially have three options with Sims: Keep him on the 53-man roster and make him a game day inactive until he is ready to return; put him on injured reserve and end his season; or give him their one allotted "injured reserve/designated for return" spot for 2014. Under this option, the player can return to the active roster after he has been on I.R. for at least eight weeks.
The Buccaneers will play their second preseason game on Saturday against Miami at Raymond James Stadium. At that point, they'll begin sorting out how they want to arrange their running back corps, and it will be without Charles Sims for at least the first half of the regular season.