STORY HIGHLIGHTS
Should the Bucs trade up in order to draft Texas A&M WR Mike Evans if that's what it takes?
The 2008 draft looks a lot different six years later than it did right after the final round was completed
Who are the five greatest players in Buccaneer history?

The NFL generates a massive amount of online media coverage, a share of which is devoted to the Tampa Bay Buccaneers.  Even the most avid Buccaneer fans might not catch everything that's out there.
That is why I will be taking a weekly look around the web to gather some of the analysis you might have missed.  I'll also provide my own take on those articles; I will "read and react," if you will.
The pieces that caught my attention this week include Chris Burke's list on SI.com that pinpoints a specific player each team should consider trading up to keep.  I also took a look at an interesting down-the-road analysis of the 2008 draft and checked in on Pat Yasinskas' Greatest Bucs series on ESPN.com.  Keep in mind, the opinions stated below are my own and don't necessarily reflect Buccaneers management, coaches or ownership.
2014 NFL draft Round 1 trade scenarios: Players, positions each team should target, Chris Burke, SI.com You know, it's amazing.  A month ago, if the Buccaneers wanted to draft Texas A&M wide receiver Mike Evans, the popular consensus would be that they could trade down five or six spots and still be safe.  Now Evans has become the go-to name for the Bucs at pick #7 in everyone's updated mock drafts, and some think he's not even a sure thing to make it that far.
It would be interesting to know how much Evans' name has really been moving up or down on the 32 draft boards that really matter, the ones safely hidden in the limited-access draft rooms at the respective team headquarters.  If we think of Evans as, say, the 15th overall pick in mid-March but a month later believe he's the likely #7, is our collective thinking catching up with what NFL general managers thought all along, or are we all gathering together to inflate the receiver's real value?
If it's the latter, we can blame Mike Williams…well, not Williams himself but the April 4 trade that sent him to Buffalo.  Approximately five seconds after that deal went down, mock drafters began slotting Evans in to the Buccaneers' spot, and his stock was in full bull mode.  It's like working for a company for 10 years and never getting that big raise you want; what you need is interest from another company to get the ball rolling.
Which brings us around to Burke's article, which is a good read.  Everyone's always looking for a new way to twist the mock draft concept – such as Sports on Earth having three guys picking at once and Mel Kiper concocting a mock where he's the G.M. for each club (an Insider subscription article) – and Burke's angle is to explore the trade-up option for every team in the first round.  Pick by pick, from 1-32, the author analyzes the one player that the team in that slot should consider trading up to secure.
Given my three-graph screed above, you won't be surprised to learn that it's Evans' name in Burke's analysis at pick #7.  The author starts by wondering if the Bucs would even need to trade up to get Evans, stating that it "may all depend on where Watkins falls."  With recent rumors that the Detroit Lions are planning a trade up to draft the Clemson receiver (and rumors or speculation is probably all that is at this point), the prevailing wisdom is that a team looking to make that move had better get all the way up to #2.  Anything less and you could get leap-frogged by another team even more determined to get Watkins.  So I guess Burke's point is that if Watkins does go #2, then the feeding frenzy could shift its attention to Evans.
Fair enough, but I wonder two things here.  One, why would you not include the Buccaneers in the trade-up-to-get-Watkins sweepstakes?  I'm not convinced that a trade up will be necessary to land Evans, so if Tampa Bay is going to make a dramatic move, I would think it would be because they have identified Watkins as a can't-miss talent on a different level than Evans and the rest of this loaded class of receivers.  Interestingly, in Burke's own mock draft, updated on Thursday, he has the Buccaneers doing exactly that, swapping with the Rams to get #2 and take Watkins.  (By the way, the cost of that predicted trade is second-round picks this year and next year, which is scary but probably what it would take.)
And, two, should the Bucs want Evans (or any receiver) that badly to give up such precious resources?  Do you want to see your team essentially use both of its first two picks to grab one receiver in a class of wideouts that is considered almost historically deep?  I guess, maybe, if you think the receiver is a Calvin Johnson/Julio Jones-type of rare talent.  If that's your analysis of Watkins (or Evans), you'd better be right.
Still, that could be the case and to Burke's credit, there is reason within his own construct for the Buccaneers to be motivated to trade up.  The author also has the Rams contemplating the same move from their spot at #13, their second pick in the round.  That actually makes a lot of sense, particularly if St. Louis does find a trade partner at the #2 spot and picks up added assets to move down.  Let's say the Rams move down three spots and still get the offensive lineman they want at the #5 spot.  They might then be motivated to use some or all of the assets they got from that deal to move from #13 back up to #6 to get Evans before he falls to the Buccaneers.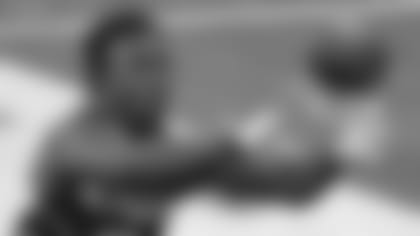 Clemson WR Sammy Watkins could be the target of several teams looking to trade up in the draft
To be straight right from the top on this one, I'm not going to have a whole lot of critical reaction to this one.  There's no point in arguing that Vernon Gholston wasn't a massive bust or that the most productive receivers in this class came from the second round on (maybe because there were no first-round receivers).  I just happen to love these years-later draft reviews – that's my main reaction, I guess – and this is a particularly good one.
Some things about NFL Draft coverage never change, though they do continue to expand.  We still get plenty of mock drafts for months before the actual thing, and we still get dozens of draft reviews as soon as it's over, most employing a letter-grading system.  Nowadays, however, most post-draft reviews are accompanied by the same caveat, in so many words: "I'm going to grade these picks now, but we all know that you can't really grade a draft until three or four years later.  But, again, I'm going to do it anyway, because I know you'll read it."
So it only makes sense that some industrious media souls would start looking back three, four or five years and start re-assessing NFL Drafts with the help of some actual on-field evidence.  Most of these hindsight-aided gradings follow the same format as the draft, simply going pick by pick and determining which ones were good and bad.  Some like to throw the players back into a pool and re-assign them based on how good they have proved to be.  Here's one of the latter type from WalterFootball.com, posted a year ago and redoing the 2008 draft.  Joe Flacco goes first to Miami instead of Jake Long, and the Buccaneers take a different cornerback, Dominique Rodgers-Cromartie instead of Aqib Talib.
This one by Football Outsiders is structured a little differently, however, and in typical FO fashion is very detailed.  Gower goes position by position, noting the conventional wisdom at the time of the strength of each position and which players have proved to be the biggest successes or busts.  He also links to FO's own consolidation of the post-draft grades from 2008, which is very entertaining in and of itself.  It's interesting that the Kansas City Chiefs were immediately thought to have had the best draft and…well, they actually did do quite well despite really missing with the fifth overall pick.  That was LSU defensive tackle Glenn Dorsey, who was definitely a highly-rated prospect.  He would play five seasons in Kansas City and record a total of four sacks before moving on to San Francisco last year.  From that point on, the Chiefs succeeded by following the all-Brandon/Branden strategy, finding not one but two starting cornerbacks in Brandons Flowers and Carr and a starting left tackle in Branden Albert.  Oh, and round three brought Jamaal Charles, of whom you've probably heard a thing or two.  The Chiefs even found an eventual starting right tackle in the sixth round in Barry Richardson.  Yep, a good draft.
On the other hand, the Washington Redskins received the third-best aggregate grade and, in the long run, really only got a decent tight end (Fred Davis) and a long-time defensive end reserve (Rob Jackson) out of it.  Meanwhile, Tennessee got the worst composite grade, but running back Chris Johnson turned out quite nicely at pick #24 and the Titans also got a productive DT in second-rounder Jason Jones plus such decent contributors as tight end Craig Stevens, defensive end William Hayes and wide receiver Lavelle Hawkins (now a Buccaneer!).  Even seventh-rounder Cary Williams, the 229th overall pick, has turned out well, but Tennessee doesn't get much credit for that one as he only stuck with them briefly before rising to prominence in Baltimore.
Oh, but I digress.  Back to the main article on the 2008 draft.  Gower points out that this was the last draft that went running back heavy in the early picks, with eight of them among the first 64 picks.  There were some hits and misses with the first four (Darren McFadden, Jonathan Stewart, Felix Jones and Rashard Mendenhall) but the next three were the pretty incredible trio of Chris Johnson, Matt Forte and Ray Rice.  Jamaal Charles went 73rd overall, to the Chiefs.
As I mentioned earlier, the first round was receiver-free.  In this case, the wideout frenzy waited until Round Two, where an amazing 10 of them went, and boy was that a mixed bag.  Jordy Nelson and DeSean Jackson turned out great (I disagree with the author putting Nelson above Jackson overall, particularly since it seems to be based on Jackson's recent and controversial dismissal in Philly), and there has been some good work turned in by Eddie Royal and Jerome Simpson.  In retrospect, Donnie Avery probably shouldn't have been the first receiver off the board, but he's had a decent run (203-2,685-14) so far despite playing for four different teams.  On the other hand, Devin Thomas, James Hardy, Malcolm Kelly and Limas Sweed have all been total busts, and the less we say about Appalachian State's Dexter Jackson here on the Buccaneers' web site, the better.
Anyway, you don't need me to assess the booms and busts from the 2008 draft; that's what the FO article is for.  I'll just note a few things I find of particular interest:
There was a strangely high number of quality offensive linemen taken in the later rounds, led by current Buccaneer Carl Nicks;
The defensive line crop was thought to be pretty darn good that year and six years later it looks like a total wasteland;
If it's been awhile since you've enjoyed some Matt Millen-bashing, scroll right down to the linebackers section and you won't be disappointed;
In retrospect, Chad Henne has proved to be a pretty good value pick in the second round, much better than the passer who went right before him, Brian Brohm.  Remember Brian Brohm?  Exactly. 3. Greatest Buccaneers: No. 5, Pat Yasinskas, ESPN.com
ESPN.com's Pat Yaz, who covers the Buccaneers as part of the site's NFL Nation blog-roll, was a guest on our most recent Pewter Panel.  His recent pick as the greatest player in franchise history, Hall of Fame linebacker Derrick Brooks, was the other guest on that panel.
I'm probably guilty of going to the NFL Nation well a little too often in Read and React, but as soon as I saw Yasinskas' pre-vacation post alerting us that he was going to be ranking the five greatest players in Buc history, I knew I'd be chiming in at some point.
Yasinskas finished the countdown on Friday with Brooks; there was really no mystery who it would be after he named Lee Roy Selmon #2, and he said so at the time.  In fact, the top four on the list were all essentially foregone conclusions: Brooks, Selmon and Warren Sapp are the three lone Hall of Famers in team history so they were certain to be there.  Ronde Barber is most likely headed to Canton in a few years, too, so he's the obvious fourth choice as well.  The only real issue is how to rank them, and I can't find any fault in Yasinskas counting up from Barber to Sapp to Selmon to Brooks.  You could flip the first two, and you could flip the second two, according to personal preference, but I think I'd have put them in the same order.
You may recall that Yasinskas also named a "Mount Rushmore" for the Buccaneers in February, and I chimed in on that as well.  Again, the three Hall of Famers were no-brainer choices, but the fourth player was a tougher call.  Yasinskas went for Tony Dungy; I argued for Mike Alstott instead.  That's a different exercise, in which we both considered factors beyond the raw numbers.  Yasinskas liked Dungy because he brought respectability to the franchise and I favored Alstott because I wanted an offensive presence on the mountain and because Alstott is such an enduring fan favorite.
So, does that mean I'm going to put Alstott at #5 on the greatest Bucs list, too?  Not necessarily.  For one thing, I don't feel the need to shoehorn offense into the discussion and I also wouldn't consider fan popularity a deciding factor.  Now, even without those factors, Alstott is still a very strong possibility, but there are others.
One of the others is Doug Williams, the quarterback at the helm of the Bucs' first three playoff teams (and, later, of the Super Bowl champion Washington Redskins).  That's Yasinskas' pick, and he also mentions John Lynch, Jimmie Giles, Mike Alstott, Paul Gruber and Hardy Nickerson.  That's a pretty good Top Ten list and you probably don't need to expand in order to pinpoint the choice for #5, although James Wilder would have an argument as the all-time leading rusher and pass-catcher in franchise history.  If we're being as thorough as possible, maybe we also pay lip service to Tony Mayberry, Shelton Quarles, Dave Moore, Richard Wood, Simeon Rice, David Logan, Mark Carrier, Donnie Abraham and Warrick Dunn.
Williams is a good choice, and for the reasons alluded to by Yasinskas: He was a leader, a team player, a clutch producer and the quarterback that got the Bucs to the playoffs for the first time.  I just don't think he's a better choice than Alstott, Gruber, Lynch or Nickerson.  Or Wilder, really.  Here's one reason why: Brad Johnson.
I did not include Johnson in my "being thorough" list above because, while his peak was as good as it gets for any Buc at the game's most important position, he was only in red and pewter for four years.  And that's the rub with Williams, too.  Williams started with the Bucs as a draft pick and he is probably more heavily associated with the franchise than Johnson, but he only played one more season for the team than did Johnson.  Yasinskas mentions as much, though it's not enough to knock him out of the five-hole on his list.
Williams played and started 67 games as a Buccaneer; Johnson's totals were 49 and 49.  Williams had 207 more attempts and 1,708 more passing yards but 145 fewer completions.  His TD-INT ratio was 73-73, while Johnson's was 64-41.  Williams won 33 games as a Buc starter; Johnson 26.  They both started four playoff games.  Williams rather impressively led the four-year-old Bucs to the NFC Championship Game in 1979; Johnson guided the Bucs to the Super Bowl XXXVII title.  Both were backed by the league's best defense in those respective seasons.  Johnson's playoff passing numbers as a Buccaneer are far superior to Williams.
Now, I am most definitely not arguing that Johnson should be above Williams on a ranking of the all-time greatest Bucs.  If anything Williams would be a stronger candidate for the #4 spot on Mount Rushmore than as the #5 player on this list.  What I am saying is that I don't think we would even consider Johnson for the fifth spot on this list, and I don't see where Williams gets enough separation from Johnson to take the spot.
To me, it comes down to Alstott, Gruber, Lynch or Nickerson and I am absolutely torn.  You could pick any one of those for #5 and I wouldn't put up much of an argument.  If Nickerson had played his entire career in Tampa, instead of six early seasons in Pittsburgh, he probably would have run away with it. And if Lynch's last four Pro Bowl seasons were with the Buccaneers, he'd be a no-brainer, too.  As it is, I think it comes down to Lynch or Gruber for me, and I'll go with Lynch, who might also end up in the Hall of Fame someday.
Or Gruber.  Dang.  Ask me again tomorrow and I'll probably change my answer.  Right now, it's Lynch at #5 for me.