STORY HIGHLIGHTS
ESPN.com's Pat Yasinskas would put Derrick Brooks, Tony Dungy, Warren Sapp and Lee Roy Selmon on the Bucs' Mount Rushmore
Other candidates for that honor include Mike Alstott, the most decorated offensive player in team history
The NFL won't announce compensatory draft picks for another month or so, but one analyst has already predicted them all

The NFL generates a massive amount of online media coverage, a share of which is devoted to the Tampa Bay Buccaneers.  Even the most avid Buccaneer fans might not catch everything that's out there.
That is why I will be taking a weekly look around the web to gather some of the analysis you might have missed.  I'll also provide my own take on those articles; I will "read and react," if you will.
The pieces that caught my attention this week include an ESPN.com blog post on the figures that would make up a Buccaneer version of Mount Rushmore and one analyst's prediction on which teams would get compensatory draft picks this year.  Keep in mind, the opinions stated below are my own and don't necessarily reflect Buccaneers management, coaches or ownership.
We're leading off with a Pat Yasinskas post for the second straight week, but the question posed in this one is just too tantalizing to pass up if you're a Bucs' fan.
You've probably seen this concept before; Grantland's Bill Simmons has certainly employed it in the past.  If you were to replace the presidents in Mount Rushmore with enormous Buccaneer visages, which four would you pick to properly represent the franchise?  The problem, of course, is that you are limited to exactly four choices.  In the case of the NFL's 27th franchise, that's either two or three spots too few or, alternately, one too many.
If the real Mount Rushmore was only three faces, it would probably be Teddy Roosevelt who lost his spot, and if you could only pick three Bucs, the debate would probably be easier, too.  Since there are exactly three Buccaneers in the Hall of Fame now, following the election earlier this month of Derrick Brooks, you would almost have to pick those three and be done with it.
That's essentially the conclusion Yasinskas came to, as well.  He starts with Lee Roy Selmon since he was "Tampa Bay's first superstar," as well as it's only Hall of Fame rep for almost four decades.  He gives Thomas Jefferson's spot to Brooks, calling him the best player in franchise history.  Warren Sapp, Hall Class of 2013, takes the Lincoln position based on his being the first first-ballot Canton inductee in team history.
That leaves one spot, and far too many valid choices.  Yasinskas goes with Tony Dungy because he was "the first coach to make this franchise consistently respectable."  That's a perfectly fine selection, but check out the list of others he considered: Ronde Barber, John Lynch, Mike Alstott, Doug Williams, Jon Gruden and John McKay.  You won't find a bigger Tony Dungy fan than me, but I'm not sure I would have made the same choice from that list.
You also won't find a bigger Ronde Barber fan.  As I mentioned in a One Buc Mailbag earlier this week, I consider Barber a lock for the Hall of Fame and the Bucs' best bet to get a fourth figure through the door in Canton.  Given the above reasoning for choosing Selmon, Brooks and Sapp as the first three faces on the mountain with virtually no debate, that would seem to make Barber the best choice for Roosevelt's spot.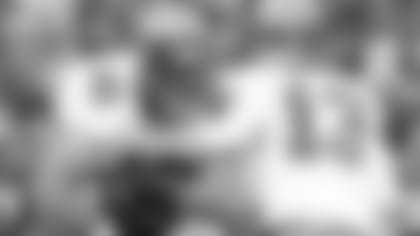 FB Mike Alstott made six Pro Bowls and is the Bucs' all-time leader in touchdowns by a wide margin
Right now, however, I don't think that would be my choice.  When the Mount Rushmore sculpture was created, it was meant to celebrate the first 150 years or so of U.S. history and U.S. presidents.  There might be a different Roosevelt on the mountain if it had been sculpted later.  Similarly, if we're putting up our Mount Rushmore now, I think we need it to reflect the first 38 seasons of Buc football.
In that vein, Barber would still be an excellent choice, maybe even the best one.  My problem there, however, is that you have four defensive players.  Yes, Tampa Bay's defensive history has been much, much richer than its offensive history, so that wouldn't be terribly surprising. But I want my Bucs Mount Rushmore to at least give a nod to offense, and so I would choose Alstott.  The A-Train has the most Pro Bowl selections for an offensive player in team history, and by far the most touchdowns.  There may be a few players that would have a purely statistical argument to top Alstott (e.g. James Wilder, Mark Carrier), and if we're talking long-time dominance at a certain position, Paul Gruber would be a strong choice, too.  But Alstott may just be the most beloved player in team history this side of Lee Roy Selmon, and I think that wins him the spot.  I think Buccaneer fans would be proud to see Alstott's face up there with the three Hall of Famers on our very own Mount Rushmore.
I actually happened upon this story after seeing it referenced by Sander Philipse of BucsNation.  This is purely informational, not an opinion piece, so there isn't anything to debate.  (Not to mention, the formula that the NFL uses and that Craig Turner approximates is quite complicated, so I'm happy to find someone else who has done all the work.)  This is interesting information, though; at a time when the Bucs are down two of their seven picks in the upcoming draft, even an additional late-round selection is helpful.  The NFL's announcement of compensatory draft picks almost always comes out during the last week of March, so we're getting this info more than a month in advance.
Each year, the NFL awards 32 compensatory picks that are based on each team's gains and losses in the previous year's free agency period.  Teams that are judged to have lost more than they gained (by the aforementioned complicated formula employed by the league's Management Council), receive one or more picks placed at the end of the rounds, beginning in Round Three.  Greater net losses earn more and higher picks; the majority of the picks fall at the end of the seventh round.
It's basically a zero-sum system, as one team's gain is another team's loss.  Usually, roughly half of the 32 teams get at least one compensatory pick, and a handful of teams get multiple selections.  The Buccaneers last got a compensatory pick in 2011; since then, they've been quite active in free agency and thus have had no compensation.
Kempski's article suggests the Bucs will be back on the list in 2014, though they won't get one of the coveted earlier-round picks.  Turner's projection has Tampa Bay's pick falling fourth to last in the seventh round, before two picks for Atlanta and the Mr. Irrelevant honors for San Diego.
The follow-up question you may be asking is: Will that extra pick matter?  Sometimes multiple 7th-round selections can help a team trade up in earlier rounds, but that's not applicable here because compensatory picks cannot be traded.   (I honestly have never understood the rationale behind that rule, by the way.  If an extra pick is an asset to compensate for a loss, why can't a team use that asset to its usual full capacity?)
So the question boils down to, Is the player picked at #253 likely to help the team?  Perhaps likely is too strong of a word; there are great players and busts found in every round, but more first-rounders are going to stick than seventh-rounders.  Still, there's reason for optimism.  Last year's #253, U-Mass running back Michael Cox, made the Giants' 53-man roster and played in 14 games with one start.  The 253rd pick in 2012, Northern Illinois University quarterback Chandler Harnish, has stuck around with the Colts and has a good shot to be #2 behind Andrew Luck this year.  Likewise, the 253rd pick in 2011, West Virginia defensive tackle Chris Neild, is still with the Redskins, having played 16 games in 2011 and eight in 2013, sandwiched around a 2012 season lost to an ACL tear.
And in 2010, it was the Buccaneers who exercised pick #253, a compensatory selection.  Their choice: Stanford defensive end Erik Lorig, who was subsequently converted to fullback.  Lorig is due to become an unrestricted free agent in March, but for most of the last two years he has been the team's starting fullback.  In fact, Tampa Bay made four seventh-round picks in 2009 and 2010 combined, and all of them were able to make some sort of contribution: Lorig, Sammie Stroughter, E.J. Biggers and Dekoda Watson.