STORY HIGHLIGHTS
The Ultimate Bucs Team draft on PewterReport.com is fun, but I couldn't help making a few suggestions
NFL Network Reporter James Koh makes a good point about Doug Martin's fantasy value, and backs it up with stats
The NFL Draft is on the move, and that's a good thing

The NFL generates a massive amount of online media coverage, a share of which is devoted to the Tampa Bay Buccaneers.  Even the most avid Buccaneer fans might not catch everything that's out there.
That is why I will be taking a weekly look around the web to gather some of the analysis you might have missed.  I'll also provide my own take on those articles; I will "read and react," if you will.  In some cases, these choices also serve as recommendations, alerting you to articles of particular interest about your Buccaneers.
The pieces that caught my attention this week begin with an enjoyable draft on PewterReport.com that dips into the entire history of Buccaneer players.  I also share some thoughts on one expert's opinion on Doug Martin's potentially diminished fantasy football value, and on news that the NFL Draft is on the move.
Keep in mind, the opinions stated below are my own and don't necessarily reflect Buccaneers management, coaches or ownership.
Okay, this is fun.  In a very generous and much appreciated review of our big "First 100 Days" project, Mark Cook wrote the other day that he was "jealous" of the opportunity we had as Buccaneers.com contributors to go behind the scenes with Lovie Smith.  Well, I'm jealous of Mark and Scott Reynolds over what they did here: Drafting two teams made up from all the best players in Buccaneers franchise history.  I wish we had thought of that first; now it's already been done.
So the next best thing, one supposes, is to review the drafting efforts of Cook and Reynolds and see where I agree and disagree.  We didn't think of this one first, but at least it's the perfect fodder for Read and React.
Cook and Reynolds keep the concept simple and avoid the 10-paragraph preamble and "establishing of rules" to which I likely would have been prone.  Instead, they simply say they are each drafting 11 starters on offense, 11 on defense, a punter, a kicker, a return man and a special teams ace…and they get right to the drafting.
I'm going to assume by the results that this much was agreed upon: You get the best version of the player chosen, and it doesn't really matter how long they were Buccaneers or if they peaked in Tampa.  Otherwise, I'm not sure how you could draft Darrelle Revis (as Cook did with the fifth overall pick), Randall McDaniel (as Cook did with the 19th pick) or Carl Nicks (as Reynolds did at #30).  McDaniel, in particular, saw all of his best days with the Vikings, but I guess his brief career-ending cameo in Tampa gave the author an opportunity to put a Hall of Fame guard in the middle of his line.
I'm going to use that premise to make a suggestion to Cook, who took Micheal Spurlock as his kick returner after Reynolds had already grabbed Karl Williams (who I recently anointed as the top return man in franchise history).  Spurlock is a fine pick, but no one had a more electric (albeit brief) run in that job as a Buccaneer than Clifton Smith did in 2008 and 2009.  Smith is, it should be noted, the only Tampa Bay return man ever to make the Pro Bowl, and he and Spurlock are the only two Bucs to have scored on both a kickoff and a punt return.  Spurlock had one of the greatest moments in team history in 2007 when he returned a kickoff for a touchdown to break a 22-year-long franchise drought, but I think Smith was a better bet to take it the distance on any given kick.  (To be fair, Reynolds specifically states in a later article that he chose Williams over Smith because Williams also brought value to the team as a third-down receiver.  To be fair to me in return, it's not clear from that beginning that drafting players who can help you in other positions is part of the game.)
Cook also took guard Ian Beckles at pick #31 after he and Reynolds had already picked off McDaniel, Davin Joseph and Carl Nicks.  Put me in that same position and I would have selected Greg Roberts over Beckles.  It's legitimately hard to find great guards in Buccaneer history (thus the McDaniel and Nicks picks, which only works if you get the best career versions of those players).  However, I once had a conversation on that very topic with former Buccaneers quarterback Doug Williams and he was very high on Roberts, his teammate from 1979-82.  Tampa Bay drafted Roberts in the second round in 1979 and, according to Williams, he immediately upgraded the team's offensive line.  Williams said that Roberts was a mauler (exactly what Cook says he's looking for in the article) but also very good at pulling and blocking on the run.  It was no coincidence that Tampa improved from 19th in rushing offense in 1978 to eight in 1979.  Roberts career wasn't very long, it's true, but if I'm getting a player at his peak, I'll take him over Beckles.
There are plenty of great or near-great running backs in Buccaneer history, so both Reynolds and Cook did fine by their backfields.  Cook reunited "Thunder & Lightning," which was too good to pass up, while Reynolds pairs franchise leader James Wilder with Earnest Graham, one of my favorite all-time Bucs.  Reynolds puts Graham in as fullback but would probably give him some carries along the way.  That's perfectly fine, but here's another idea: How about Doug Martin in Graham's place?  James Wilder started his career playing fullback, so could certainly log some time in that spot.  You'd still want to give Wilder plenty of carries, but Martin is a more dynamic runner to pair him with than Graham, who would give you two somewhat similar ballcarriers.  Wilder and Martin together in the backfield would surely keep a defense on its toes, not knowing what to expect next.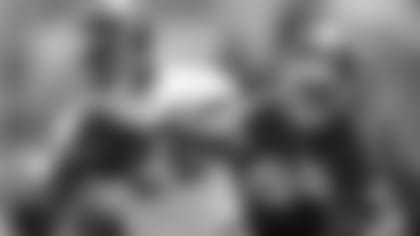 Is there room for Doug Martin to join Lavonte David on the Ultimate Bucs Team?
Including a "special teams ace" was a nice idea and it allowed Cook to give a shout out to a former Buccaneer fan favorite, Kenny "The Shark" Gant.  Gant came over from the Cowboys with a reputation as a great special teamer, and he backed that rep up in Tampa, and with great style.  After Cook took Gant at #39, Reynolds knew he could wait until the end to get his special-teamer and he did just that, landing on Dwight Smith with the 52nd and final pick.  I honestly did not remember Smith having a reputation as an exceptional special-teamer, and I'm wondering if Reynolds really wanted him as a nickel corner, which he mentions in his analysis.  Tight end Jim Obradovich (1978-83) was probably the first Buccaneer to be known as a star on special teams, and thus would have been a good pick.  Also, I wonder if it would be within the rules to pick the same player for two different positions.  If that is possible, I would take Shelton Quarles as my top special-teamer; Reynolds took Quarles as his starting strongside linebacker at pick #24.
Both authors followed up the draft article with separate pieces breaking down their own final teams.  Reynolds rightfully points to his linebacking trio of Quarles, Hardy Nickerson and Derrick Brooks as the strength of his team.  Of course, there have been so many good linebackers in Buccaneer history that Cook's "leftovers" still give him Lavonte David, Cecil Johnson and Hugh Green.  Not too shabby.  Where I think Reynolds really has Cook is on offense – I like his line, his tight end (Jimmie Giles) and his wide receiver pairing (Mark Carrier and Keyshawn Johnson) better.
Cook's analysis of his team starts with his drafting emphasis on the defensive front, and for good reason.  He ended up with a front four that includes Hall of Famers Warren Sapp and Lee Roy Selmon and two underrated performers (in my opinion) in Greg Spires and David Logan.  Spires and Logan were both hard-working players who would probably benefit greatly from playing on the same line as both Sapp and Selmon.
There's also a poll on the site asking which of the two writers drafted the best team.  Cook had a slim lead on Reynolds as of Friday morning.  Cast my vote, very narrowly, for Reynolds team to make the overall results just a little closer.
A collection of fantasy football experts recently conducted a mock draft on NFL.com – 10 teams, 15 rounds, standard lineup options.  James Koh, an NFL Network reporter, was not one of the 10 people involved in that draft but if he had been he almost certainly would have ended up with Doug Martin on his team.
That's because Koh isn't buying the prevailing wisdom that Doug Martin's fantasy value will be seriously compromised by a backfield-by-committee approach under new offensive coordinator Jeff Tedford.  I agree and made some of the same points in a mailbag back in May.  I just happen to think that Koh makes those arguments more convincingly, and if you read his article and agree you could end up with a minor steal in your fantasy draft.
Koh says the average draft position projections have Martin going between the late second and early fourth rounds, just a year after he was a top-five pick in a majority of drafts.  A fall was inevitable after Martin suffered a shoulder injury early last season and provided very little for those owners who had invested heavily in him.  That's understandable.  Where Koh takes exception is the additional knock on Martin due to the Bucs' depth at running back and Tedford's comments about making Martin's workload lighter this year.
The author wasn't specifically referring to the aforementioned NFL.com expert draft, but he could have been.  Even though that draft was dominated by running backs – all 10 picks in the first round, Martin wasn't taken until the 17th pick.  I'm of the opinion that the more typical leagues (the ones you and I play in) will have a few quarterbacks thrown in there among the top 15, and if that happens you can easily see how Martin could slip into the third round.
Crazy talk, says Koh.  "While Tedford may have indicated a time share, his 11-year stint in Berkeley shows that maybe his idea of splitting carries and your idea of splitting carries is vastly different," he writes, then backs that up with statistics.  During Tedford's tenure at Cal, his lead backs averaged 220 carries per season, and the author projects that out to between 275-300 carries in the longer NFL season.  Tedford's backup backs got less than 100 carries, or about 120-130 when project to a 16-game campaign.
That 275-300 range works out to between 17 and 19 carries per game.  In the mailbag I linked to above, I suggested that even with a lightened load Martin could still get 18-20 carries per game.  Despite his comments about sharing the load, Tedford doesn't reduce the fantasy value of running backs by his presence, he enhances it.  Koh says that with the exception of Tedford's last year at Cal, his lead backs averaged 1,300 yards and 13 touchdowns per season, which is fairly amazing.
Of course, we haven't yet heard many details of what the Buccaneers' offense will look like in 2014, apparently by design.  As far as I'm concerned, we might want to keep these optimistic thoughts about Doug Martin's fantasy value under our hats, as well.  IF I can get him late in the second round in my own league, I'll be happy that everyone else listened to their fears of a backfield by committee.
This idea has been a hot rumor for a while now, and on Thursday NFL Commissioner Roger Goodell confirmed it to reporters attending a Thursday Night Football panel at the Beverly Hilton.  Farmer of the L.A. Times broke the news and it circulated rapidly.
I welcome this news.  Sounds like a great idea to me.  The draft did seem like a fixture in New York, having been held there for half a century, but there's no real reason it needs to stay that way.  The real draft work is conducted in 32 private rooms around the country, at various team headquarters; Radio City Music Hall was where the show was.
Now that show's going on the road, to either Chicago or Los Angeles next year.  Great.  My hope is that they move it around aggressively, as they have started to do with the Super Bowl.  Once constrained mostly to such classic Super Bowl locations as New Orleans, Miami and Los Angeles, the big game has recently hit such non-traditional spots as New York, Indianapolis, Detroit and Jacksonville.  The ever-growing spectacle that is the NFL Draft has essentially become the Super Bowl of the offseason; the league might as well let other fanbases get in on the fun.  And in this case, weather isn't much of a factor.
Speaking of that ever-growing spectacle, there was one morsel in Farmer's story that didn't sound nearly as appealing to me: A four-day draft.  I thoroughly enjoy draft weekend, but three days is just plenty, thank you.  It becomes a grind near the end.  Here's hoping the draft becomes an annual traveling show…that remains just three days long.