STORY HIGHLIGHTS
There are three Bucs on the ESPN.com Insider list of 25 breakout players from the ranks of lower draft picks
If DE William Gholston matches the seven-sack prediction of one analyst, the Bucs' pass-rush should be in good shape
Among the many Bucs opening camp with something to prove are Da'Quan Bowers, Mason Foster, Luke Stocker and Chris Owusu

The NFL generates a massive amount of online media coverage, a share of which is devoted to the Tampa Bay Buccaneers. Even the most avid Buccaneer fans might not catch everything that's out there.
That is why I will be taking a weekly look around the web to gather some of the analysis you might have missed. I'll also provide my own take on those articles; I will "read and react," if you will. In some cases, these choices also serve as recommendations, alerting you to articles of particular interest about your Buccaneers.
There was a lot to read about the Buccaneers (and the NFL) this week with the arrival of training camp, and that's only going to increase in the days to come. Much of it is of the preview variety…which Bucs are ready to emerge? What are the key position battles? Whose jobs are in jeopardy? Who are the most important newcomers. Amid all of that, there were two lists in particular that caught my attention this week: an ESPN.com rundown of the relative unknowns ready to break out and a TBO.com piece by Ira Kaufman on the five Bucs with the most to prove in training camp.
Keep in mind, the opinions stated below are my own and don't necessarily reflect Buccaneers management, coaches or ownership.
I don't often link to stories on subscription areas of sites because it means many of you will be unable to read the whole thing (unless you want to sign up, that is). This one, however, was just too good – from the perspective of a Buccaneers fan, that is – to pass up.
The author writes for the indispensable Football Outsiders site and that site has been creating this specific list since 2007. The list seeks to "highlight the lower-drafted players who are set to make a much larger impact in the seasons ahead. Schatz claims that previous lists have correctly identified pending breakouts from the likes of Miles Austin, T.Y. Hilton, Geno Atkins and Cortland Finnegan.
You can read their ground rules if you want, they're before the subscription jump. In a nutshell, we're talking about players from lower rounds of 2011-2013 drafts (or undrafted free agents) who haven't established themselves as starters yet. The reason this year's list should be of interest to Tampa Bay fans is that three of the 25 players on the list call One Buc Place home.
You can also see before the subscription jump that Arizona Cardinals running back Andre Ellington is #1 on Schatz's list (take note, fantasy football players). I won't give away the rest of it expect to note the three Buccaneers that made it: defensive William Gholston, wide receiver Chris Owusu and guard Patrick Omameh. Gholston makes the top 10 on the list while both Owusu and Omameh are in the last group of five.
All three easily fit the qualifying criteria. Gholston was a fifth-round pick in 2013 while both Owusu and Omameh were undrafted free agents (Omameh originally came in with San Francisco but was plucked off the 49ers' practice squad during the 2013 season). Gholston is 23 while the other two are 24. Owusu has four starts under his belt, Gholston two, Omameh none.
Obviously, I'm not going to argue with the list – getting three Bucs among the 25 actually seems like a bonanza. The Bucs have plenty of under-26 talent that seems ready to break out, but most of those players have already started more than five games – Johnthan Banks, Mark Barron, Tim Wright, etc. I personally think 24-year-old Rashaan Melvin, an undrafted free agent in 2013, has a chance to break out, but he hasn't even played a game yet so there's no way you could put him on this list.
Of course, the same could be said of Omameh, but the difference here, as Schatz points out, is that there's a very realistic scenario in which Omameh finds himself a starter in 2014. He got a lot of time with the first-team line at right guard during the offseason, and that spot is wide open as training camp begins. Schatz likes Omameh's chances due to his intelligence (he had scholarship offers to MIT and Princeton). Because I personally believe Omameh has a very good chance to win that job, I would have put him higher than Owusu on this list.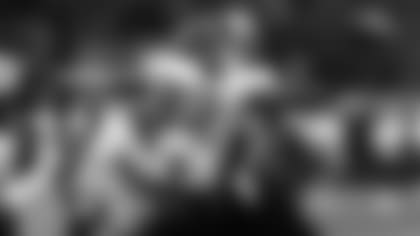 WR Chris Owusu is a young breakout candidate after an impressive 2014 offseason
Owusu had a great offseason, which is not something Football Outsiders is going to include in its analysis, and which admittedly can be overblown at times since non-contact practices don't offer the bst evidence. What Schatz likes about Owusu is his speed, and he draws a parallel to Johnny Knox and how Head Coach Lovie Smith was able to use Knox to good effect in a pair of 700-yard seasons. Still, Owusu has looked good at this time of year before; he'll need to have another really good camp and preseason to hold off Robert Herron and Louis Murphy for the primary #3 job.
The most interesting part about the FO writeup on Gholston is a link to another story on up-and-comers, this one a "Second year spotlight" on NFC South players on NationalFootballPost.com. NFP author Greg Gabriel makes a rather aggressive prediction for Gholston this year: 7 sacks and 50 tackles. As Schatz points out, that's not likely to happen unless Gholston supplants Adrian Clayborn as the starting left end. The Bucs are doing whatever they can to rekindle a pass rush that has been relatively dormant for half a decade; if Gholston gets seven sacks, on top of what one can reasonably expect from Michael Johnson, Gerald McCoy, Clinton McDonald and Clayborn, it's almost certain the team will have succeeded in that endeavor.
Kaufman (from whom you can hear more in our latest Pewter Panel) doesn't really elaborate on the idea here before diving into the list because it isn't necessary. Every year dozens of players report to Tampa Bay's training camp with something to prove, in varying degrees. Many of the younger players are trying to prove they deserve a spot among the regular-season 53, while others want to force their way into the starting lineup. Occasionally, a more established player needs to prove the he's still the best option on the depth chart at his position.
There's a little bit of all of that on Kaufman's list, and they're all fine choices.  Really, you could probably go about 40 deep on this list, so presumably by choosing five you are saying that these are the players with the most to prove.  The list starts with defensive end Da'Quan Bowers, as it should.  Not even Bowers would argue that he's high on that list.
Jeff Demps is a good choice for Kaufman to highlight among those players trying to grab one of the last spots on the roster.  The range of possibilities seems so wide for Demps – he could prove to be the team's best return man, he could prove to be a legitimate part-time weapon on offense or he could prove to be not ready for a significant NFL role.  I also like the choice of Mason Foster, who is a proven starter and yet will have to fend off a real challenge from newcomer Dane Fletcher and show that he's a good fit in the Cover Two defense.
Kaufman rounds out his list with Mike Glennon and Jeff Tedford. Again, fine choices, but if I were asked to come up with my five under the same headline, I'd probably replace these two, as there are so many good alternatives. Kaufman's point is that Glennon needs to prove he has adequate mobility to be the quarterback of the future in Tedford's offense, and that will be more difficult with the reduced snaps of a back-up. Of course, there are plenty of snaps to go around for the reserves in training camp and especially in the preseason games, so Glennon shouldn't have too much trouble showing what he's got. And, in one sense, Glennon goes into a camp in a fairly secure spot. Sure, he will be trying to win his starting job back from McCown, but if he doesn't he's practically a lock to make the roster as the #2 passer. That was assured when Lovie Smith declined to draft a quarterback in May and then immediately slapped Glennon with that "quarterback of the future" tag.
And while Tedford does indeed need to prove that he can transfer his coaching success from the NCAA to the NFL, as Kaufman says, he probably doesn't need to worry about his job security in 2014. In that respect, he has less to prove than many of the players who reported to camp on Thursday.
If I were allowed to replace those two perfectly acceptable choices, I believe I would choose from the following list:
Luke Stocker. The Bucs have completely reloaded at the tight end position since the last time Stocker was healthy enough to play, developing converted receiver Tim Wright, signing free agent Brandon Myers and drafting top prospect Austin Seferian-Jenkins. Lovie Smith said on Thursday that it is definitely possible to get three different tight ends involved in the offense at once, and the varied skills of Wright, Myers and Seferian-Jenkins make for an intriguing trio. Still, both Seferian-Jenkins and Smith made a point on Thursday of saying, "Don't forget about Luke Stocker." The Bucs had high hopes for Stocker for years but he had difficulty escaping the injury bug. It's not inconceivable that the team would keep four tight ends, especially if it passes on keeping a fullback, but Stocker will definitely have to prove he has value to the offense to make that happen.
Johnthan Banks. The Bucs' second-round pick in 2013, Banks had a decent rookie season, starting opposite Darrelle Revis and recording 50 tackles and three interceptions. Retaining his starting job is not a sure thing heading into camp, though. Veteran Mike Jenkins is a direct competitor for the right cornerback job, and there's some definite promise in such young players as Rashaan Melvin, Deveron Carr and Danny Gorrer. It's true that the loser of the Banks-Jenkins battle is expected to be a prime competitor for the nickel back job, which is essentially a third starting corner, but the Bucs will be training their nickels separately. Depending upon when the decision is made at RCB, the non-starter there could be a bit behind in the nickle competition.
Chris Owusu. The third-year receiver is discussed in more detail above, but this could be his best (and possibly last) opportunity to win a significant role in the Bucs' offense. He had a good offseason and has a real shot at the third-receiver spot, but he's also got tons of competition.
Steven Means.  The Bucs are looking for pass-rushers to fill out the rotation at end behind Michael Johnson and Adrian Clayborn.  Means, Da'Quan Bowers and William Gholston are probably the top three candidates for that role, which could involve anywhere from one to three players.  (On game day, probably just one.)  Bowers and Gholston have significantly more regular-season playing time under their belts than Means, so it's an uphill battle for him to overtake the other two.