STORY HIGHLIGHTS
The Buccaneers might welcome the opportunity to trade down in the draft's first round, but will an opportunity exist?
Draft analyst Mel Kiper believes the Bucs should skip the quarterback position and focus on receiver and guard
Trick plays are always fun in the NFL, but not all are created equal

The NFL generates a massive amount of online media coverage, a share of which is devoted to the Tampa Bay Buccaneers.  Even the most avid Buccaneer fans might not catch everything that's out there.
That is why I will be taking a weekly look around the web to gather some of the analysis you might have missed.  I'll also provide my own take on those articles; I will "read and react," if you will.
The pieces that caught my attention this week include a Pewter Report look at the Bucs' chances of trading down in the first round of May's draft, an opinion on the Bucs' need at quarterback and a look at the best trick plays.  Keep in mind, the opinions stated below are my own and don't necessarily reflect Buccaneers management, coaches or ownership.
I wouldn't be adding much to the narrative if I just gave the most obvious response to the idea contained in that story title: Yes, trading down seems like a good option for the Buccaneers, but that doesn't mean it will be an option.  It could be difficult to find a partner wanting to trade up to a very high pick in a draft that is, by most estimates, absolutely loaded with talent.
That's true enough, but let's not dismiss the idea altogether.  General Manager Jason Licht has made it clear that his team is open to the idea (and to the idea of trading up, though I personally find that significantly less likely), so that should be on the minds of Licht's NFL peers when #7 rolls around.  Furthermore, the author points out that the Buccaneers might actually be in a prime area for trades, noting that, "The last three drafts have featured a draft day trade involving the sixth or eighth overall selections, and the teams moving down in those trades were handsomely compensated."
The first of those three deals was the memorable move by the Falcons in 2011 to trade all the way up from #27 to #6 to get wide receiver Julio Jones.  That trade is memorable precisely because of how rare it is – you don't commonly see moves from the very bottom to the very top of the first round because of how much they cost the team moving up.  Cleveland pried a second and a fourth in 2011 and a first and a fourth in 2012 from Atlanta to move down 21 spots.  While I think Dellaratta makes a good point about the trading trend in the 6-8 range, I doubt this particular deal is representative of any scenario that will happen in 2014.
On the other hand, the St. Louis-Buffalo swap of last year and the Dallas-St. Louis exchange in 2012 were both moves of eight spots in the draft order, which is more common and easier to imagine in the Bucs' near future.  It is opportunities such as these – not to mention the deep pool of talent available – that prompted Hall of Fame linebacker Derrick Brooks to suggest on this week's Pewter Panel that Tampa Bay is positioned as advantageously as any team in the draft this year.
Further addressing the "yeah, but trade with who?" skepticism, Dellaratta actually lists three teams he could envision trading up to the Bucs' spot.  Two of those, Cleveland and San Francisco, would involve extreme move downs, but the third, the New York Jets, are holding pick 18.  The Bucs would surely get a second-round pick at a minimum for moving down 11 spots in the first round, and that would certainly be attractive.  If the Bucs are targeting a wide receiver – an opinion even more analysts share after Friday's trade of Mike Williams – they can make such a move and still pick from a bumper crop of pass-catchers.  The problem with the scenario is the idea that the Jets would pay that much to address the tight end position, which is the idea the author germinates.  It would be easier to buy if the team trading up was enamored of one of the quarterbacks – which is why Cleveland is on Dellaratta's list, actually.
Continuing to come at this idea from all angles, the author also lists three players the Bucs could target while trading down: DTs Aaron Donald and Timmy Jernigan and QB Derek Carr.  The first two are straightforward – a player like Donald might actually be worthy of the seventh overall pick but still available at #18, so if the Bucs had him highly ranked they could move down and add assets without missing.  The presence of Jernigan also gives that idea some insurance in case Donald doesn't last to the Bucs' new position.  Dellaratta aptly compares the trade-down-and-take-Carr idea with what Buffalo did last year in target E.J. Manuel, but it also presupposes that the Buccaneers both want a quarterback in the first round and like Carr as much or more than his more highly-touted counterparts.  If Tampa Bay thinks now is the time to draft a franchise QB, staying put at #7 and likely landing Blake Bortles, Terry Bridgewater or Johnny Manziel seems more likely.  To me, at least.  It's also possible that I am personally undervaluing Carr.
The Bucs added a sixth-round pick in Friday's trade with Buffalo.  There's no doubt they'd like to have more – who wouldn't this year? – and they have a void remaining in the fourth round.  It's not a stretch at all to believe they would welcome an opportunity to trade down, and even if I'm not agreeing with every dot the author connects in this hypothetical exercise, it's still a thorough and thought-provoking piece.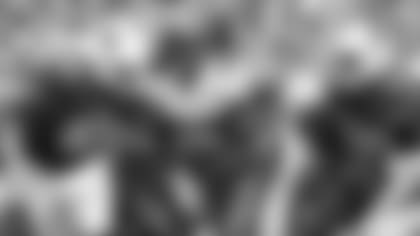 S Dashon Goldson successfully pulled off the direct-snap fake punt last year against Arizona
Yes, I'm back on a Pat Yasinskas piece this week, but as the title suggests, it's really based on some recent opinions offered by noted draft analyst Mel Kiper.  Yasinskas reacts to comments made by Kiper regarding the Buccaneers' quarterback situation, and it all dovetails nicely with a new mock draft Kiper just posted on Friday.  In this one, Kiper essentially plays G.M. for all 32 teams, making the picks he thinks they should make in the first three rounds rather than predicting the players he thinks they will take.  (That article is behind ESPN's Insider subscription wall; here's the link if you have access.)
As reported by Yasinskas, Kiper doesn't believe the Buccaneers need to take one of this year's top-rated passers at the seventh pick because they already have a quarterback with as much potential as any of those available.  Even if you consider new starter Josh McCown a "bridge" to the Bucs' next long-term solution at the spot, you can simply consider Mike Glennon the player at the other end of that bridge.
Yasinskas quotes Kiper as saying that all of this year's QB prospects are "iffy," and it's hard not to notice that the mock drafts are all over the board regarding Blake Bortles, Terry Bridgewater, Johnny Manziel and Derek Carr.  Not only is there no consensus that the QB-needy Houston Texans will take one of those passers with the first overall pick, there isn't even a good collective feel for the order in which they are likely to be selected.
That in itself doesn't prove that any of those four are "iffy," but I do think it's telling.  Teams will fall all over themselves (or trade multiple future high picksin some cases) to get their hands on what they believe will be a franchise quarterback.  It's entirely possible that a team or two out there (maybe even the Bucs) has become convinced that Bortles or Bridgewater or Manziel is that guy, but the assembled media seems doubtful.
As such, I think I like what I'm hearing from Kiper, via Yasinskas.  I know there is sentiment among some of you that Glennon got a raw deal, that he showed enough as a rookie in difficult circumstances to deserve the opening day start with a better cast around him in 2014.  As I've said before, I think Lovie Smith and Jason Licht are trying to make the team better at every spot, and I think a QB situation of Josh McCown Mike Glennon is stronger than Mike Glennon lesser backup veteran.  McCown gets the nod heading into camp but Glennon still gets to compete for it.  If McCown holds on, Glennon gets an opportunity he didn't have as a rookie: To work behind and learn from a veteran starter.
If you're at all convinced that there is long-term starting potential in Glennon – and Kiper seems to feel that way – than you'd probably have to agree with Kiper's premise.  Why add another potential QB of the future, especially in an era in which many teams only carry two passers on the 53-man roster?
By the way, freed from having to match the Bucs with one of the quarterbacks, Kiper gives them USC wide receiver Mike Evans in the first round and Stanford guard David Yankey in the second round.  Sounds good to me!
You definitely need to read the author's preamble to this exercise because if you choose instead to skim down the list you're going to be shocked to see a play by the 2013 Buccaneers in the mix.  I don't know about the rest of you, but I'd be hard-pressed to think of a play from last season that ranks among the most memorable in league annals.
In this case, Gelhar is referring to a specific play call and then using something the Buccaneers did last year as a recent example.  He's giving props to the Flea Flicker, which instantly puts me on his side as I am unashamedly head-over-heels in love with that play, and always have been.  It's my opinion that an offensive coordinator should call the Flea Flicker at least twice every season; obviously you can't use it too often or it loses the surprise element that makes it work.
For anyone who may not know, the Flea Flicker is a play in which the quarterback hands off to the tailback on what appears to be a straight run up the middle.  Before he reaches the line, the tailback stops and pitches the ball back to the quarterback, who usually then throws a very deep pass down the middle of the field.  The play works if the deep safeties bite on the handoff – think of it as play-action on steroids – and fail to notice the receiver streaking past them at full speed.  It worked perfectly for the Buccaneers last year in New Orleans, when Mike Glennon, Bobby Rainey and Tiquan Underwood pulled it off for a 48-yard touchdown in the first quarter.
The author says it's a play that can go wrong in a hurry (sack, fumble, etc.) but I personally haven't seen that happen very often.  Generally, if the play fails it just fails to connect downfield, usually because one of the defensive backs wasn't fooled.  I have also seen the play designed where there is a second, intermediate option about 20 yards downfield in case the deep option is covered.  To me, that's brilliant.
So, yeah, the Flea Flicker is awesome, and if Gelhar wants to give the Bucs a little credit for doing it right last year, all the better.  Most of the rest of the list refers to specific and very memorable moments in NFL history, such as The Music City Miracle and Dan Marino's famous fake-spike, referred to here as "The Clock Play."  These plays strike me as being fundamentally different from the last entry on the list, the Bucs' Flea Flicker, because they're not established trick plays that pop up from time to time.  I mean, you're going to see at least one Flea Flicker every season in the NFL, but when was the last time someone tried a Hook and Ladder?  I guess the Clock Play is emulated every now and then, but no one's throwing cross-field laterals on kickoff returns like the desperate Titans did against Buffalo during the 1999 playoffs.
There are a few other tried-and-true trick plays that could have made the list after the Flea Flicker, ones that the Buccaneers have used to great success in (relatively) recent memory.  There's the tackle-eligible pass, usually called at the goal line, in which an extra offensive lineman comes in to block in a jumbo package, in the process reporting as an eligible receiver.  Teams do this all the time, so it's a solid set-up for the surprise of that 300-pound blocker making a quick down-block and then release out into the flat and drawing no attention from the defense.  Donald Penn actually pulled this one off twice, including once just this past season against Miami on Monday Night Football.
And if the Flea Flicker is on the list, then the equally effective halfback pass probably should be, too.  This is also one usually used at the goal line, and it involves the running back taking a handoff and beginning a sweep to one side or another before suddenly pulling up and tossing a short pass over the incoming line of defenders to a teammate in the end zone.  Earnest Graham pulled this one off twice, in Kansas City in 2008 and at home against Atlanta in 2010, in both cases throwing to a tight end for a short touchdown.  The Bucs also memorably had this play bite them against the Jets in 2000, when Curtis Martin completed a stunning 15-point comeback in the game's final two minutes with an 18-yard TD pass to Wayne Chrebet.
Finally, there's the direct snap to the personal protector on a punt play.  On this one, the long-snapper shoots a quick dart to the player who is lined up as the last line of protection for the punter, often a safety, and this player tries to dart through the line for a first down before the fake is sniffed out.  If you remove any minimum-carry qualifiers, safety John Lynch is the Buccaneers' all-time leader in yards-per-carry because he used this play to run for 40 yards against Seattle in 1996 before being tackled by, coincidentally, future Buccaneer wide receiver Joey Galloway.  Dashon Goldson pulled off the same play just last year and got 22 yards against Arizona.
By "finally," I meant that was the final good trick play I was going to mention.  I have one final nomination for a trick play that should never see the light of day again, and it was something the Buccaneers attempted last year.  Twice!  From a field goal formation, the Bucs would snap the ball to holder/punter Michael Koenen, who would roll to his right, drawing a huge crowd.  Meanwhile, kicker Rian Lindell would try to sneak down the opposite sideline, presumably to end up forgotten and wide open in the left side of the end zone.  Koenen was supposed to stop, plant his foot and throw back deep across the field to that wide-open Rian Lindell.  The problem was, Lindell wasn't even remotely forgotten or open on either play and poor Koenen, who has a great arm and probably pulled the play off to perfection in practice, had nowhere to go with the football.  Koenen was lucky to get off an incomplete pass on both occasions, against Atlanta and at New Orleans.