Tampa Mayor Dick Greco, Coach Jon Gruden, and Monsignor Laurence Higgins
---
In the heyday of the great Tampa Bay Buccaneers clubs of the late '90s and early '00s, the team had a secret weapon, a master motivator of men: Monsignor Laurence E. Higgins.
"We loved his 'pregame speeches,'" said former Buccaneer safety John Lynch, laughing and verbally putting that phrase in quote marks. "I'm talking about his homilies on Saturday nights before games, of course. He was an athlete himself and he'd get into it. He'd get so fired up it would turn into a sort of pep talk and we loved it. He'd get us so fired up that we wanted to play on Saturday night!"
Monsignor Higgins passed away at his home on Wednesday morning at the age of 87, but not before he touched countless lives over nearly six decades in the Tampa Bay area. That included many Buccaneer players, coaches and staff members, as Higgins's relationship with the team was long, robust and endlessly impactful. In fact, that impact continues on in the lives of Lynch and many of his teammates, including former Buccaneer fullback Mike Alstott.
"He baptized my son Griffin, so it went even further, beyond the team," said Alstott. "There was a trust there, and a friendship. We looked forward to every Saturday night before the game to get to Mass and see Monsignor."
Lynch learned on Tuesday, when he called to make sure that Higgins would be invited to Lynch's Ring of Honor ceremony at Raymond James Stadium this season, that the monsignor had hospice in his home. Alstott had also gotten word the day before. Upon hearing the news, Lynch started a group text with Alstott and former Buccaneers Paul Gruber, Martin Mayhew and Dave Moore, giving them all a chance to reminisce about a man who had touched their lives so deeply.
"It was kind of cool because we all live in different parts of the country and do different things, but within about five minutes everybody on that text had responded and was telling stories about their favorite moments with Monsignor," said Lynch. "For instance, I vividly remember the Mass he delivered out here in San Diego before the Super Bowl. It got to the point where we had a lot of non-Catholics at Mass because people knew Monsignor. He had that kind of a quality – there are certain people that just draw people to them. He certainly had that."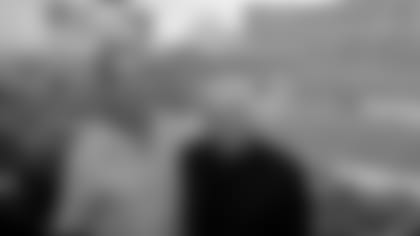 Monsignor Laurence Higgins and Patrick Murray
---
**Other than special occasions like Super Bowl XXXVII at the end of the 2002 season, Monsignor Higgins only traveled with the Buccaneers for one season. However, he was among those working behind the scenes in the 1970s to bring an NFL team to Tampa, and he said Mass for the players from the inaugural season of 1976 until just a few years ago. The birth of the Buccaneers' franchise was just one of the many civic projects he supported, such as the building of the New York Yankees' Legends Field. The longest-serving priest in the Diocese of St. Petersburg upon his retirement in 2007, Higgins was nothing short of an icon in the Bay area community.
"That was the dichotomy of him," said Lynch. "He ran in circles with the mayor, General [Tommy] Franks was his great friend, as was [Yankees Owner George] Steinbrenner. People like that appreciated him because he would tell them the truth. There was no hidden agenda, ever, with Monsignor. There were no minced words. Sometimes you didn't like it but he would tell you exactly how he felt, and I think that's why people appreciated him."
Griffin Alstott isn't the only child of a Buccaneer to be baptized by Monsignor Higgins. Players happily welcomed Higgins into their lives beyond the field. When Lynch became the godfather to former Buccaneers assistant coach Herm Edwards' son, Marcus, it was Higgins who performed the ceremony. Higgins also spoke at Moore's retirement party.
"He was very inspirational," said Alstott. "I think the thing is, he was pure. You knew everything was from the heart. When you had a conversation with him, you were all ears. He had so much knowledge that we all really enjoyed listening to him. He made a huge impact on us. We all became friends, and he was a mentor to us. We learned so much from him, and I feel very blessed to have known him and I know everybody else feels the same way."
"Monsignor Higgins is one of the most special people I've ever met in my life, and he happened to be a priest," he said. "I think as a result, he helped me and led me and guided me in so many facets of my life, from being a man to being a father to being a husband."
Alstott and Lynch are among the former Buccaneers who founded charitable foundations that are very important parts of their post-playing careers. In learning how to use their influence to help those in need, the players had a perfect example in Higgins, who was renowned for his social service and his genuine care for the less fortunate.
"He was a special, special man," said Lynch. "He cared about people, cared about everyone. He had a special place in his heart for the downtrodden, the mentally ill, the poor. He lived it.
"He brought people together and made people better. He cared for everyone, and when I say he cared for the downtrodden, and it was genuine. There was nothing phony about the man. He sacrificed so much to be a priest and he would tell you that it wasn't a sacrifice at all, it was the greatest thing he ever did. When I talk about him being such a special guy, a big part of it is that he appealed to everyone – people in high, people in low places, he was a civic leader."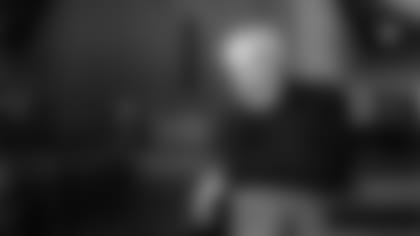 Monsignor Laurence Higgins (Photo courtesy of the Tampa Bay Times)
---
Added Moore: "He was always a guy who made you conscious of the people around you who were less fortunate. He wanted you to give back and he would talk about that often, saying that when you are blessed and you are given a lot it's your responsibility to give it back and share it with others. We certainly learned that from him, and we were all that age where we just starting our own families and growing in the community."
Moore joined the Buccaneers in 1992, one year before Lynch and four before Alstott. They all came to town as young men and grew into fathers and community leaders, and they all credit Higgins for helping shape them into the men they are now. But if there was one thing they couldn't stop talking about in their group texts on Tuesday and Wednesday, it was those amazingly inspirational mass services. During the Tony Dungy years, Higgins went from splitting Mass duties with another priest to handling every home game plus playoff contests on the road. That was good news as far as the players were concerned.
"His homilies were tremendous," said Moore with a smile in his voice. "He was an Irish guy so he was very passionate and it was great. He would be pumping his fists and getting us all going. He'd greet everyone with a hug and was such a positive person to be around. He was always looking to give you words of encouragement. We all looked forward to seeing him every week."