STORY HIGHLIGHTS
It looks promising for the returns of CB Johnthan Banks and S Dashon Goldson to the Bucs' secondary on Sunday
Key contributors like Gerald McCoy and Michael Johnson are closer to 100% after the bye week
The Bucs hope better roster health helps them get the next phase of the season started strong

The Tampa Bay Buccaneers didn't lose any ground during their bye week, as their three fellow NFC South teams all lost last Sunday. It appears they did gain something with the extra time off, however, and that's a significantly healthier roster.
As of the end of practice on Friday, the Buccaneers had only one player who was injured to the point where he definitely cannot suit up against the Minnesota Vikings on Sunday. That's reserve linebacker Brandon Magee, who suffered a knee injury in practice, prompting the Bucs to nab linebacker Orie Lemon off the Kansas City Chiefs' practice squad on Thursday.
Magee's practice-field mishap came after the bye week; during that extra time off, the Buccaneers saw improvement in two groups of players: Those who were trying to return from injuries that had kept them out of game action, and those who were playing but could be more effective with incremental health improvements.
Quarterback Josh McCown, safety Dashon Goldson and cornerback Johnthan Banks were chief among that former group. McCown hasn't played since suffering a thumb injury in Week Three at Atlanta while Goldson went down with an ankle injury the following week. Banks missed just the last game with his neck strain, but that loss in particular left the Bucs thin on experience at the cornerback position.
Banks is set to return; he's listed as probable on the Bucs' Friday injury report, the first one of the week that includes game-status designations.  McCown and Goldson both carry "questionable" tags into the weekend but Head Coach Lovie Smith has been optimistic about both players all week. Goldson's potential return is lauded as a good step in the team's avowed goal to play a more physical style of football, while McCown needs to take that first step of being cleared for game action before the situation between him and replacement starter Mike Glennon can start to be sorted out.
Among those who will have a better chance to play to their potential after some extra recovery time are defensive linemen Gerald McCoy (hand) and Michael Johnson (ankle). McCoy missed just one game after suffering a fracture in his left hand in Week Three but has had to play with a protective covering since. Johnson was only a few plays into his Buccaneer career when he rolled his ankle against Carolina, and he has been playing at less than 100% effectiveness since.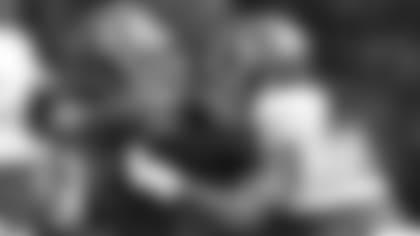 DT Gerald McCoy should become even more effective as he distances himself from an early-season hand fracture
"Brandon Magee is out for the game," said Smith. "Besides that, everyone's available. So we have our choice of – we realize only 46 guys can [be active], but it's good to have everybody in front of us to be able to choose between them.
"The week has gone the way we wanted it to in all phases. Josh McCown has made it through practice – throwing the ball well. Michael Johnson's ankle has gotten better. Johnthan Banks has been able to go through practice throughout the week. Dashon Goldson coming back off of his ankle injury. So our players that we needed to get in a little bit better shape are there, which should be good for us. Every game has been big, but we realize how important this game is. [We] get the chance to start the season over, per se. An NFC opponent home game – we haven't won at Raymond James Stadium. There's a lot riding on this game, and our guys know that and they've practiced that way. We're anxious to play."
Wide receiver Vincent Jackson hasn't missed any time – in fact, he's suited up for all 38 games his team has played since he joined the Bucs in 2002, despite occasional injuries – but he's had to overcome wrist and rib injuries to stay on the field. Jackson points out that he's far from alone in the NFL in dealing with aches and pains, but he's surely better off now after two weeks in which the Bucs have limited his practice time.
"I won't say too much about [the rib injury], but I'm going to do the best I can," he said. "We've got a great training staff trying to get me right, and if I get any opportunity to play I'm definitely going to take advantage of that. I'd probably say about 95% of the guys in the NFL have something that just doesn't feel quite right. I'm going to deal with it; it's no problem."
The Bucs have an uphill battle to deal with in terms of re-entering the NFC South title hunt, but at least they'll begin that effort with a mostly healthy roster on Sunday.